DONNÉES DE L'ÉQUIPE
Représentant d'équipe : Mario Benedetto Assisi (IT) – architecte ; Associés : Giuseppe Crispino (IT), Valentina Milani (IT), Irene Toselli (IT) – architectes
Collaborateurs : Giulia Pozzi (IT) – architecte ; Andrea Pozzani (IT) – étudiant en architecture
Via Capo delle Volte 6, 44121 Ferrara – Italia
+39 328 163 8729 – info@inoutarchitettura.com – inoutarchitettura.com
Voir la liste complète des portraits ici
Voir la page du site ici

G. Crispino, I. Toselli, V. Milani, M. B. Assisi, G. Pozzi et A. Pozzani
INTERVIEW (en anglais)
1. How did you form the team for the competition?
The team gathers young designers with different professional experiences and sharing an interest in the relationship between natural and artificial spaces within urban contexts at the intersection of landscape, architecture, culture and ecology. We have been collaborating since 2006, while completing our Masters in Architecture at the University of Ferrara.
2. How do you define the main issue of your project, insisting on how you answered on this session main topic: adaptability and urban rhythms?
"Responsive System" emphasizes on dynamic processes, resilience and adaptation through time, reactivating both cultural and ecological dynamics at the water's edge, adapting to the fluctuations of the river and the lake. Rather than proposing an isolated answer, the project identifies a system of urban voids that can be connected and activated within a responsive framework for ecological and urban change. It defines a network of bioswales bordering parking lots, roads, pedestrian and cycle paths, which collects water runoff from impervious surfaces and directing it towards a set of basins that are either permanently filled of water or dry but able to be temporarily flooded. During dry times the lower areas of the park become public spaces in their own right while in rainy weather the presence of ephemeral water allows for a different perception of the space. Moving beyond engineering, the proposal envisions a blue and green framework that enhances public spaces at different scales, making water fluctuation and circulation clearly perceptible. This new framework plays a key environmental role and constitutes the fundamental structure for the future landscape.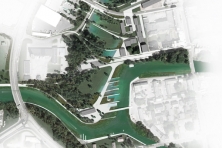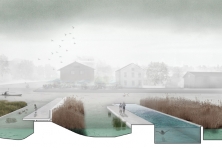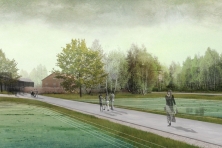 3. How did this issue and the questions raised by the site mutation meet?
The project responds to a set of conditions –hydrological, urban, ecological– that characterize the city of Kristinehamn as it meets the river. In the area around Lake Vänern it is estimated that the hundred-year flood will have a return frequency of 20 years. The hundred-year floods in a changed climate will therefore be higher than at present in these areas, which means that larger areas will be flooded. Svinvallen is therefore imagined as a dynamic filter for water, integrating stormwater management in the urban landscape. In parallel, the site emerges today as a sequence of residual spaces, found in between parts of the city that function according to different logics in terms of scale, mobility and program. While these spaces lack character and a clear program, they offer a unique opportunity to reconnect the city around them and activate urban voids. The project maximizes permeability through the site, allowing for multiple access points, structuring new connections between the city and the port. The park mediates the transition between "big box" commercial activities, out-of-scale parking lots and the historic fabric of the city center, weaving a network of pedestrian and cycle paths, rediscovering lost physical and visual relationships with the Varnan river. The structure of the city grid – today no longer recognizable within the site – is made visible once again.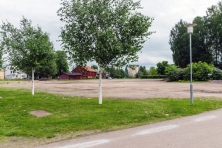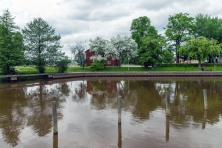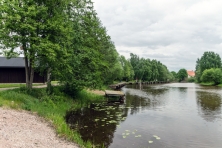 4. Have you already treated this issue previously and could you present some reference projects that inspired yours?
We have been investigating the agency of water as it influences and shapes the built and natural environment, and possibilities for design that emerge from the interrelated fields of architecture, landscape and urban planning through both professional work and academic research.


5. Today –within the era of an economic crisis and sustainability– the urban-architectural project should reconsider its production method in time; how did you integrate this issue in your project?
The project proposes to catalyze ecological systems, environmental benefits and recreational qualities in Kristinehamn. In 2001 the city suffered serious flooding, caused by a prolonged period of heavy precipitation over the Vänern drainage basin, from October to mid-December 2000, resulting in over 3.4 million SEK in damage, while possible flood damage to buildings around the major lakes – Vänern, Mälaren and Halmaren – at today's hundred-year flood was estimated at a total of 7.9 billion SEK. Such events seem more and more likely to repeat, as return periods for significant flooding are expected to diminish. In this scenario the presence of large impervious surfaces –such as the industrial area and the port to the West of the site– is problematic, as reduced infiltration increases runoff volumes. Responses that rely solely on hard engineering approaches raise important questions in terms of ecological and economic sustainability.
6. Is it the first time you have been awarded a prize at Europan? How could this help you in your professional career?
Winning Europan is a great opportunity to establish a network of relationships with professionals from other European countries and to begin an interesting discussion with the municipalities involved. We have participated to Europan as a team for the first time last year. Irene Toselli was part of the winning team in Siracusa (IT) during Europan 9.