S.COop, savoir coopérer
Pantin (FR) - Mention Spéciale
DONNÉES DE L'ÉQUIPE
Représentante d'équipe: Charlotte Durand-Rival (FR) – architecte
Associés: Chloé Durrieu (FR), Simon Forget (FR), Mickle Bourel (FR) – architectes
7 rue Marignan, 13007 Marseille (FR)
+33 666 011 313 – contact.collectiftac@gmail.com – charlotte.durandrival@gmail.com – kawa.architecture
Voir la liste complète des portraits ici
Voir la page du site ici


S. Forget, C. Durand-Rival, Chloé Durrieu et M. Bourel
INTERVIEW en anglais
Cliquer sur les images pour les agrandir
1. How did you form the team for the competition?
The team gained experience through projects and during our study years at the school of ENSA Marseille (FR). After school, our collaboration was quickly confirmed with the participation of different competitions, including Europan 14.


2. How do you define the main issue of your project, and how did you answer on this session main topic: the place of productive activities within the city?
The goal was to offer Renault and Citroen a reinsertion that would assured them a productive activity. One of our first questions was: what is the future for the world of automobiles? Can it be an advantage without having a negative impact on environment? Then, we became interested in electric cars and "green" production of cars. Our choice focused on the growth of the green initiative and the use of these new automobiles in order to become a key element of this new system, from garages to people, to their own makers. The project offers, with green energy, the possibility to power "véhicules'lib" (rental cars), to offer energy to public lighting and greenhouses. The maintenance and management of this transport park offers Citroen and Renault a perspective of a greener and more modern tomorrow, specialized in new technology, where two companies will learn and discover through research, events, meetings, while being at the centre of this new site.


3. How did this issue and the questions raised by the site mutation meet?
In our « existing » tool box figures Le Parc de la Vilette, a source of inspiration in terms of innovation and diversity of the transport network: rail, fluvial, road. The place still has an industrial potential, and this is an essential base to reinvent without dismissing the past. In Pantin, every element interacts with each other. What SCOP wants to do is to confront all different levels of production: industry, crafts, handicrafts, and all of its workers. It is about exploiting all the qualities that puts everything together and what they will bring, even partially. Finally, we have noticed that many associations and companies within the neighbourhood are working towards a mutation, a new social and economic dynamic, which helps us thinking that our project could easily develop. An eco-neighbourhood will soon be established next to the site, offering the possibility to inject new productive ideas.
4. Have you treated this issue previously? What were the reference projects that inspired yours?
We have already experienced certain aspects of city production during the AWR competition which led us to think about a new way to produce food in the heart of New York City. One of our favorite reference in terms of projects is Superkilen in Copenhague (DK), which offers shared and playful spaces, carrier of social relationships. But other types of projects as well, such as les Grands voisins in Paris or R-Urban à Colombes (FR) which have greatly inspired us for its concrete production, social cohesion and diversity. These projects are attached to the environment and different energies, defending the local rather than the global vision, while maintaining ties with the outside world.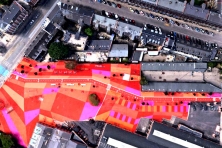 5. Urban-architectural projects like the ones in Europan can only be implemented together with the actors through a negotiated process and in time. How did you consider this issue in your project?
We have imagined the project as a « give-give » system where profit just as much as waste can make reach for happiness. It will be necessary to find equation cities, companies (Renault and Citroen), and inhabitants willing to begin with a new system. At the heart of the project, entities complete each other allowing a new third heat. The will to associate production to different notions of exchanges and sharing is also a way to bring forth a new way of living in society and to question production and the city's production of social connections. A quality of life. It will create a local economy. Pantin defends a « live together » way of life: sharing of knowledge and cultural identities while including the industrial life and craftsmanship.


6. Is it the first time you have been awarded a prize at Europan? How could this help you in your professional career?
It is our first participation in this competition. Being awarded at Europan offers our project a visibility and enables us to start a dialogue with the different protagonists of the city of Pantin. Forums are the perfect way to meet and exchange with different people within the urban world, architects, urbanists, and discuss all subjects regarding productive cities, a complex subject. Being able to debate with other participants, discover works from different teams, is a great opportunity to learn new approaches and answers. Our participation was motivated by the cultural exchange which is moving towards innovation and research but also by the association with cities wanting to act. This experience will enrich our professional background as well as our philosophy.