DONNÉES DE L'ÉQUIPE
Représentant d'équipe : Lorena Del Rio Gimeno (ES) – architecte ; Associé : Neeraj Bhatia (CA) – architecte
Collaborateurs : Wei Zhao (CN) – architecte ; Carly Lillian Dean (US), Alicia Ellen Hergenroeder (US), De Yi (US), Jonathan Dietrich Negron (US) – étudiants en architecture
Francisco Suarez 23 1 Izq. Esc. B, 28036 Madrid – España
+34 646 111 753 – lrgimeno@gmail.com – www.lorenadelrio.com
Voir la liste complète des portraits ici
Voir la page du site ici


N. Bhatia, L. Del Rio Gimeno, D. Yi, W. Zhao, C. L. Dean, J. Dietrich Negron and A. E. Hergenroeder
INTERVIEW (en anglais)
1. How did you form the team for the competition?
We (Lorena and Neeraj) were teaching together at Cornell University in 2013 and decided to form a team for the competition. With Lorena's experience in repurposed Architecture and public housing and Neeraj's work in resilient urbanism we felt that we would have a diverse team that could tackle the complexity of Europan competition through a transcalar approach. We were fortunate to get to work with some really incredible young architects and students from Cornell University and Rice University.
2. How do you define the main issue of your project, insisting on how you answered on this session main topic: adaptability and urban rhythms?
We examined how two typologies — the surface and arcade — could come together to provide flexibility and rhythm respectively. A large surface operates as a multi-programmed public realm that is timeshared through a schedule - to allow a more diverse and larger set of public programs. The surface is coded through differing materials and paint to provide flexible, soft organizational strategies that are activated by the bars above.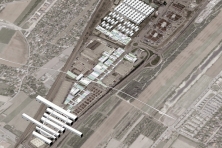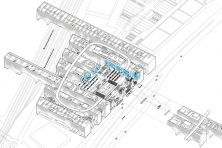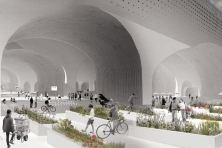 3. How did this issue and the questions raised by the site mutation meet?
We had a unique site in that the surrounding architectural typologies of big box sheds and greenhouses were in fact at the scale of urbanism. These typologies function through large envelopes that have a flexible surface on the interior and often exterior (parking lots). Our project attempts to operate at a scale of urbanism through architecture, while relating to both the territory of infrastructure as well as the uses of local populations.


4. Have you already treated this issue previously and could you present some reference projects that inspired yours?
Within our own work, we are both concerned with how architecture can respond and adapt to future scenarios, even those that the designer cannot anticipate. We had a diverse set of inspiring references for this project. To name just a few — we were fascinated with the notion of an adaptable surface that operates through a schedule as in OMA's Yokohama Masterplan. At the same time, we were looking at Aldo Rossi, particularly his housing projects, wherein a series of bars of smaller housing units accumulate into an infrastructural armature that also provides a rhythm to the site.
Roman aqueducts, as the one in Segovia also inspired us wherein the structural typology operates at multiple scales, providing identity and becoming an infrastructural monument.
A more contemporary precedent would be Christian Kerez's Museum in Warsaw, wherein a public space is created through an arcaded realm that has different scales of publics contained within.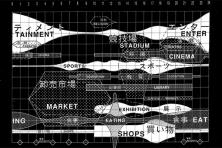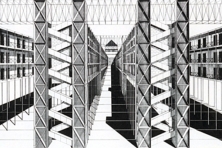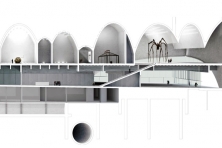 5. Today –within the era of an economic crisis and sustainability– the urban-architectural project should reconsider its production method in time; how did you integrate this issue in your project?
Today –within the era of an economic crisis and sustainability– the urban-architectural project should reconsider its production method in time; how did you integrate this issue in your project? This is a worthy and difficult question to unpack. While a volatile economy and environment may make it seem trivial to think of architectural approaches that are still valid in the future, we took a different stance. We asked, how does a malleable surface that is softly programmed couple with a deterministic and static armature so that these two elements can strengthen each other? There is a robust framework that the bar buildings set up to always hold certain relationships in the project together, while simultaneously, an openness in how the surface is used and programmed through different days, weeks, seasons, years. That being said, the schedule is perhaps the most important 'software' drawing that accompanies the surface. Thinking of form through time could be an approach to avoid architecture's irrelevance.
6. Is is the first time you have been awarded a prize at Europan? How could this help you in your professional career?
Lorena was awarded a prize in the last Europan edition, and this is the first Europan entry for Neeraj. We are honoured and are hopeful to play a role in the future of Kagran's planning, while rooting our firms' with potential urban planning and architectural commissions.