DONNÉES DE L'ÉQUIPE
Représentant d'équipe : Fabian Wallmüller (AT) – architecte ; Associés : Christina Kimmerle (DE) – architecte; Dominik Scheuch (AT) – paysagiste
Collaboratrice : Eva Radenich (AT) – étudiante en paysagisme
Hirschengasse 2/11, 1060 Vienna – Österreich
+43 650 600 99 01 – office@fabianwallmueller.net – www.fabianwallmueller.net
Voir la liste complète des portraits ici
Voir la page du site ici


F. Wallmüller, C. Kimmerle et D. Scheuch
INTERVIEW (en anglais)
1. How did you form the team for the competition?
The team was formed around a common interest for the site in Paris as well as around the intention to integrate competences in architecture, urbanism and landscape architecture.
2. How do you define the main issue of your project, insisting on how you answered on this session main topic: adaptability and urban rhythms?
The complexity of the site characterized by highly heterogeneous areas with different conditions has led us to apply three principles on the study site as well as on the project site:
Urbanism in time: In order to allow an adapted development of each area on the site, new developments will be implemented process-related, reaching from short-term, informal interventions to long-term landscape and construction activities.
Simultaneousness of small and big scale: In order to establish sustainable new communities on the site, a mix of local and metropolitan scale buildings shall be set up. First, a permeable, vivid lower urban level will be implemented, consisting of small scale, informal buildings which can integrate existing structures. The low level is conceived as common ground, being 100% public and equipped with multiple functions and urban spaces adapted to human scale. In a second step, a higher urban level consisting of high rise buildings is put into contrast, being visible from afar and offering great perspectives on the Parisian cityscape. The simultaneousness of small and big, local and metropolitan scale creates a unique vision of a contemporary city.
Permeability and connection: All areas shall be reconnected by new walkways as well as by exchanging and relocating functions. In that way the exchange between the inhabitants of all areas will be intensified.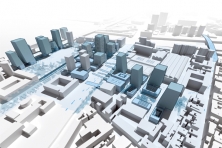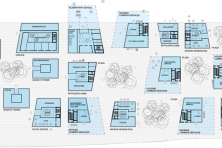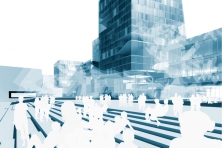 3. How did this issue and the questions raised by the site mutation meet?
Closed-off areas like Gley barracks, RATP-site and sports campus need to be made permeable and opened up to a wider public. The principle of urbanism in time allows, on a short-term period, to open up closed-off areas with informal interventions. On the long term, landscape and building activities will allow to intensify the character of each area as well as to bring in new inhabitants, functions and activities.
Existing building structures on areas like Gley barracks and RATP-site will still be in use and therefore need to be integrated into new developments. The principle of simultaneousness of small and big scale introduces a strategy of densifying the site despite its different states for future development. Small scale buildings shall integrate existing structures, creating a common permeable ground for future development – a development that will implement big scale construction introducing a new metropolitan identity of the site.
Strong urban barriers like the Petite Ceinture, the Boulevard Ney, the Boulevard Periphérique and the railway tracks at the end of Rue Championnet need to be overcome in order to reconnect all areas on the site. The strategy of permeability and connection establishes new walkways and initiates the exchange and relocation of functions. By doing so, existing barriers will disappear and new relations between all areas on the site as well as between the site and its surroundings will be introduced instead.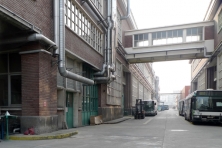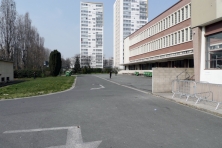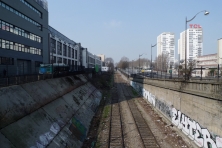 4. Have you already treated this issue previously and could you present some reference projects that inspired yours?
We have already been concerned by the three urban principles mentioned above for a longer period, but this is the first project where the topic has been implemented. References we took are projects by Sanaa concerning the issue of vivid, small scale structures (Moriyama-House, Tokyo, Shibaura House, Tokyo), as well as by Rem Koolhaas concerning the combination of existing structures and new construction resp. for hybrid buildings (De Rotterdam).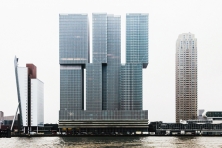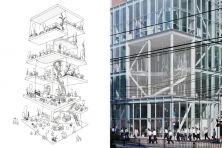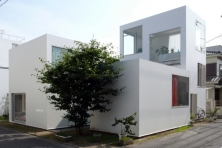 5. Today –within the era of an economic crisis and sustainability– the urban-architectural project should reconsider its production method in time; how did you integrate this issue in your project?
The project is based on the principle of urbanism in time, defining interventions that could be implemented right now, as well as long-term landscape and building activities. The principle of urbanism in time allows to react on the conditions and possibilities of each area of the site, as well as to adapt to changing needs and conditions.
6. Is it the first time you have been awarded a prize at Europan? How could this help you in your professional career?
Yes, it is the first time we have been awarded a Europan prize. We are looking forward to being consulted for studies concerning similar topics, as well as to get to know architects, urban planners and city representatives that are concerned with the issues raised in our project.