DONNÉES DE L'ÉQUIPE
Représentant d'équipe : Markus Vogl (DE) – architecte ; Associés : Sigrid Müller-Welt (DE), Lukas Pazmandy (DE), Philipp Soeparno (DE), Mechthild Weber (DE) – architectes ; Dominique Dinies (CH) – architecte urbaniste
UTA Architekten und Stadtplaner, Charlottenstrasse 29 – 31, 70182 Stuttgart – Deutschland
+49 711 414 70 139 – office@u-t-a.eu – www.u-t-a.eu
Voir la liste complète des portraits ici
Voir la page du site ici


S. Müller-Welt, M. Weber, D. Dinies et M. Vogl
INTERVIEW (en anglais)
1. How did you form the team for the competition?
Our Team is formed of two teams sharing the same architectural and urban objectives, but interested in two different Europan-sites. Based in Vienna and partly working in the same Viennese architectural studio, we formed our international Austrian, French, German and Hungarian team. Some of us were already part of the team winning Europan 9 for Donauwörth (DE).
2. How do you define the main issue of your project, insisting on how you answered on this session main topic: adaptability and urban rhythms?
The Europan topic actually fits to our curiosity on urban conditions. Therefore we considered both keywords as constituent in our design strategy for Donauwörth "Multiple City". Regarding the City of Donauwörth as a system, the spatial strategy will focus on a polycentric development of the whole city to make it a more resilient system. Therefore the former Alfred-Delp-Barracks help us establish a new sub-centrality that physically and programmatically re-connects various neighbourhoods with the old city-centre. The foundation of Waldstadt Donauwörth (Forestal City) will be developed and negotiated on a variety of levels. An integral and open planning culture cannot be defined in a simple masterplan, but contributes to a transparent process and secures a certain quality in all planning activities through the participation of stakeholders and local actors. If one integrates the local population into the development process of the new Waldstadt, not only identification of future inhabitants with their new living environment, but also the quality in the realisation of projects increases. But real work on site is always an experiment and the performance and final outcome cannot be predicted. Therefore many experts will be implemented from the beginning to accompany the urban society of Donauwörth in this huge development that will need many years to be finally built. An Idea Store and a local library in the centre of the new Volkspark (communal park) serve as information point and social condenser within the whole transformation process. The public realm as space for exchange and possibilities will be reinvented in Waldstadt. It serves as a programmatic urban field, where happenings and events call attention on a temporary as well as stable basis. Events can serve as starting signs for a new development phase as well as a public memory for the history of the site. Also temporary projects and interventions from teenager initiatives as well as public gardening by elderly people can become a follie.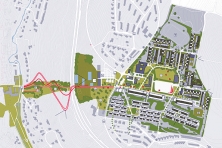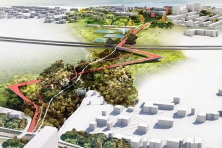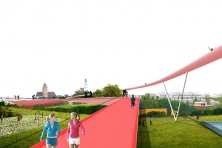 3. How did this issue and the questions raised by the site mutation meet?
The former Alfred-Delp-Barracks site offers perfect conditions to debate the Europan topics spatially. Due to its size in comparison with the whole city, the new Waldstadt can offer spaces for alternatives according to the needs and interests of future inhabitants. The urban strategy intends to offer a habitat, which will be developed together with the local community. Waldstadt offers space for shared projects as well as individual urban houses. Community gardens and communal spaces on ground floor can help encourage a local identity.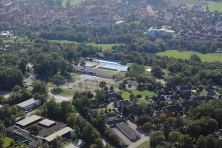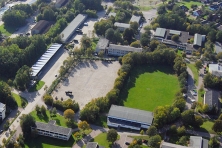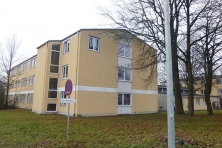 4. Have you already treated this issue previously and could you present some reference projects that inspired yours?
The issues raised by Europan are a coherent part of our professional thinking as well as of our teaching aims at several universities. We try to challenge the terms in seminars, design studios as well as in our competition entries. In fact our Europan 9 contribution for "Parkstadt Donauwörth" already functions with the same key words. In our work we always try to confront the concept of landscape urbanism with real site conditions. That is why both projects for Parc de La Villette –the competition entry by OMA as well as the realised project by Bernard Tschumi– inspire our work.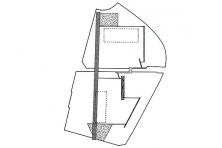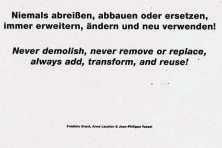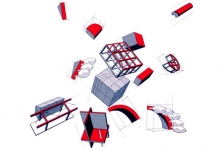 5. Today –within the era of an economic crisis and sustainability– the urban-architectural project should reconsider its production method in time; how did you integrate this issue in your project?
We believe that architecture always has to consider time as one main constituent of the site. Qualities of a site can just be evaluated by considering the history and social conditions that formed it over decades. Our contribution intends to develop new urban qualities by respectfully transform the existing open spaces. The spatial strategy focuses on the protection of the exiting trees and forest structure according to the experts report as well as in the use of the existing street pattern to avoid huge primary investment. Hereby we take reference to Anne Lacaton and Jean-Philippe Vassal "not to tear down, to dismount or to replace, but rather to extend, to change, to re-use" and to offer a robust urban and architectural –according to Atelier KempeThill– structure that can be captured, appropriated and adapted by its users over time.
6. Is it the first time you have been awarded a prize at Europan? How could this help you in your professional career?
In fact we have been participating to Europan since 2007. "Parkstadt Donauwörth" was our first Europan entry and was awarded as winner. Since 2008 we have closely worked together with the head of the urban planning department of Donauwörth in order to invite all necessary urban actors for the transformation of Parkstadt. At the end of 2011 we finally found our clients to build the new social centre that combines a nursery school, the Protestant Parish and the Social Centre of the City in the central part of "Parkstadt Donauwörth". This building will be opened in spring 2014 and we will continue to build the public space in the central area of "Parkstadt" along 2014. Although our entry for Europan 11 in Würzburg (DE) was not honoured by the jury, our projects for Nyon (CH) and Bottrop (DE) were shortlisted for Europan 10. That is why we are very happy to again be part of the Europan community with Donauwörth "Multiple City".