DONNÉES DE L'ÉQUIPE
Représentant d'équipe : Jose Maria Martín Ravelo (ES) – architecte ; Associés : Alba García González (ES), Paloma Lara Rodrigo (ES), Laura Martín Guillén (ES), Patxi Martín Domínguez (ES), Clara Rodríguez Lorenzo (ES), Natalia Vera Vigaray (ES) – architectes
c/ Magdalena 8, 3 izq., 28012 Madrid – España
+34 63 050 78 69 – jmmravelo@gmail.com
Voir la liste complète des portraits ici
Voir la page du site ici


N. Vera Vigaray, L. Martín Guillén, P. Martín Domínguez, C. Rodríguez Lorenzo, J. M. Martín Ravelo, A. García González et P. Lara Rodrigo
INTERVIEW (en anglais)
1. How did you form the team for the competition?
We met each other at university and we decided to form a team just to do Europan 12, so it was the first time we had worked together and it was the beginning of FRSQR architecture.
2. How do you define the main issue of your project, insisting on how you answered on the site on this session main topic: adaptability and urban rhythms?
We think Dikemark should have a slow growth that lays the foundations for a new local society. We based our project on the introduction of a new program that activates the village, a new Dikemark age; A wood design school that attracts people to live there and will take part in the development of the future settlements.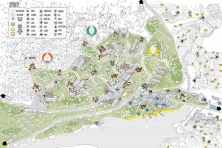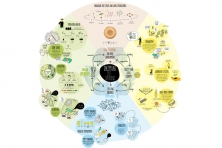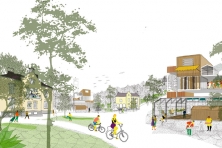 3. How did this issue and the questions raised by the site mutation meet?
We developed a project in different steps. In the first step we proposed to refurbish the existing empty buildings of the former sanatory, converting them into buildings for the new school. In further steps we proposed to build with a minimal footprint, respecting the historical growth and the presence of forests between constructions.


4. Have you already treated this issue previously and could you present some reference projects that inspired yours?
We believe adaptability is a very up-to-date topic and it is always considered in all our projects. It has however been studied by many architects throughout time and it materialized in some examples such as Quinta Monroy by Elemental and Ökohaus by Frei Otto, where the projects emerge from the peoples participation and needs. And Matadero, located in Madrid, is an example of transformation of an old structure of the city into a new cultural centre.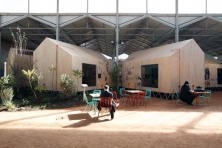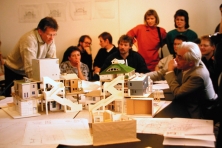 5. Today –within the era of an economic crisis and sustainability– the urban-architectural project should reconsider its production method in time; how did you integrate this issue in your project?
Our project was thought from the beginning as a temporal process that was going to be developed depending on the population needs and investors sources. We realized Dikemark has already lived different ages throughout time, and It has always maintained some situations from the different periods, sometimes it remained the same and sometimes they were totally transformed by new uses. As there is already a huge historical basis we wanted a slow growth that respects the current situations in every step and acts with a very local sense.
6. Is is the first time you have been awarded a prize at Europan? How could this help you in your professional career?
It is the first time we have been awarded an Europan prize. Facing this challenge has allowed us to grow up as a team and has motivated us to continue developing ideas. We expect this prize to bring us new opportunities to work on new projects.