Open
Amstetten (AT) – Lauréat
DONNÉES DE L'ÉQUIPE
Représentant d'équipe : Ramon Bernabe Simo (ES) – architecte ; Associé : Tomas Labanc (SK) – architecte
Collaborateurs: Minghui Chang (CN), Yang Huang (CN), Eric Marcuson (US), Francesc Montosa (ES), Matus Radiansky (SK) – architectes; Alex Camacho (ES) – graphiste ; Miguel Vilacha (VE) – artiste
BLAU, 5 Pasaje Escudellers 08002 Barcelona – España
+34 69 609 3131 – info@b-l-a-u.com – www.b-l-a-u.com
Voir la liste complète des portraits ici
Voir la page du site ici


R. Bernabe Simo et T. Labanc
INTERVIEW (en anglais)
1. How did you form the team for the competition?
We met in Shanghai while working on some projects and started to pursue international competitions together. During this time we have created an international network of collaborators from different fields. For this competition we designed the project and organized the team from Shanghai, graphics where done in London and renderings came from Bratislava, so we invested a great deal of time in communication and organization via Internet.
2. How do you define the main issue of your project, insisting on how you answered on this session main topic: adaptability and urban rhythms?
Our proposal aims to be a flexible growth strategy, therefore the city can adapt to different and still unknown needs. The project is composed by a variety of typologies that allow different programmatic uses.
By mixing those different typologies, the sites will grow organically into a city of diversity. This will improve its capability to adapt to changes and restructure its functional logic, creating rich spatial qualities and most importantly, a diverse community of people. We believe in the natural complexity of life.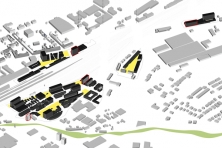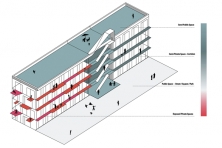 3. How did this issue and the questions raised by the site mutation meet?
Because of Amstetten's strategic position and potential, we propose an intensification of the existing city fabric through a progressive implementation process in the sites during the next years with the goal of building higher density nodes that will drive the growth of new urban centres in a new scale and quality.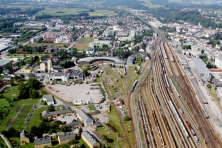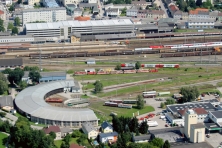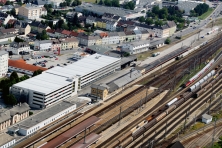 4.Have you already treated this issue previously and could you present some reference projects that inspired yours?
We were inspired by the urban spaces of Shanghai. We liked the idea of bringing some of this vibrant city to Amstetten. Shanghai has experimented a very rapid growth, creating some very rich spaces that mix different typologies and users, spaces that mix past and future, spaces for culture exchange and that work 24/7 based on high density and connectivity. Those were main ideas to develop our project.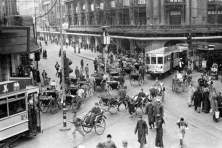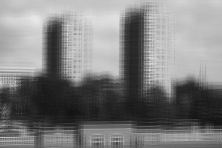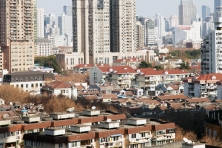 5. Today –within the era of an economic crisis and sustainability– the urban-architectural project should reconsider its production method in time; how did you integrate this issue in your project?
We understand that future is hardly predictable, so we believe that a flexible and adaptable strategy is the key to a sustainable urban growth. We proposed the use of modular architecture to reduce production costs and planned temporary activities for empty plots so the use of land is more efficient. The concept 'open' is directly related to our era, where architecture is every time more related to economic changes, allowing us to face market and local needs in a better way to create a sustainable society.
6. Is it the first time you have been awarded a prize at Europan? How could this help you in your professional career?
Yes, it is actually the first time that we have been contributing to Europan. We feel honored by such an achievement and understand the responsibility that results from this award. We think it is a great opportunity for young architects to enter the market and experience the project implementation together with Europan organization, local government and the client.