DONNÉES DE L'ÉQUIPE
Représentant d'équipe : Pau Bajet Mena (ES) – architecte ; Associés : Laura Bonell Mas (ES), Maria Giramé Aumatell (ES), Oscar Linares de la Torre (ES) – architectes; Daniel López-Dòriga Sagalés (ES) – artiste
General Mitre 227 2n 1a, 08023 Barcelona – España
+34 65 208 04 50 – pau.bajet@gmail.com
Voir la liste complète des portraits ici
Voir la page du site ici


L. Bonell, P. Bajet, M. Giramé, O. Linares et D. López-Dòriga
INTERVIEW (en anglais)
1. How did you form the team for the competition?
We all got the Architecture degree at the same university, the ETSAB in Barcelona.
2. How do you define the main issue of your project, insisting on how you answered on this session main topic: adaptability and urban rhythms?
The proposal aims to provide answers both to the specificities of the place and to the many complex requirements that WBG Nürnberg GmbH had stipulated in the programme. Therefore, the project's inputs or self-imposed laws are generated from place and use only, they appear before any formal decision is made and they build up all the process of the project from the beginning to the final proposal.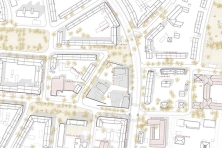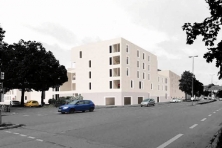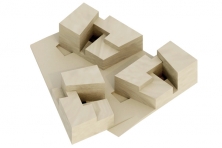 3. How did this issue and the questions raised by the site mutation meet?
The main idea of the project is based on the creation of a new public space that, contributing to an already existing green area system, should be capable of propitiating the interrelationship of its inhabitants. The opening of this new green area to the neighbourhood is guaranteed by the configuration of the floor plan in its limits, in spite of it being in a slightly higher level than that of the street. With this simple change in height, a space that is both open and protected is created. A space that is the sum of three fluidly concatenated urban spaces that, as a result of their reduced medium scale, are able to naturally accommodate diverse uses.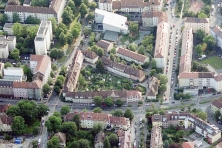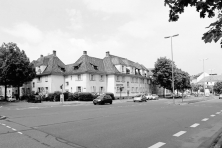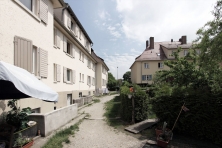 4. Have you already treated this issue previously and could you present some reference projects that inspired yours?
Our proposal is based on the way the school of Barcelona understands urbanism and architecture. We used our knowledge of previous works, but we adapted it to the specific circumstances of the site and programme. However, an interesting reference in this case is located in the city of London: The Economist Building by A+P Smithson, where a pavement level that links three buildings is raised slightly from the street to provide a quiet and protected public space, by respecting the street area and its alignments.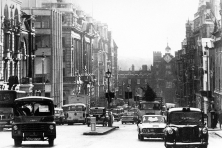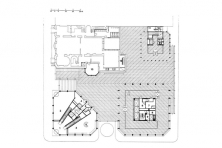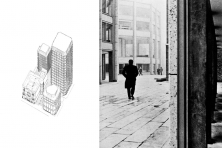 5. Today – within the era of an economic crisis and sustanibility – the urban-architectural project should reconsider its production method in time; how did you integrate this issue in your project?
Each of the proposal's three volumes is conceived as a compact building, designed to maximise energy savings. The project, following the concepts of the passivhaus, incorporated energy efficiency and sustainability measures as an essential part of the design process, not as something to add to the already defined architectonic proposal.
6. Is it the first time you have been awarded a prize at Europan? How could this help you in your prefessional career?
Two members of the team were awarded runner-up on the last edition. The Europan competition brings the opportunity to young architects to develop proposals along Europe as well as large scale housing projects.