Urban Insertions
Barcelona (ES) – Lauréat
DONNÉES DE L'ÉQUIPE
Représentant d'équipe : Carles Enrich Gimenez (ES) – architecte
Contributeurs : Angel Rosales (ES), Ada Sanchez (ES) – Étudiants en architecture
c/ Fraternitat 38, PB. 08012 Barcelona – España
+34 64 976 97 86 – carles@carlesenrich.com
Voir le listing complet des portraits ici
Voir la page du site ici


A. Sanchez, C. Enrich Giménez et A. Rosales
INTERVIEW (en anglais)
1. How did you form the team for the competition?
Ada and Angel collaborated with me [Carles Enrich Gimenez] in a few small projects before the Europan competition while they were still finishing the grade of architecture. I think they have a great future because they've finished their degree in times of crisis, so they are used to work with lower budgets and very few resources from the beginning.
2. How do you define the main issue of your project, insisting on how you answered on this session main topic: adaptability and urban rhythms?
The main issue of the project is to consider the site and the program of the competition as an oportunity to propose a new way of urban growing. Without following the same paths that brought our cities to the collapse situation, we propose to reuse and renature preexisting spaces and structures in order to have a new pattern of public space. A reconsideration of what we have before adding new architecture. With this operation we propose a sustainable regeneration of the neighbourhood from its inside.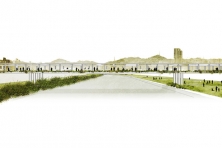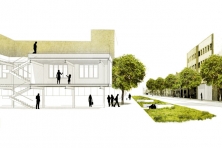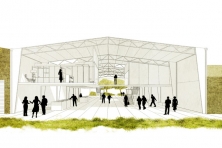 3. How did this issue and the questions raised by the site mutation meet?
I've been following the site mutation during the last years. The district has a lot of industrial activity but the housing is not integrated with it. At this moment, there are a lot of empty spaces and underused structures that could allow more uses and activity. On the other hand, the Sagrera Park is a very ambicious project, but we already have an authentic green corridor which are the banks of the Besos River, so in the proposal we tried to improve the use of this urban park. For all these, I think the site of the competition could be a great spot to structure a voids net which connects different parts of the city into a urban green belt and also a great place for living and working.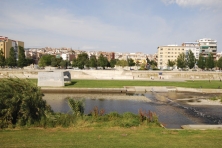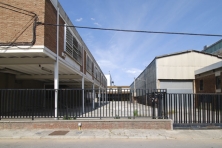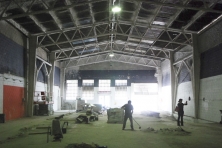 4. Have you already treated this issue previously and could you present some reference projects that inspired yours?
In fact, I am treating the subject of reusing existing spaces for new activities in my Phd Thesis, that started in 2010 focusing my interest on Les Glories before the demolition process started. I think Barcelona lost an oportunity to propose a public space recycling an existing infraestructure, while other cities have already done it years ago. In that sense, the Templehoff Airport is one of the most remarkable examples of how is possible to convert an existing infrastructure into a great a public space, just letting the people inside freely. Also the London street markets are a great lesson of introducing activity in prexisting places such garages or intersticial spaces under road bridges.
In Barcelona we can find a few self-constructed examples of re-used spaces which should show a new way of sustainable urbanism.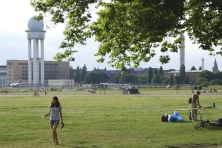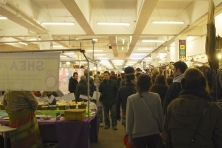 5. Today – within the era of an economic crisis and sustanibility – the urban-architectural project should reconsider its production method in time; how did you integrate this issue in your project?
I think that our project is sensible to this issue, because it is based on a slow urbanism which allows the city grow at the same time as the housing and working spaces necessities grows. Since all the housing program is introduced into an existing places it is very easy to propose a pattern which can be applied in different stages.
6. Is it the first time you have been awarded a prize at Europan? How could this help you in your prefessional career?
This was the first time that I participated so I feel very lucky for having won this prize. I don't know how this will help me with my professional career, but since the topic of the project is the same subject which I'm applying on my research and trying to introduce in my built works, this award gives me the strenght to carry on with my investigation.