Cultivating a Network City
Workshop Badajoz (ES) - Workshop Site 3
PARTICIPANTS:
Blaž Babnik Romaniuk (SI), Anna Kravcova (SI), Dušan Stupar (SI), Winner in Wien (AT) with "Publicquartier - Kagran City Center"
François Dantart (FR), Runner-up in Bordeaux (FR) with "Les grandes manœuvres"
Cécile Frappat (FR), Runner-up in Marne-la-Vallée (FR) with "La Déprise"
Gerard Duran Barbarà (ES), Runner-up in Irún (ES) with "Ura Eta Natura"
Coach: Jens Metz (DE)
SITE 3 - USES & RHYTHMS
How Can Urban Rhythms Be a Motor for Urban Reappropriation?
"How Can Urban Rhythms Be A Motor For Reappropriation" was the question for Valencia de Alcántara, a rural town of roughly 6,000 inhabitants, 80 km West of Cáceres and North of Badajoz. The spatial opportunities were very clear, as the Junta de Extremadura asked for inspiring concepts for the city as a whole and especially for a number of vacant or largely underused buildings in the centre – a former slaughter house, a cultural centre, a foundation buildings almost in ruins, and the fortress that overlooks the town.
The rhythms were to be found in the imbrications of scales, from the architectural to the urban and regional, against the backdrop of elsewhere also well-known problems, such as a declining economy, the rural exodus, the demographic change and the question of the future of agriculture. The teams tried to engage dynamic interactions between the conceptual approach, the local situation and the different actors & stakeholders, and to transpose them in a storyboard, from macro to micro scale, and vice versa.


Cultivating a Network City
Download the PDF here



"Cultivating a network city" aims to unite the local dynamics in a shared and polycentric "regional metropolis". The local diversities and various specificities are to be developed and cultivated, the necessary critical density is provided through mobility, of both people and services. So-called "service stations" act as hubs between the local and the trans-local level, providing both basic services –such as a mail office or car sharing– as well as temporary events –like weekly or seasonal markets, or open-air exhibitions. They also serve as an "anchoring point" for the mobile services in the network, for instance a library or doctors, and as entries into local activities such as markets, visits of local food producers or guided fishing tours.
Download the PDF here
A New Service Network Operating on an Adapted Physical Network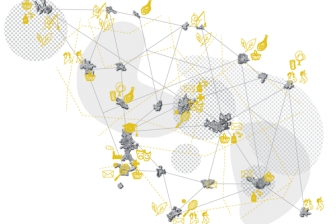 See other projects on the same site:
See the other sites: