Our Courtyards in the Street
København( DK) – Winner
TEAM DATA
Team Representative: Rune Jørgensen (DK) – architect; Associates: Ditte Marie Hildebrand Frederiksen (DK), Laura Wedderkind Bank (DK) – architects
Contributors: Karl Henning Törnfeldt (DK), Maria Hviid Bengtson (DK) – graphic designers; Martin Vraa Nielsen (DK) – architect engineer
Heimdalsgade 10a, 2200 København – Danmark
+45 22 35 53 00 – hundredetusind@gmail.com
See the complete listing of portraits here
See the site page here

D. M. Hildebrand Frederiksen, R. Jørgensen and L. Wedderkind Bank
INTERVIEW
1. How did you form the team for the competition?
We have previously worked together in different constellations and have learned that we share the interest for architecture that relates to the human scale and the context and history of the site. Therefore, we found it natural to cooperate on this competition as it entails the redevelopment of an old neighbourhood in Copenhagen.
2. How do you define the main issue of your project, insisting on how you answered on this session main topic: adaptability and urban rhythms?
Our strategy is to solve the existing problems before adding new architecture. The challenge of energy optimizing the existing housing stock in Copenhagen is urgent, and it is a challenge that does not disappear. We should focus on solving these contemporary challenges before considering utopian dreams for the future. Our concept is to focus on what to do in Copenhagen tomorrow. Our strategy was to provide with an overview of possible improvements and show a variety of activities and improvements that can begin anytime. Both familiar and verified new solutions. A toolbox, a catalog.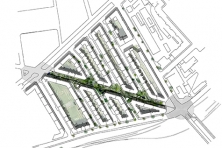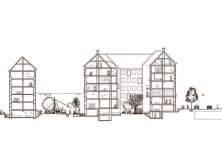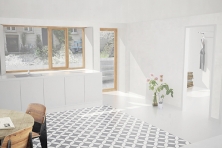 3. How did this issue and the questions raised by the site mutation meet?
We are facing the notorious challenge of a worndown housing stock, a energy consumption spiraling out of control and a lack of adaptation to today's climate. The classic "Copenhagen block" is adaptable and we see a potential in using the robustness of the existing buildings. Our project revolves around what we do with Copenhagen tomorrow. It was important for us to focus on an implementable strategy that holds the premise of equilibrium between the important parameters for sustainable urban development. This is done with a strong awareness of the qualities and potentials as well as inadequacies of the area. We have especially sought to cultivate this by investigating what can be shared.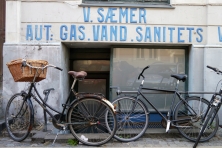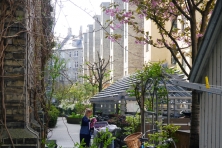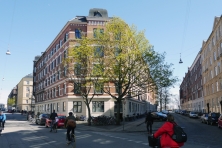 4. Have you already treated this issue previously and could you present some reference projects that inspired yours?
We have previously worked with similar issues such as how to share the city and how to prepare for the climate changes of the future. These themes are both highly relevant and we believe they will continue to characterize the future design of urban areas. For this project we looked at a lot of different architectural works as references . Old and new. Baroque shutter systems and modern day city parks. We searched Mias beautiful project in Banyoles, the James Corner Field Operations "street park" in New York. But we also looked at the winner of Europan 11 in Copenhagen, Tredje Natur, who dealt with some of the same challenges regarding sustainability and LAR strategies.


5. Today –within the era of an economic crisis and sustainability– the urban-architectural project should reconsider its production method in time; how did you integrate this issue in your project?
See question 3
6. Is it the first time you have been awarded a prize at Europan? How could this help you in your professional career?
Two members of the team have earlier been awarded with the "runner up"-prize in 2011. We consider this new award as an opportunity for us as young architects to influence the debate, and through that define our own standpoint. Hopefully we, as part of a new generation, will contribute to the development of an architectural language that makes sense to us and with which we can identify. A useful and inclusive architecture, which is characterized by an understanding of the people who will use it and for the environment and contexts it is included in.