TEAM DATA
Team Representative: Victoria Diemer (DK) – architect; Associate: Hiroshi Kato (JP) – architect
Gasværksvej 8D 1, 1656 København V – Danmark
+45 2624 2357 – x@katoxvictoria.dk – www.katoxvictoria.dk
See the complete listing of portraits here
See the site page here


H. Kato and V. Diemer
INTERVIEW
1. How did you form the team for the competition?
We are KATOxVictoria, a two-partner architectural office.
2. How do you define the main issue of your project, insisting on how you answered on this session main topic: adaptability and urban rhythms?
The project explores the question of the adaptation and transformation of one of Copenhagen's characteristic dense and historical city-block areas. We try to understand the nature of Vesterbro, historically a working-class area. Vesterbro does not want to look shiny and new, not only because of some conservative idea of the beauty of the classic 1800 urban city-block fabric, but Vesterbro is a weed that only blooms in the corner of your eye, and it is proud to be as such. So how to keep this kind of atmosphere and feelings with new technologies and ways of life?
People in Vesterbro are proud to be part of a local history of sweaty workers with hard lives. But they are now middle class baby families who do not want to leave their city profile and move to the suburbs. The question is basically: "How to maintain the historical character towards the public street space and how to upgrade the inside of the block in a playful way that expresses community rather than fancy upgrade."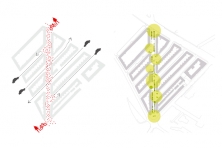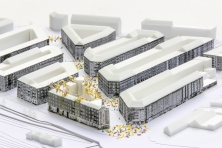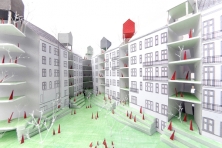 3. How did this issue and the questions raised by the site mutation meet?
The site is a very dense and cramped up space in Copenhagen: so the question of the site was "What can we share?"
With this project we are exploring the collective space as a combination of the joy of sharing space and the happiness of owning a space.
So we treated the question from a very personal point of view. We cut up the city-block on the inside to give new outdoor terraces and light to the existing apartments, and the same time this gesture also opens up the cramped courtyard and connects it visually to the public spaces around. It gives people a responsibility and ownership to the city at a small scale, and at the same time all the new small private spaces create a big visually accessible lively public and green void. People living there can characterize city by how the use their private space. So we turned the issue "What can we share" into "What can be owned by many people".


4. Have you already treated this issue previously and could you present some reference projects that inspired yours?
In Japan –where we both have professional experience– you really see how people take care of their street, part by part. People clean the part of the street in front of their house/shop and put flowers. This kind of behaviour made us consider an idea of sharing as: "What can be owned by many people".


5. Today –within the era of an economic crisis and sustainability– the urban-architectural project should reconsider its production method in time; how did you integrate this issue in your project?
Basically, for spaces to be able to reinvent themselves, they need to be open for different uses but still characteristic and strategic enough to inspire continuous use. In both architectural and urban scale we have created outdoor spaces that are strategic and social spaces to meet. These are spaces that are intertwined with the urban atmospheres and in close relation to people's private spaces; and they are connected to the natural public flow through the area. These are universal new meeting points of which the uses can vary over time.
6. Is it the first time you have been awarded a prize at Europan? How could this help you in your professional career?
Yes, it is. Actually our motivation to attend this Europan competition was not only to win. Green transformation is very much needed in Copenhagen so we are happy to build up experience in this category. It was also a nice scale to work on because you can combine historical charm and identity with playful and ambitious ideas.