A New Start with Old Genes
Schiedam (NL) – Runner-up
TEAM DATA
Team Representative: Maarten Thewissen (NL) – architect; Associates: Joost van Rooijen (NL), Redmer Weijer (NL) – architects
Studio Komma – Copernicusstraat 163, 2561VT Den Haag – Nederland
+31 62 957 27 57 – mail@studiokomma.nl - www.studiokomma.nl
See the complete listing of portraits here
See the site page here


J. van Rooijen, R. Weijer and M. Thewissen
INTERVIEW
1. How did you form the team for the competition?
Atelier 2rt is a design collective of three young Dutch architects: Joost van Rooijen, Maarten Thewissen and Redmer Weijer. We all studied building engineering at the HTS in the Netherlands and continued with architecture at the Technical University in Delft. We graduated as architects in 2012. For Europan 12 we formed this collective, because we all three have our unique design perspectives and interests. We are therefore able to complement each other and generate a dynamic yet critical approach during the design process.
2. How do you define the main issue of your project, insisting on how you answered on this session main topic: adaptability and urban rhythms?
For our design approach we wanted to go further than making a phased building with several designs as possible outcomes, because these plans are often limited and only adaptable on the long term. So we looked for a flexible system of smaller modular elements. This system –realized by a concept of pontoons and containers- forms a framework able to adapt to different scenarios, even on the short therm. It can be quickly implemented and easily changed in function and appearance as well.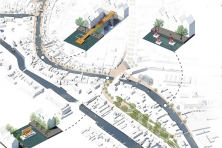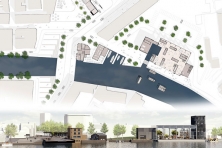 3. How did this issue and the questions raised by the site mutation meet?
After the analysis of Schiedam we noticed that we had to look further than just the project site. We found that the river –the Schie– is the perfect platform for the modular containers, because it gives the opportunity to reach a big part of the city and place small urban interventions along the river where needed. By placing the containers on floating pontoons in the river, the interventions are flexible in location and can be moved where needed.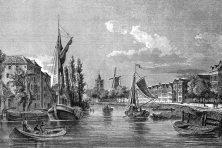 4. Have you already treated this issue previously and could you present some reference projects that inspired yours?
The issue of adaptability is always present in our projects at a certain level, because we also consider future developments and flexibility of a plan. Still, we have not used this theme required on the level for Europan 12. For Europan 12 we were inspired by projects that incorporate the theme. For instance, the city of Christchurch, where a big earthquake destroyed a large part of the city centre. The government deployed containers with different functions to facilitate the needs and demands of the residents. These containers are able to adapt to shifting demands making it a very flexible system.


5. Today –within the era of an economic crisis and sustainability– the urban-architectural project should reconsider its production method in time; how did you integrate this issue in your project?
The containers are easily adaptable and can be re-used making them very sustainable. They can be quickly changed to the users' demands. And because the program is divided into smaller flexible modular elements, the usage and production is much more effective and efficient. For the VROM location we designed a hall with an open plan where we can use the same containers as well. The hall is generic and can be used for different types of other activities, but also giving room for future demands.
6. Is it the first time you have been awarded a prize at Europan? How could this help you in your professional career?
This is the first time that atelier 2rt has entered the Europan design competition. We consider the awarded prize as a great honour and we are looking forward to the succeeding process that is about to start. We expect a challenging process and are encouraged to get the most out of ourselves and learning interesting new things. We also think Europan is a good platform to expand our network and to get in contact with interesting new people.