TEAM DATA
Team Representative: Sándor Guba (HU) – architect; Associates: Balázs Besenyei (HU) – architect; Lilla Szabó (HU) – landscape architect
Bocskai István utca 36, 2100 Godollo – Magyarország
+43 68 120 90 87 26 – gubasandor@gmail.com – nnnnarquitectos.eu
See the complete listing of portraits here
See the site page here


L. Szabó, S. Guba and B. Besenyei
INTERVIEW
1. How did you form the team for the competition?
S.G. – I have known Balázs since our freshman year at the university's French Faculty. And I heard about Lilla's masters project in a radio program and contacted her to see if she was interested. It was quite exciting as we only met for the first time during the Results Ceremony, as the three of us currently live and work in different cities and we did most of the teamwork on the Internet.
2. How do you define the main issue of your project, insisting on how you answered on this session main topic: adaptability and urban rhythms?
B.B. – The main issue of the project is a process of variable rhythm that works as a catalyst for adaptability. It happens simultaneously both in time and space, and also on a social level, all along the creek, from small scale easily realizable elements all the way to large scale processes involving participants on different levels. The flow of these subprojects is similar to a chain reaction, as they all influence one another.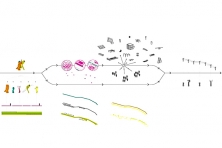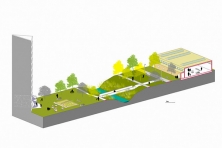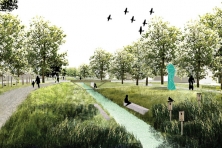 3. How did this issue and the questions raised by the site mutation meet?
L.Sz. – Since the catalogue objects are created with the collaboration of local residents and applied with a flexible schedule according to local needs, adaptability is one of the main cornerstones of the project. On the other hand, we –designers– define the general guidelines for this bottom-up process, the landscape and urban vision. Our proposals therefore becomes site specific, while identity for the site is born out of the so-called green rooms of diverging character.


4. Have you already treated this issue previously and could you present some reference projects that inspired yours?
S.G. – I learnt a lot from an international student competition I did a few years back (in collaboration with Péter Hámori) that had the main theme of a rapid-flowing river in the vicinity of Rouen.
L.Sz. – Since my masters project dealt with the role of narrow green zones serving as links in the urban tissue, we could incorporate some of my previous experience in the current project as well.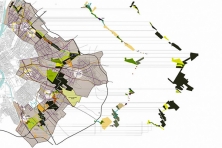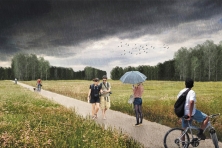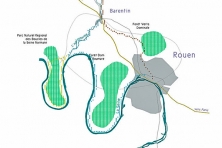 5. Today –within the era of an economic crisis and sustainability– the urban-architectural project should reconsider its production method in time; how did you integrate this issue in your project?
L.Sz. – For me, sustainability equals omitting any unnecessary interventions. Only the really indispensable and consequent ones are made, while the green zones and pedestrian connections are structurally strengthened. This attitude resulted in us abandoning the idea of a meandered creek.
S.G. – We also aimed for social sustainability, as meta- and catalogue objects rely heavily on bottom-up initiatives. A main goal is for the local residents to become fond of the project site while developing a feel for a common property and taking care of and tending to it.
6. Is it the first time you have been awarded a prize at Europan? How could this help you in your professional career?
L.Sz. – This was my first participation to Europan.
S.G. – Yes, this is the first time I have been awarded a prize in Europan, although I have already participated once in 2009 in Madrid with a different team.
B.B. – This was my first Europan and from a professional point of view Europan is a great challenge and a good opportunity for young designers to get some recognition.