Cluster/Streetscape
Wien-Siemensäcker (AT) – Winner
TEAM DATA
Team Representative: Miriam Liskova (SK) – architect
Collaborator: Marian Dusinsky (SK) – architect
Klariská 10, 81103 Bratislava – Slovakia
+421 948 190 031 – slla@slla.net – www.slla.net
See the complete listing of portraits here
See the site page here


M. Liskova and M. Dusinsky
INTERVIEW
1. How did you form the team for the competition?
We have been collaborating on several projects before.
2. How do you define the main issue of your project, insisting on how you answered on this session main topic: adaptability and urban rhythms?
The proposed urban fabric is defined by the combination of compatible uses. Balance is sought within mixture and diversity, both from the point of view of the urban form and the activity. A strong public space plan is inserted into the fragmented urban structure - central parks and open public spaces are a starting point for creating a surrounding dense structure. A grid is used as a support structure for the porous city blocks with various types of open spaces from very private to public. Blocks are not fixed but act as building clusters with exchangeable parts. Urban and social continuity and cohesion will be achieved by elements that are more complementary than uniform.
The software and hardware are defined, Cluster as a system of organization of the activities and Streetscape with the parks, greenery, trees, squares, plazas, streets, curbs and walkways as a physical environment. Both as an open scheme are prepared not only for the process of the implementation of future projects and activities, but even prior to studying and negotiating criteria such as floor area ratio, maximum building height, maximum footprint, dimension of open spaces, green areas, etc. The mixture of programs and typologies enables a multiplicity of urban activities in different moments in time.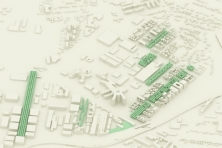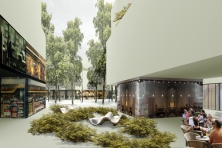 3. How did this issue and the questions raised by the site mutation meet?
Different mono-functional urban areas surround the site; apart from the new activities, a mix of the functions from surrounding structures is inserted into the new development. The new urban fabric responds to the surrounding different structures – Siemens area with the office buildings and warehouses, train line, areas with family houses, etc.
Knowledge-Based Economy related to Siemens' Research fields - Energy, Industry, Infrastructure, Health Care and other relevant activities like Information and Communication Technology sector, Services or Knowledge Centres works as a main Cluster of activities. The other functions - housing, offices, different facilities etc are an obvious component.
Organizations involved in the development process – the City of Vienna and District of Floridsdorf, Siemens and other Companies, Institutions, Universities, Technology Centres, Incubators, etc. participate in defining the identity of the area.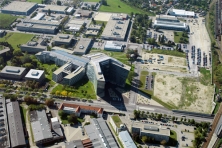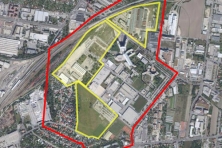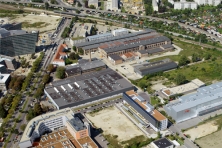 4. Have you already treated this issue previously and could you present some reference projects that inspired yours?
References for the configuration of the activities are business clusters, hubs and nodes, Silicon Valley or Renovation of the industrial areas of the Poble Nou in Barcelona (ES). As examples for the common public spaces, we could mention Renoir´s Bal du Moulin de la Galette, Hviezdoslavovo námestie in Bratislava (SK), Central Park in New York (US), Rambla del Raval in Barcelona (ES), etc.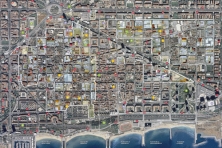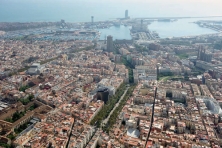 5. Today –within the era of an economic crisis and sustainability– the urban-architectural project should reconsider its production method in time; how did you integrate this issue in your project?
Urban structure allows phasing, possibility of temporal uses, temporal use of existing buildings, ephemeral occupations, versatile uses etc.
Also because of the uncertainty of the future, the proposed scheme is a flexible framework open to any future needs, while maintaining a stable quality. It is open to accommodate future change in usage and density; blocks are not fixed, but act as building clusters with exchangeable parts.
The Landscape approach is a strategy to create structure and identity, without overly restricting the built development along the landscaped strips – dense urban fabric with advanced infrastructure and public transit as a main transport system.
6. Is is the first time you have been awarded a prize at Europan? How could this help you in your professional career?
Yes, this has been the first time. We hope this will give us the opportunity to further develop the project based on the competition entry.