Forum of Cities and Juries - Oslo (NO) - Report
E11 Forum des Villes et des Jurys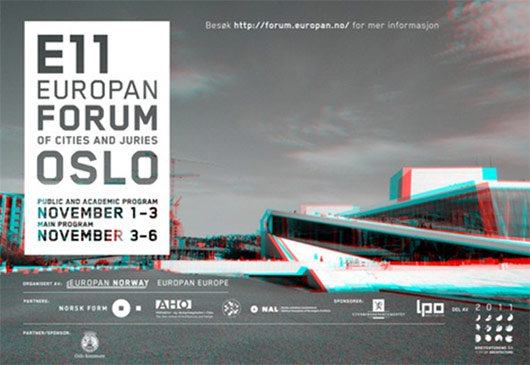 Oslo (NO)
Novembre 4th and 5th, 2011
The EUROPAN 11 Forum of Cities and Juries was held on 4 and 5 November in Oslo (Norway), where the juries and site representatives from all the countries participating in EUROPAN assembled together. The Forum brought together the representatives of the 49 project sites, the members of 14 juries and 17 national EUROPAN organisations.
The Forum of Cities and Juries was structured as a series of lectures, debates, working groups, exhibition, architectural excursions and informal meetings to discuss solutions and focus adjudication of the entries that have been short-listed by national juries.

The 1st day of the forum, during the lectures and debates has been examined a possible theme for EUROPAN 12: "the adaptable city". The participants also considered to what extent the temporary nature of the use of space influences the design.
The minutes of these conferences-debates will be published soon in the website!

The 2nd day was devoted to working groups in which the projects short-listed for EUROPAN 11, classified by theme family by the Technical Committee and the Scientific Council of EUROPAN, were discussed by representatives of the sites and juries.

In the end, 326 projects selected by the juries in a first round for the quality of their ideas have been presented, discussed and compared anonymously on the basis of themed site categories, combining the views of experts and the strategic perspectives of the municipalities.
For both site representatives and the jury members, the forum was a good opportunity for exchanging ideas about sites and projects preselected for them.
After the forum, the members of the 14 jurys will meet again to select the winners...
The International event has been collaboration between EUROPAN Europe, EUROPAN Norway, Oslo Municipality, Oslo School of Architecture and Design, Norsk Form and National Association of Norwegian Architects.
Europan 11 by numbers
3000 site files downloaded! 63 different nationalities! 46 different countries!
Annoucement of results Europan 11
The results of EUROPAN 11 competition will be announced on 15 December 2011 on the website!