Polyrhythmic Field
Graz (AT) – Runner-up
TEAM DATA
Team Representative: Katja Aljaž (SI) – architect
Contributors: Matej Mejak (SI) – student in architecture
Kranj – Republika Slovenija
+386 41 31 27 40 – katjaaljaz.arh@gmail.com – ar3de.com
See the complete listing of portraits here
See the site page here


M. Mejak and K. Aljaž
INTERVIEW
1. How did you form the team for the competition?
We live and work together and have already successfully completed a few competitions.
2. How do you define the main issue of your project, insisting on how you answered on this session main topic: adaptability and urban rhythms?
The main issue of the site was how to organize primary school with extension, reserve space for secondary school, child care, district sports field, housing with commercial program and provide enough green areas which were necessary for the program above. The total sum of all green areas exceeded the available plot area, so a specific strategy was developed, where different urban rhythms where included into planning.
Due to uncertain future of the program (construction of the secondary school), adaptability had to be included from the very beginning. Therefore different scenarios were made: the first scenario included construction of the primary school, secondary school and housing; the second scenario only included the primary school and housing. Adaptability was also taken into account by open strategy of ground floor areas, the height of 5 meters and different typology can be adapted for different programs.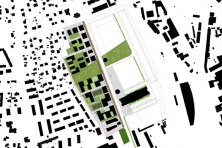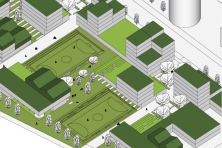 3. How did this issue and the questions raised by the site mutation meet?
To answer this issue we formed polyrhythmic landscape in the form of a chessboard, where each field receives a different rhythm from its inhabitants. The chessboard system provides an arrangement with equal access to open areas. This system also defines small and defined green areas, to which people can identify with.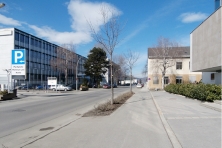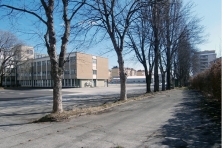 4. Have you already treated this issue previously and could you present some reference projects that inspired yours?
The project that inspired us was Berlin Free University (1963) by Candilis-Josic-Woods, where architects treated space as four dimensional - where space and time are inseparably linked. We haven't treated this issue previously, but we were familiar with the introduction of different urban rhythm into the city life. There are many schools in our country, which open their sports fields in the afternoon to residents, which is one example of successful usage of different urban rhythm.


5. Today –within the era of an economic crisis and sustainability– the urban-architectural project should reconsider its production method in time; how did you integrate this issue in your project?
The most important element that enables the production method in time is to include the phasing strategy into the planning process. That means that the project has to be conceived of smaller parts that can later be built separately in a certain period. The checkerboard system provides manageable independent fields that can be build in phases. We also paid special attention to sustainability by including environmental-friendly approaches on urban scale (gardens/greenhouses on the roof, local food productions, etc ).
6. Is it the first time you have been awarded a prize at Europan? How could this help you in your professional career?
Yes, actually it was the first time we have ever participated in the Europan competition. We hope that it will bring new opportunities for us and hopefully lead to realization of our idea of Smart City.