E15 Results
Dec 2019
Tuusula (FI) – Special Mention
TEAM DATA
Team Representative: Chau Nguyen (FI) – Architect; Associate: Anastasia Luzina (FI) – Student in Architecture
Hämeentie 37 A22, 00500 Helsinki (FI)
+358409329188 - nmc.arch@gmail.com

See the complete listing of portraits here
See the site page here

INTERVIEW
1. How did you form the team for the competition?
We attended the IFHP summer school about "Inclusive Urbanism" in 2016. Studying at Aalto University and living in Helsinki, we both share interests on architectural competition. Currently, Anastasia is working for an architectural office in Helsinki. Chau is working on her doctoral dissertation about urban phenomenon. We combine our different skill set to develop our teamwork.


2. How do you define the main issue of your project, and how did you answer on this session main topic: the place of productive activities within the city?
The main issue of Anttila farmland in Tuusula is underutilized and a shrinking area. The site is located at a beautiful lakeshore with cultural and historical values. Unfortunately, farming activities have declined recently in rural areas. We want to preserve the natural characteristics of Tuusula and advocate for a new urban- rural lifestyle. We introduced the concept of nature-based landscape design and flexible development framework. The first phase should begin with temporal festivals to reactivate local community. The old farming facilities will incorporate with new landscape elements to provide experimental space for coming creative entrepreneurs.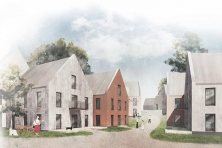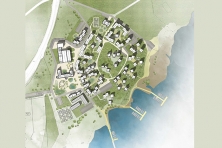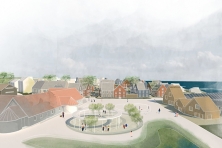 3. How did this issue and the questions raised by the site mutation meet?
Symbiosis is a relationship between two or more organisms that live closely together. The concept is to evolve the human-nature relationships and to introduce a balanced lifestyle in Anttila farmland. The new urban residents can find an in-between zone of urban and nature. The entrance of the farm will serve as the meeting place and cultural hubs. The urban atmosphere fades off and the nature-lovers can find more intimate and private spaces in the north side. The connection to the lake will be strengthened and embraced by seasonal festivals and activities. Symbiotic community means a collaborative, environment-friendly and less waste district. The core idea is the place-based development.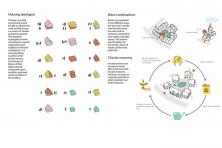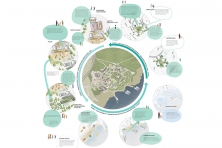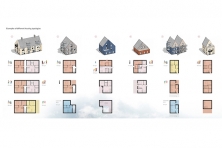 4. Have you treated this issue previously? What were the reference projects that inspired yours?
The housing concept is developed from our working experience on housing projects. For temporary uses in development, Chau conducted her master thesis on the site of Tammela, Tampere. The research by Urban Catalyst (Berlin, DE) inspired a flexible framework for public participation. Another project De Ceuvel (NL) suggested how to reclaim a waste land with community-driven design.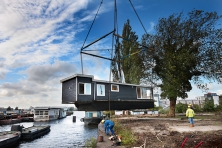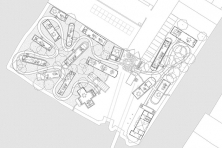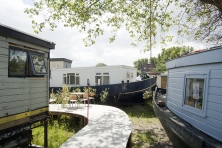 5. Urban-architectural projects like the ones in Europan can only be implemented together with the actors through a negotiated process and in time. How did you consider this issue in your project?
Public participation and community-driven design compose the core part of the design. We proposed a flexible process to reclaim Anttila. In contrast to the large-scale urban extensions that were built on farmland beyond the city borders, design strategy initiates the process with the renovation of the historic buildings in order to strengthen the identity with artist and makers community. By festivals and pop-up events, temporary uses will activate Anttila and generate vibes to the residents who will organize spontaneously seasonal activities on site. Anttila will be regenerated from an under-utilised and generic space into a place with nature-based design, collaborative communities and innovative values.


6. Is it the first time you have been awarded a prize at Europan? How could this help you in your professional career?
This is the first time that we are awarded a prize at Europan. This achievement will encourage us to take more competitions and develop our expertise in architecture. Furthermore, we want to raise our voice in the architectural community in Finland. As expatriates in Finland, our multicultural backgrounds will bring different ideas and values to solve local problems.
TEAM IDENTITY
Office: ILIMELGO ARCHITECTES
Functions: Architecture and urban design
Average age of the associates: 28 years old
Has your team, together or separately, already conceived or implemented some projects and/or won any competition? If yes, which ones?
Chau Nguyen
Pirkkalan kehä | Valtatie 3 Landscape competition 2012 – Honorable mention
Nordic Architecture Design workshop (SAFA) 2012 - 1st Prize in design charette workshop about vacant spaces in Lahti during Helsinki Design Capital 2012.
Baku case (Tampere University of Technology with ABB) landscape competition 2012 – Honorable mention