TWINPHENOMENA
Höganäs (SE) – Winner
TEAM DATA
Team Representative: Enrique Arenas (ES) – architect; Associates: Luis Basabe (ES), Luis Palacios (ES) – architect
Contributors: Almudena Cano (ES) – architect; Paula Fernández (ES), Kerstin Pluch (AT), Ana Prieto (ES) – students in architecture
Plaza del Cordón, 28005 Madrid – España
+34 61 904 69 35 – enrique@arenasbasabepalacios.com – www.arenasbasabepalacios.com
See the complete listing of portraits here
See the site page here

L. Palacios, K. Pluch, P. Fernández, A. Prieto, A. Cano, E. Arenas and L. Basabe
INTERVIEW
1. How did you form the team for the competition?
Our team is the result of a longtime relationship between Arenas Basabe Palacios architecture office and ETSAM University in Madrid. Since its beginning, the studio has always collaborated with students from the partners' teaching classes and has formed a solid working and research organization which keeps the studio running, not only engaging in international competitions but also in all kinds of projects.
2. How do you define the main issue of your project, insisting on how you answered on this session main topic: adaptability and urban rhythms?
The main issue of TWINPHENOMENA is very close to Europan 12's topic. We base our intervention on urban strategies adaptable over time, which define density, buildability, urban, and rural management, according to Höganäs context and reality.


3. How did this issue and the questions raised by the site mutation meet?
The issue of adaptability objectifies on the site of Höganäs as a dialog between urban and rural worlds. The whole project brings together both realities in order to create a new development that integrates urbanity and agriculture, as a way of understanding the town's current scale and future directions.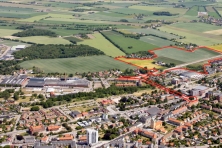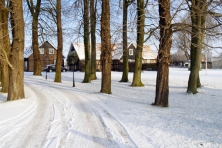 4. Have you already treated this issue previously and could you present some reference projects that inspired yours?
We have been developing this idea during the last years, researching ways of integrating adaptability and participation to city growth through "urban supports". Some of our past works reflect this line of investigation and have inspired our Höganäs proposal, like our Vienna "Gartenhof" project for Europan 10 and our "Ex-citizens" project in Kapfenberg for Europan 9, both of which won a first prize.


5. Today –within the era of an economic crisis and sustainability– the urban-architectural project should reconsider its production method in time; how did you integrate this issue in your project?
TWINPHENOMENA takes in consideration our contemporary context from the basis of the proposal. The project is organized around "urban supports" that allow the participation of every type of actors involved in the production of the city, from government to individuals, creating a large scale of social intervention. This open urbanism not only decides over the built structures, but also manages public space and its productive landscape.
6. Is it the first time you have been awarded a prize at Europan? How could this help you in your professional career?
In this edition of Europan 12, our team has also been awarded a runner-up prize on the project "Urban Software" for the site Wien-Siemensäcker. In the past editions, we have won three first prizes (Badajoz and Kapfenberg in Europan 9, and Vienna in Europan 10) and a runner-up prize in Alcázar de San Juan (Europan 8). Since we received these awards, our studio has obtained commissions from Badajoz and Vienna's city councils and is still working on the realization of both first prizes. The projects that we have developed thanks to Europan have made possible the preservation and consolidation of our architecture firm.