Urban nature
Assen (NL) – Runner-up
TEAM DATA
Team Representative: Marieke Kums (NL) – architect
Contributors: Aster Sittoni (IT), Diana Ciufo (IT) – architects; Geerte Baars (NL), Kevin Westerveld (NL), Yihan Xiang (CN) – students in architecture
Westewagenstraat 66, 3011 TA Rotterdam – Nederland
+31 10 213 30 30 – info@studiomaks.nl – www.studiomaks.nl
See the complete listing of portraits here
See the site page here


M. Kums, D. Ciufo, A. Sittoni, Y. Xiang, G. Baars and K. Westerveld
INTERVIEW
1. How did you form the team for the competition?
The team was already working together on other projects and decided to take part in the Europan 12 competition in Assen.
2. How do you define the main issue of your project, insisting on how you answered on this session main topic: adaptability and urban rhythms?
In Assen the municipality and large developers no longer have the resources to redevelop the harbour area. What further complicates the matter is that the land currently belongs to a large number of different owners. We propose to transform the problem of fragmented landownership into a new development strategy. Plots of land could be renewed pieces by piece, grain by grain. As the changes that appear are led by personal demand rather than economic investment alone, the change in the city would be achieved by a quiet accumulation of urban elements rooted in the daily life of the inhabitants. Existing building envelopes will become the frameworks for new developments.
Also for the project proposal itself we opted for a flexible structure. A group form –an evolving system of generative elements in space– using positive as well as negative spaces. This new living collective may accommodate housing areas, offices, floating restaurants and gardens. It may grow gradually over time and can therefore dynamically anticipate the wishes and demands of new users and investors.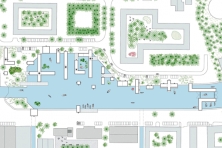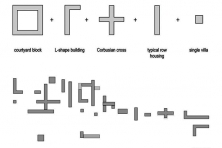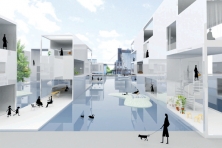 3. How did this issue and the questions raised by the site mutation meet?
We are not sure if we understand the question correctly. But we believe that our project proposal meets the existing urban processes on site very well as well as the desire from the municipality for sustainable growth and future change.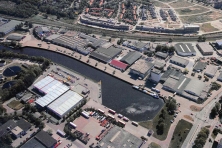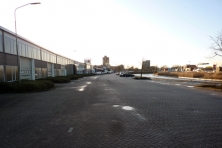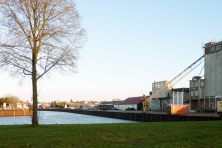 4. Have you already treated this issue previously and could you present some reference projects that inspired yours?
We took part in a similar assignment for the Deventer Harbour area development.


5. Today –within the era of an economic crisis and sustainability– the urban-architectural project should reconsider its production method in time; how did you integrate this issue in your project?
We propose a slow urban development in combination with flexible architectural infrastructures that consist of easy to fabricate and repetitive elements.
6. Is it the first time you have been awarded a prize at Europan? How could this help you in your professional career?
We also received a second prize in Europan 11. We did not execute our project, but were asked by a client from the same area to build another project. It is now under construction.