Vanished Villages - Collective City
Bitterfeld-Wolfen (DE) – Winner
TEAM DATA
Team Representative: Aline Hatt (DE) – architect; Associates: Anja Kaiser (DE), Sabrina Ritter (DE) – architects
Magdeburger Str. 2, 78467 Konstanz – Deutschland
+49 173 762 06 27 – alinehatt@gmx.de
See the complete listing of portraits here
See the site page here


A. Kaiser, A. Hatt and S. Ritter
INTERVIEW
1. How did you form the team for the competition?
We know us since we study together and realized, that we form a good team. We complement us perfectly based on our different characteres and the same thinking of architecture.
2. How do you define the main issue of your project, insisting on how you answered on this session main topic: adaptability and urban rhythms?
From general analysis of village structures we derived norms for the design and organisation of urban development. Then we transferred them into a modern version. At the town quay of Bitterfeld we recommend a mix of different leisure activities.
3. How did this issue and the questions raised by the site mutation meet?
Project area A: The Villages Niemegk, Döbern, Seelhausen and Paupitzsch disappeared because of the brown coal opencast mining. So the community of these villages got lost. Therefore we tried to create the necessary conditions for a strong community to form again. For this we used historical village and cordyard structures and modified them. The village square as place for communication and trade shall be re-established. The elderly of the retirement home of bitterfeld could take care of the children, teaching them traditional work of the region. Two village squares are created as well as three village greens with visual references to the vanished villages.
Project area B: The leisure activities are designed to be appealing for different generations and a great variety of people. Events thematizing sports will attract sportive tourists.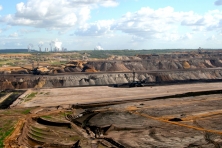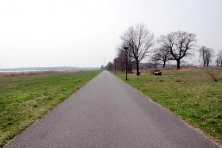 4. Have you already treated this issue previously and could you present some reference projects that inspired yours?
We were inspired by the the history and the environs of Bitterfeld. To realize this draft we used historical village and courtyard types as well as general characteristics of historical villages as references.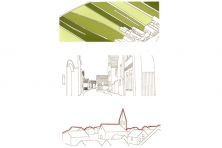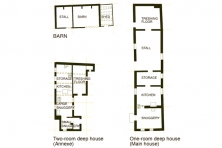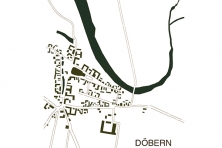 5. Today –within the era of an economic crisis and sustainability– the urban-architectural project should reconsider its production method in time; how did you integrate this issue in your project?
The individual sites are enlarged giving the people the opportunity to be semi-self-sufficient. Through the strong community and the collaboration with the eldery the child day care supply will be guaranteed. Rainwater is collected in the creek, pumped to the center and used for watering.
6. Is it the first time you have been awarded a prize at Europan? How could this help you in your professional career?
This was our very first competition and it will be very helpful for our professional career.