Author(s)
Frötscher Lichtenwagner
Willi Frötscher (AT)
Christian Lichtenwagner (AT)
Client(s)
City of Innsbruck
Innsbrucker Immobilien GmbH. & Co KEG
Competition team
Willi Frötscher (AT),
Christian Lichtenwagner (AT)
Anne Wagner (DE),
Rainer  Pirker (AT)
Europan 4 Innsbruck
winner
1996
The project proposes unity for this outlying district, generated by a single new building and a clearly defined square. The building's compactness creates a sense of design and its plain shell is divided into distinct parts: A nursery, performance centre and retirement home are on the first two floors; public institutions and housing on the upper floors. The square with its underground car park is designed as a living platform for social interaction.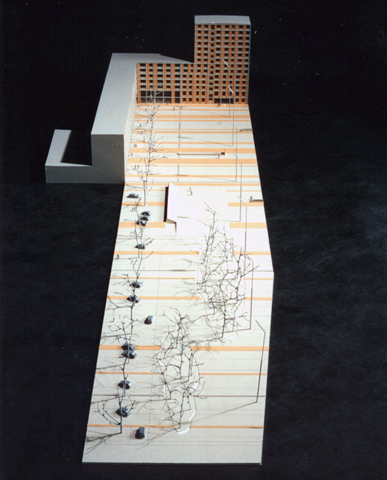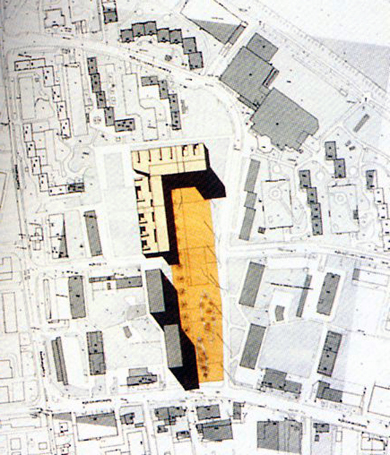 1996-2003
Following the 1996 competition, nothing happened until the year 2000.  The architects managed to interest three potential clients, but the city preferred to retain ownership of the land and to let the public space. It was not until a new city council was elected in August 2000 that the go-ahead was given for the operation.
In December 2000, the architects were commissioned to produce an urban design containing modifications to the programme: car park capacity increased to 250 cars, housing separated from activities, football ground retained, housing for the elderly rather than a retirement home, separation of private and public operations. The architects incorporated these requirements without fundamental change to the morphology of the original project. In the new plan, the horizontal part of two floors accommodates all the public functions and delineates a central urban space. The tower, a long-drawn incision in its environment, is given over to dual-aspect housing units with panoramic views over the landscape. The square is non-traditional, designed as a platform for urban services with the car park as a dynamic base. The architects obtained agreement for a shopping centre (M-Preis) to enlivens the public space.
Nonetheless, there was debate on whether or not to continue building tower blocks in the Olympic Village, which finally concluded in favour the architects. In December 2001, the city council decided to begin construction.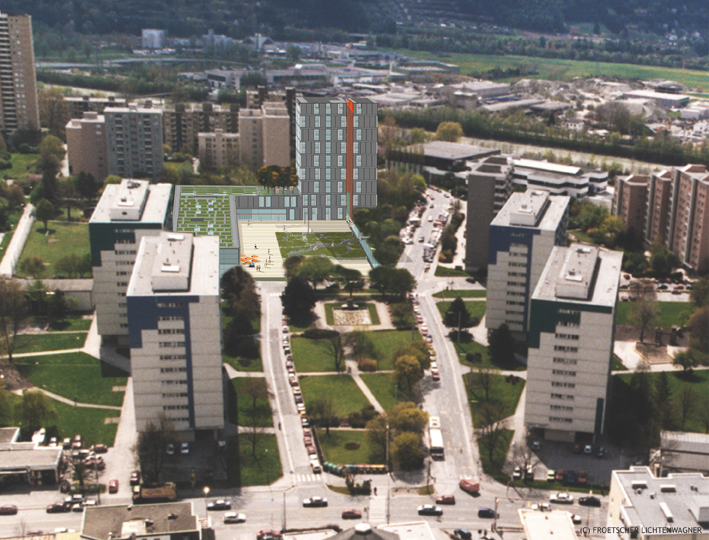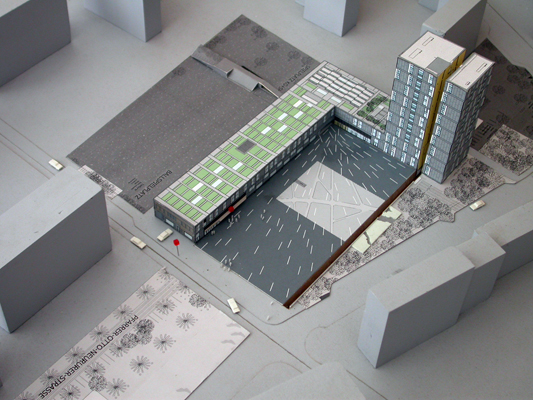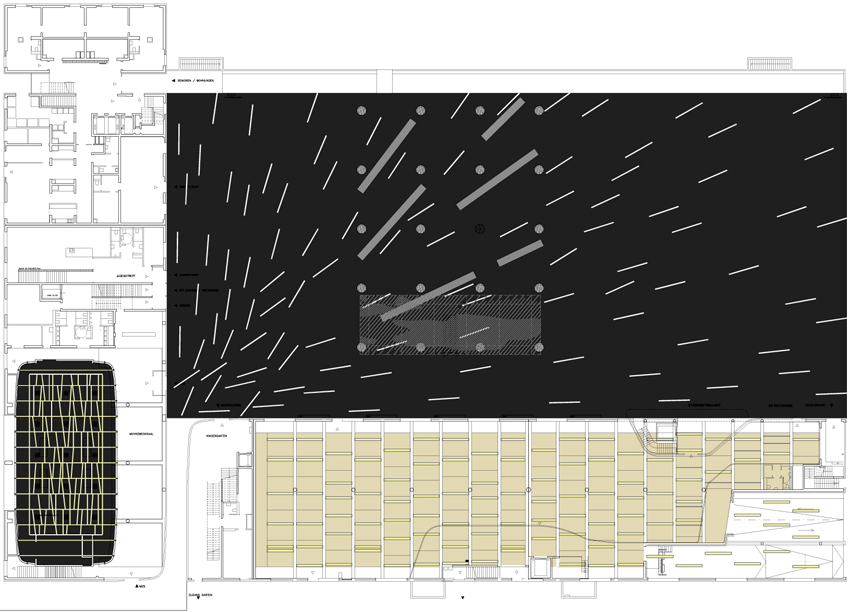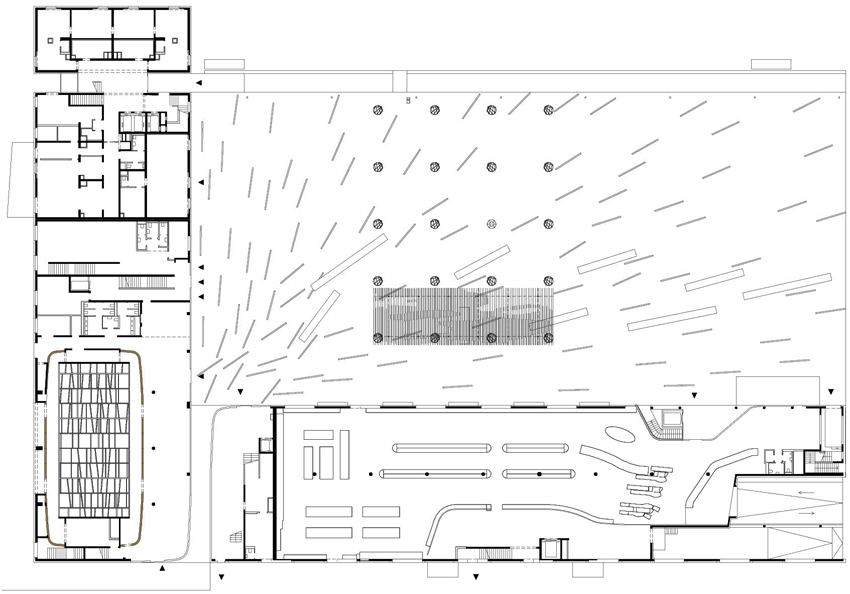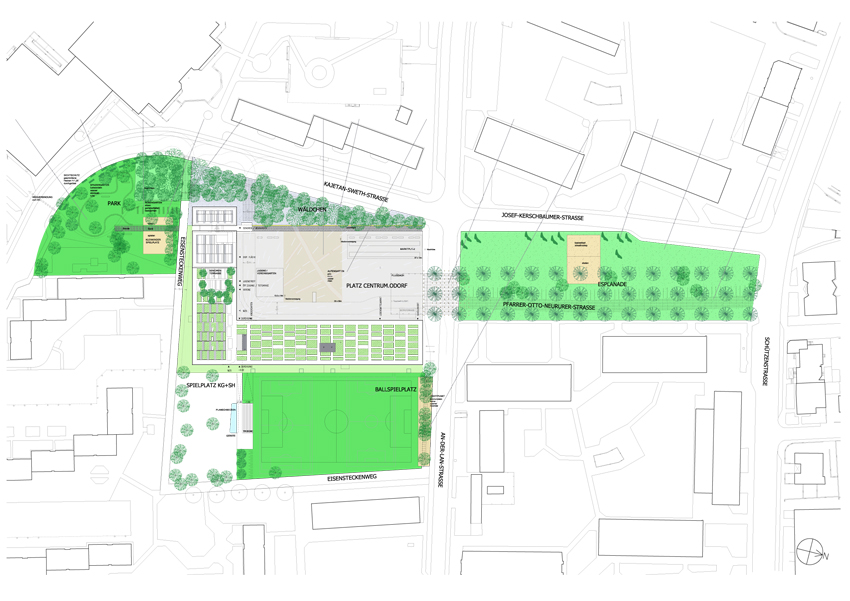 2003-2006
The construction started in November 2003 and has been completed in July 2006.
The project is both urban design and architecture, and it shows both an enormous control on the large scale and individual care and creativity on the level of its parts.
It stands self-consciously in the middle of the two Olympic Villages, linking them, giving them a collective new centre, both formally and programmatically. Teenagers use the square as a place to hang out, elderly people have found a place where they can live on their own with help when needed. Thus, the capacity of the quarter to house all kinds of different people, has been increased.
The centre of Ordorf is a village in a village in a city -and with the nursery as the smallest village inside, as a set of Russian dolls.