FAB LABazana
La Bazana (ES) - Mention Spéciale
DONNÉES DE L'ÉQUIPE
Représentante d'équipe: Valentina Crupi (IT) – architecte et urbaniste; Associé: Luca Del Fabbro Machado (IT) – architecte et urbaniste
info@2128architetti.com – 2128architetti.com
Voir la liste complète des portraits ici
Voir la page du site en anglais ici


L. Del Fabbro Machado et V. Crupi
INTERVIEW en anglais
Cliquer sur les images pour les agrandir
1. How did you form the team for the competition?
We met in 2001 at the University and have been working together ever since, first as students, then as tutors and assistant professors and finally as architects and PhD researchers. Our partnership went on to become a design team, 2128architetti, which we founded in 2017. As 2128architetti we achieved some rewarding awards, such as "Abitare sostenibile", Budoia 2017, and managed to have fun dealing with urban, architecture and landscape projects.


2. How do you define the main issue of your project, and how did you answer on this session main topic: the place of productive activities within the city?
The design proposal intends to orientate La Bazana towards a new urban model, a locally productive and globally connected self-sufficient city. The goal is to reinvent the relationship between consumption and production developing a circular economy able to attract new resources that can fuel the existing production system in an eco-sustainable way.


3. How did this issue and the questions raised by the site mutation meet?
La Bazana stands to become a Fab City and an attractive place to live, greased by a mild climate and the peculiar position in close relation with the countryside. To encourage the latent local economy, we increase the tourist capacity by configuring the city as a widespread receptive platform, exploiting abandoned buildings, giving a renewed value of the underdeveloped or outdated areas, and providing basic services. This kind of intervention aims at attracting an international creative class (researchers, intellectuals, artists, …) that wants to spend a retreat period or to live in close contact with nature. At the same time, the arrival of outside people could trigger micro-economies linked to receptivity. Finally, intellectual projects and local agricultural products are easily exportable. A "glocal" production, careful to local values but open to trains of thought and global goods.
4. Have you treated this issue previously? What were the reference projects that inspired yours?
During the university thesis and the Ph.D., we had had the opportunity to consider some topics like Glocal Economy, Creative Class, and Productive Landscape. Our thinking is that these issues may offer new ways to rethink contemporary city, when applied to urban design.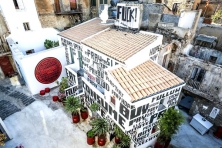 5. Urban-architectural projects like the ones in Europan can only be implemented together with the actors through a negotiated process and in time. How did you consider this issue in your project?
FAB LABazana proposes a strategy focusing on the city and its inhabitants, approaching with a multiplicity of actions capable of generating a productive activation with a relatively moderate investment. For this reason, we did not want to elaborate a fixed plan, but rather a design that is adaptable to the different dynamics that can evolve through time.


6. Is it the first time you have been awarded a prize at Europan? How could this help you in your professional career?
Yes, it is the first time we have been awarded at Europan. Being rewarded as Special Mention gives us the opportunity to develop our ideas about Productive City and to face in a young and international panorama.