LATERAL COALESCENCE
Helsinki (FI) - Lauréat
DONNÉES DE L'ÉQUIPE
Représentante d'équipe: Lotta Maria Kindberg (FI) – architecte
Associées: Rachel Sari-Dewi Murray (NZ), Nea Helena Tuominen (FI) – architectes

Susitie 22 C 21, 00800 Helsinki (FI)
+358 407 680 878 – hello@komiteark.fi – komiteark.fi
Voir la liste complète des portraits ici
Voir la page du site en anglais ici


N. Tuominen, L. Kindberg et R. Murray
INTERVIEW en anglais
Cliquer sur les images pour les agrandir
1. How did you form the team for the competition?
The three of us met working in a larger office in Helsinki. After realising we shared similar values and ideals regarding architecture and urbanism, we decided to form a team for Europan 14.


2. How do you define the main issue of your project, and how did you answer on this session main topic: the place of productive activities within the city?
The project deals with the expansion of Helsinki city towards the Eastern suburban area of Laajasalo, transforming a desolate highway into an active urban boulevard. Our design first identifies the site's existing places of productivity, and establishes a key East-West pedestrian street to connect them. At Laajasalo, we considered productivity in two ways: firstly, the existing urban amenities in the Eastern town centre; and secondly, the forest, wetlands and sea - an ecological production system - on the west. This link concentrates future mixed-use development along a city to sea connection, strengthening Laajasalo's identity and fostering community activity and vitality.
3. How did this issue and the questions raised by the site mutation meet?
The project site was home to a delicate wetland-lined harbour and a majestic pine tree forest hill which provided both challenges and opportunities in the face of urban intensification. How to meet the required density allocation for Laajasalo, without disturbing the natural environment? Our solution reconciles urbanism and nature; using the landscape to direct our design, while in turn using increased density and productive activity to bring people closer to the landscape.


4. Have you treated this issue previously? What were the reference projects that inspired yours?
In previous research we have explored the interaction between urban density and nature, influenced by concepts on landscape urbanism. Our references also included various housing developments, landscape architecture projects, and urban design interventions. Common urban design principles by Jahn Gehl and Kevin Lynch informed the boulevard design. Projects by offices such as COBE, JAJA Architects, AART, Kjellander & Sjöberg, and Link Arkitektur inspired our waterfront housing typologies. Other contemporary landscape offices such as Turenscape and Field Operations inspired our edge treatment along the waterfront and also the interaction between forest and boulevard.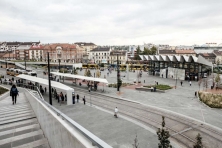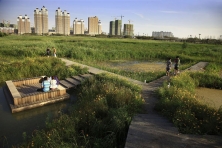 5. Urban-architectural projects like the ones in Europan can only be implemented together with the actors through a negotiated process and in time. How did you consider this issue in your project?
In this project, it was necessary to consider both the overarching vision by Helsinki City Council for an intensified urban boulevard, while also remaining sensitive to the existing Laajasalo community. At the larger scale, we established a key city to sea axis, creating a central node and waterfront island that together would form a distinctive identity within the Helsinki urbanscape. At the smaller scale, our design celebrates key attributes of the site such as the natural features and maritime character which local residents deem significant. These site features acted as key design drivers for our design decisions, and we hope will continue to inform future design development in the area.


6. Is it the first time you have been awarded a prize at Europan? How could this help you in your professional career?
It is our first time as a team winning Europan. This success has given us the inspiration and courage to become further involved in urban planning and city design. Of course, we hope to continue this project further in collaboration with the Helsinki City Council to oversee the design's future implementation.