Seamless
TornioHaparenda (FI) - Mention Spéciale
DONNÉES DE L'ÉQUIPE
Représentant d'équipe: Josip Jerković (HR) – architecte
Associée: Marta Lozo (HR) - architecte
Collaborateur: Herbert Elsener (CH) - aménageur du traffic urbain
Hopfenstrasse, 15, 8045 Zurich (CH)
+41 762 447 644 – j@parallela.ch – parallela.ch
Voir la liste complète des portraits ici
Voir la page du site en anglais ici


J. Jerković, M. Lozo et H. Elsener
INTERVIEW en anglais
Cliquer sur les images pour les agrandir
1. How did you form the team for the competition?
Based on our previous collaborations and on a shared attitude towards the urban environment we have decided to further investigate the topic of productive cities by studying and planning the border zone of the twin city TornioHaparanda.


2. How do you define the main issue of your project, and how did you answer on this session main topic: the place of productive activities within the city?
A place of productive activities and innovation demands a possibility of human interaction. Hence securing an adequate mix of uses is needed to induce different types of interaction at different daytimes. In order to further enable this interaction the scale and the proportions of architecture and public spaces have to be designed according to the scope of human perception.


3. How did this issue and the questions raised by the site mutation meet?
Since the biggest challenge was a seamless connection of the two cities, we have decided to build upon this challenge and turn the space of past division into a future city centre. For this purpose, a transformation of the existing highway has been foreseen, turning an existing spatial barrier into a main element of a walkable productive city.
4. Have you treated this issue previously? What were the reference projects that inspired yours?
On the level of everyday life, we are confronted with issues of scale and design of different city elements. Cities provide us directly with a vast repository of different planning trials and errors which we encounter while walking down the streets and climbing up the stairs. This is where we get inspired while trying to decipher the past layers and while imagining the future ones.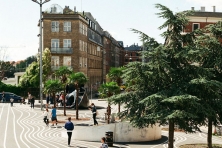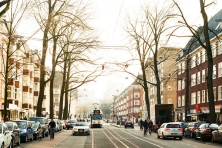 5. Urban-architectural projects like the ones in Europan can only be implemented together with the actors through a negotiated process and in time. How did you consider this issue in your project?
The complexity of implementation and the need for negotiation has been considered through a clear definition of a relatively simple system of urban blocks and public infrastructure. While leaving different phasing options open, this system enables the needed flexibility for a long-term development and redevelopment of the urban structure.


6. Is it the first time you have been awarded a prize at Europan? How could this help you in your professional career?
Yes, it is the first time we have participated in Europan. It was a challenging task which has helped us to test and further formulate our attitude towards the urban environment while motivating us to continue participating in the development of the current urban discourse.