The End of Efecto Arenal
Platja de Palma (ES) - Mention Spéciale
DONNÉES DE L'ÉQUIPE
Représentant d'équipe: Joaquín Millán Villamuelas (ES) – architecte
Collaborateurs: : Jesús Reyes García (ES), Paolo Mercorillo (IT), Marta Álvarez Cerviño (ES), Kelly Guerim (BR), Magali Chermette (FR) – étudiants en architecture
OOIIO Architecture
Paseo de San Illán, n°47, Local Derecho, Madrid (ES)
+34 912 826 219 – info@ooiio.com – ooiio.com
Voir la liste complète des portraits ici
Voir la page du site en anglais ici


J. Millán Villamuelas, J. Reyes García, P. Mercorillo, M. Álvarez Cerviño, K. Guerim, M. Chermette
INTERVIEW en anglais
Cliquer sur les images pour les agrandir
1. How did you form the team for the competition?
We were already a team working in Madrid developing all kind of projects since a few years back, so when we decided to go for Europan, we just reorganized the office to attend our commissions at the same time and we invested time and efforts on this competition. We are an international team because we have people from different countries working with us(Spain + Italy + France + Brazil). We love this multiculturalism!


2. How do you define the main issue of your project, and how did you answer on this session main topic: the place of productive activities within the city?
The bigger issue of our project was to transform the current main local economic activity (tourism) from nowadays low-quality offer (sun + party + beach) to a more interesting one based in local culture and nature. In our case the city itself is a result of its productive activities, with lots of hotels, fast food restaurants, markets… So if we work with intelligence on its urbanism, we definitely could change things for better on this site!


3. How did this issue and the questions raised by the site mutation meet?
The project area has cheap tourism has its main activity because its urbanism is also cheap and shows no interest in reinforcing the values of its local Mediterranean culture. Public squares, streets and parks have no interesting life in them, because they are just not interesting, so people comes here to party, not for the city itself. We cannot demolish the city and build it again, so we proposed a way to transform it from its socio-economical activities, like the street market that used to be organized here once per week. It could be a fantastic urban regenerator if we work on its urban configuration, design, promotion as an attractive cultural event. We worked on different other intervention similar to this market studies for a global and multi-proposal.
4. Have you treated this issue previously? What were the reference projects that inspired yours?
In OOIIO, we have worked in other urban projects before, and we have already built some public space projects, but with this case we followed a very different approach to the problem. Thanks to the openness of Europan format, we decided to show and work our project as a comic, as a story showing a process, and this decision influenced us a lot in taking very detailed design decisions that otherwise we would have never reached if we just draw the traditional final solution plans. I guess our influences were here more graphical than architectonical, coming from the world of comics.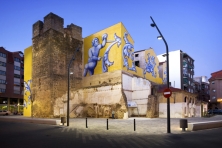 5. Urban-architectural projects like the ones in Europan can only be implemented together with the actors through a negotiated process and in time. How did you consider this issue in your project?
After already running a young architecture office for a few years, we have super clearance that architecture and especially urbanism is basically a process, a negotiation between lots of interests and people. So, since the first moment we knew that our project must show a process happening through a specific time. This is why we went for a comic as the best possible way to express this idea.


6. Is it the first time you have been awarded a prize at Europan? How could this help you in your professional career?
It is our second Europan reward. We won the Runner Up Prize in Europan 12, with a project in Kuopio (FI). Although the project was never implemented, for us it was a fantastic opportunity to meet really interesting young architects from all around Europe in the Work Sessions organized in Pavia (IT). We keep in touch with some of the people that we met there and I can see how their careers are going up and up. I am sure for all of us Europan is like a big opportunity to test new fresh ideas with no hang ups, and to get and award definitely brings you this shot of confidence really important to keep working hard on such a difficult profession like architecture is. Now with this Special Mention in Europan 14 we confirmed that we are going in the right path through the constant experimentation way that we try to follow in OOIIO office.