DONNÉES DE L'ÉQUIPE
Représentant d'équipe : Jakub Pudo (PL) – architecte ; Associés : Konrad Basan (PL), Agnieszka Morga (PL), Ewa Odyjas (PL) – architectes
Baczynskiego 52/24, 41-203 Sosnowiec – Polska
+48 50 973 02 14 – contact@bomp.eu – www.bomp.eu
Voir la liste complète des portraits ici
Voir la page du site ici


E. Odyjas, J. Pudo, A. Morga and K. Basan
INTERVIEW (en anglais)
1. How did you form the team for the competition?
Our design team is composed of four members: Konrad Basan, Ewa Odyjas, Agnieszka Morga, Jakub Pudo. All of us are friends and also alumni of the same Faculty of Architecture at the Silesian University of Technology in Gliwice, Poland. Professionally most of us are colleagues. Together we founded BOMP as an informal design team.
2. How do you define the main issue of your project, insisting on how you answered on this session main topic: adaptability and urban rhythms?
Basically the aim was to connect two major aspects of adaptation –the spatial and the social– within an architectural design dictated by native landscape itself. We considered adaptation as a potential natural state of coexistence between elements of human settlements and the environment. During the design process we tried to transpose adaptation at the architectural level by identifying the eco-contour, scale and the density of human habitat. It was the source of the subdivision pattern.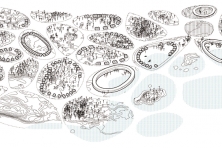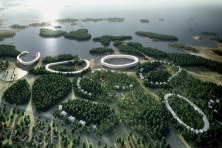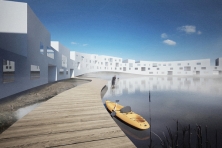 3. How did this issue and the questions raised by the site mutation meet?
According to the respect for the existing landscape, our proposal for the site needed to be as less invasive as possible and also tectonically dedicated to the place. The natural conditions inspired the organic subdivision pattern and also justified by the native terrain along with its irregularity.


4. Have you already treated this issue previously and could you present some reference projects that inspired yours?
This was our authorial proposal inspired by natural topography of Kalmar and its surroundings. We have used the Voronoi Diagram as a mathematical rule to organize the spatial order.
5. Today –within the era of an economic crisis and sustainability– the urban-architectural project should reconsider its production method in time; how did you integrate this issue in your project?
The grid inspired by the Voronoi Diagram divides the terrain into human scale zones. Together they make a consistent unity, although each one may evolve and develop individually and independently without the risk of general disturbance. We believe this kind of zoning in this very place might be one of the possibilities of applying some sustainability rules according to the scale, density, capacity and organic genesis. The cells based on the topography as well as their spatial arrangement might encounter many possible scenarios, including the rise of the water level or functional purpose exchange.
6. Is it the first time you have been awarded a prize at Europan? How could this help you in your professional career?
It is the first time we have been awarded a prize at Europan. We can't wait to meet other participants and hopefully make some new friends among them. It is also definitely very motivating event. These days we work on another competition.