Coop-Work
Grigny & Ris-Orangis - Lauréat
DONNÉES DE L'ÉQUIPE
Représentant d'équipe : Sebastian Morales Sotomayor (PE) – architecte urbaniste
Associés: Johana Salazar (PE), Diego Morales (PE), Elaine Sanchez (PE) – architectes
17 Avenue Corentin Carlou Bal 55, 75019 Paris (FR)
+33 629723567 – planetaelephante@gmail.com – ydea.archi
Voir la liste complète des portraits ici
Voir la page du site ici

S. Morales Sotomayor, J. Salazar, E. Sanchez et D. Morales Torres
INTERVIEW en anglais
Cliquer sur les images pour les agrandir
1. How did you form the team for the competition?
We have known each other for 7 years. We are all interested in the study of the influence of digital technologies in the development of the city, and we are always searching for innovative answers to solve urban and social problems. We have participated together in several competitions before and some time ago we created the YDEA studio with which we decided to participate in Europan.


2. How do you define the main issue of your project, and how did you answer on this session main topic: the place of productive activities within the city?
To us, the most serious issue of this site is the actually state of "Grigny 2", a 5,000 housing units condominium where 17,000 inhabitants reside. In the last decades, this large housing complex has become impoverished because residents are not able to pay the high amounts for maintenance of their buildings. Site has also security problems and is facing a high unemployment rate, one of the highest in the "région parisienne". Our urban project COOPWORK integrates a participatory co-management system applied to large private and public housing complexes with urban and social degradation problems. This solution allows the emergence of new interactions among the inhabitants, technology, and urban facilities. In this scenario, residents are the main actors in the enhancement of their environment, producing services for their own benefit.


3. How did this issue and the questions raised by the site mutation meet?
The COOPWORK project allows residents to participate in the maintenance and renovation work of the common areas of their condominium in exchange of a reduction of their high expenses of their building maintenance. This new dynamic creates a progressive interest for residents to carry out tasks that will demand higher technical qualifications, encouraging them to seek specialized training. In response to this, associations, national institutions and private companies will participate by proposing new training workshops and authorities will respond with new facilities. This creates a virtuous circle of productive activities that will increase the resident's purchasing power, encouraging the development of training activities, the increase of professional insertion, the consolidation of a social layer and the improvement of the overall urban environment.


4. Have you treated this issue previously? What were the reference projects that inspired yours?
We have worked in Peru with the Metropolitan Municipality of Lima in several projects. One of them is the "Project of participatory work for the improvement of neighborhoods", in which the inhabitants are the main actors of the improvement of their habitat. Also we have participated in the "Rio Verde" urban project for the Lima's downtown regeneration when we worked in AOZ Studio in Lima. We have also worked on the development of the mobile application "mon bâtiment face aux risques majeurs", which works of self-assessment of vulnerability to naturals risk at building and urban scale.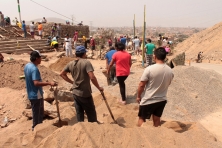 5. Urban-architectural projects like the ones in Europan can only be implemented together with the actors through a negotiated process and in time. How did you consider this issue in your project?
We propose a system of exchange where all the actors receive benefits in exchange of their participation. The current "Grigny 2" linear condominium management scheme will mutate to a circular system where residents will be the main actors in the enhancement of their environment in exchange of the reduction of their high expenses of the condominium maintenance. Residents will need higher technical qualifications to accomplish more difficult maintenance and renovation work so new actors and new facilities will appeared. Associations, national institutions and private companies interested in improving their neighborhood, will propose new training workshops. Authorities will respond with new facilities. In order to these changes, new inhabitants and commercial infrastructure will arrive, and new housing and other facilities will appear.


6. Is it the first time you have been awarded a prize at Europan? How could this help you in your professional career?
Yes, it is the first time we have been awarded at Europan. We think Europan is an opportunity to analyze and rethink current topics of our profession. Being awarded allows us to make public our ideas and our point of view regarding urbanism and architecture issues that involve society and environmental problems. On the other hand, it gives us the possibility of turning a project into reality that we believe can contribute to the improvement of a site.