Cultivating Synergies
Carouge (CH) - Mentionné

DONNÉES DE L'ÉQUIPE
Associés : Lili Szabo (FR), Steve Hardy (FR) – architectes
Collaborateur : Dimitri Szabo (FR) – agronomiste
liliszabo.com / stevehardy.net
PORTRAIT D'ÉQUIPE
VIDEO (par l'équipe)
INTERVIEW
Cliquer sur les images pour agrandir
1. How did you form the team for the competition?
Steve and Lili: We studied architecture together in Marseille and enjoy working as a duo since then. As we started the project and realised the agronomical problematics of the site we decided to get Dimitri, Lili's brother, in the game.
2. How do you define the main issue of your project, and how did you answer on this session main topic, Living cities?
As the title of our project "Cultivating synergies" expresses it, our project tries to embrace the different potentialities of the site in order to make them resonate together. So the main issue for us was to make the best use of the potential of the site with minimal intervention. We believe that Living cities are built with respect and consider urban planning as a way to enhance the relations between a social, a natural and a built infrastructure.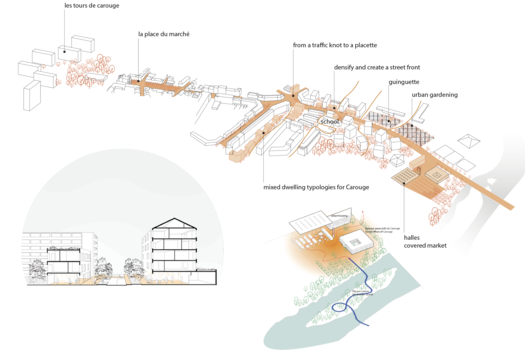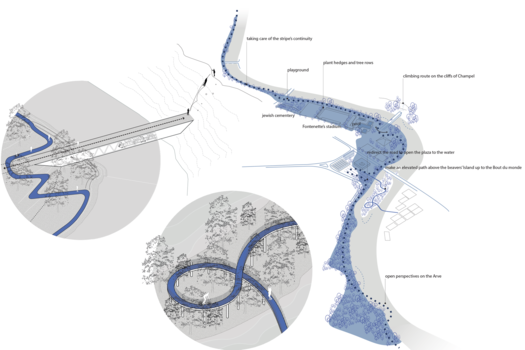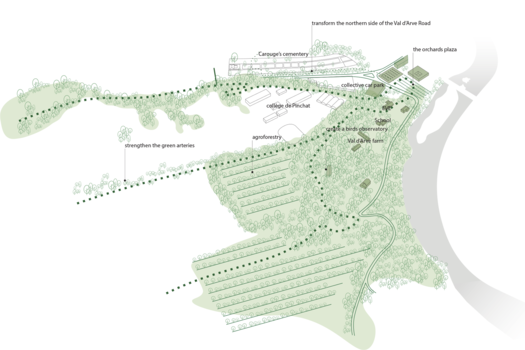 3. How did the issues on metabolic and inclusive vitalities and the questions raised by the site mutation meet?
We approached these issues by formulating different uses from housing, agriculture, education to sports and recreation along the three main axes we defined in our scheme. As a more precise example, the Halle-verger plaza we placed at the convergence of these axes is the expression of an urban solution with road management and new public spaces, a new connection to natural and agricultural space as well as a social and architectural intervention with the reuse of the SCV buildings.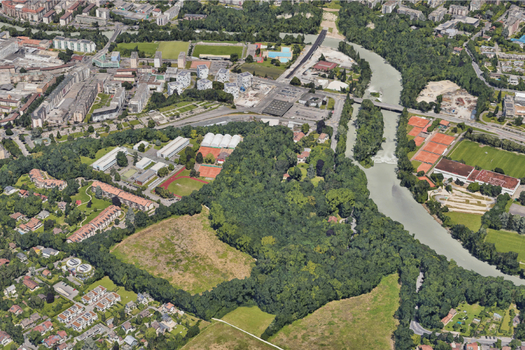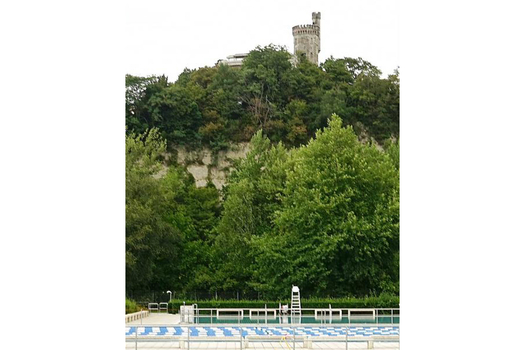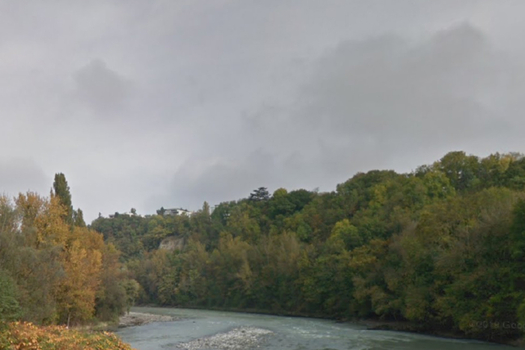 4. Have you treated this issue previously? What were the reference projects that inspired yours?
We did work together during our studies on a project of urban development in a small town of the Marseille Metropolis and did raise some of the questions we have met again while developing our scheme for Carouge. At that time we also thought of the connection of an agricultural landscape with urban vitality as well as in the reflection on the appropriate typologies to integrate in this area. But we were also very inspired by some of the student projects on the Arve, like the sensible approach of Antoine Roullin. We are otherwise always curious of diverse ways and scale of intervention on the urban fabric.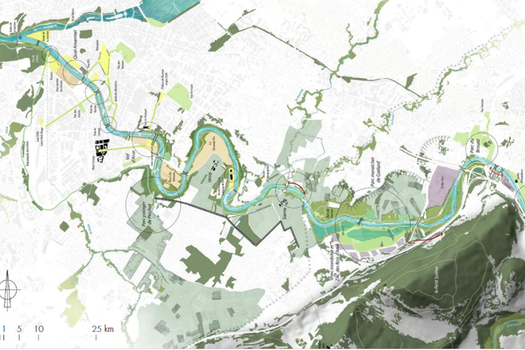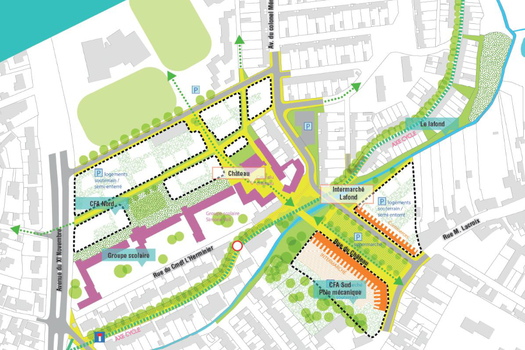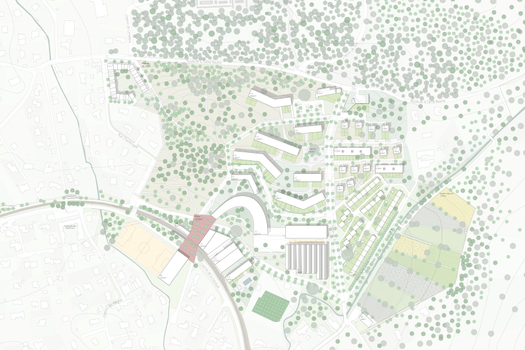 5. Urban-architectural projects like the ones in Europan can only be implemented together with the actors through a negotiated process and in time. How did you consider this issue in your project?
We considered this project not as a masterplan but as a toolbox, which in addition with a conceptual scheme connecting all potentialities of the site, could be a basis for discussion in the frame of a collaborative project. An urban project is a very long process, which could be modified during the years, people who are living, creating or visiting this place need to be an actor of this future. Our toolbox puts in perspective urban, social and environmental thematics, echoing the inhabitants expectations and actual challenges. The project lies in the process of boosting collective intelligence. Series of meetings, workshops, experiments with the inhabitants will foster the participation and the arising of new dynamics and interventions on the landscape of la Fontenette. Cultivating Synergies is all this method we tried to propose for this site. Co-creating with inhabitants and authorities the future of la Fontenette together was our priority in our thinking.
6. Is it the first time you have been awarded a prize at Europan? How could this help you in your professional career?
We are awarded for the first time at Europan and are very happy to see that our approach on this particular neighbourhood of Carouge was rewarded. We hope that this prize will be a proof of our deep interest into urban transformation as of our curiosity.

IDENTITÉ DE L'ÉQUIPE
Agence : -
Fonction : architecture, agronomie
Âge moyen des associés : 26 ans

Has your team, together or separately, already conceived or implemented some projects and/or won any competition? if yes, which ones?
We participated together in several competitions such as Europan 14 and MadridCall. But we also have participated individually or teaming up with other partners, and received for example the 2nd prize for the Foundation Beneteau in 2016 (Szabo & Carbonnier). We also have been involved in several winning schemes at our previous and current practices.