Ex-Changing Production
Pantin (FR) - Mentionné
DONNÉES DE L'ÉQUIPE
Représentant d'équipe: Andrea Guazzieri (IT) – architecte
Associés: Valerio Ciotola (IT), Raul Forsoni (IT) – architectes
Collaboratrice: Margherita Giubelli Bortolami (IT) - écrivaine
1 rue Pierre l'Ermite, 75018 Paris (FR)
+33 1 71 60 75 45 - gfc@gfc-a.com - gfc-a.com
Voir la liste complète des portraits ici
Voir la page du site ici


R. Forsoni, V. Ciotola et A. Guazzeri
INTERVIEW en anglais
Cliquer sur les images pour les agrandir
1. How did you form the team for the competition?
We created our own studio in 2015 after winning the international competition of the Museum of Science, in Naples, which is currently under study. Margherita is a friend of ours who joined the GFC team and to help us describing our vision of Pantin, from the point of view of its future inhabitants.


2. How do you define the main issue of your project, and how did you answer on this session main topic: the place of productive activities within the city?
A productive city is a frame of never-ending change, both material and immaterial. Our project set the guidelines in order to achieve a scalable and sustainable development that is able to respond to the needs of the individual citizen. It was our intention not to impose a change but to encourage a constant evolution of the spaces available to citizens.


3. How did this issue and the questions raised by the site mutation meet?
Pantin, in the last 50 years, welcomed the scraps of Paris (figuratively) without any programming. We do not think that this trend will change in the near future. However, we believe that a productive city is the best answer to address this phenomenon.
4. Have you treated this issue previously? What were the reference projects that inspired yours?
We have treated this issue in all our projects, but in a different scale. Our architecture hunts the principles of compacity, adaptability and recognisability which coincide with those we looked at in our vision for Pantin.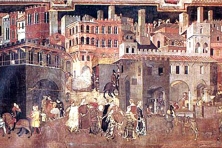 5. Urban-architectural projects like the ones in Europan can only be implemented together with the actors through a negotiated process and in time. How did you consider this issue in your project?
When you deal with such a large site, negotiating is inevitable and desirable at the same time. At all levels, a good project should not avoid the confrontation with its actors, on the contrary, it should encourage it, since it is the best way to enrich the project.


6. Is it the first time you have been awarded a prize at Europan? How could this help you in your professional career?
Part of our team was honoured at Europan 11, but it ended there. Differently, we hope that the authorities are genuinely interested and that we will have the opportunity to put our ideas into practice.