Foam of Production
Amsterdam H-Buurt (NL) - Lauréat
DONNÉES DE L'ÉQUIPE
Représentant d'équipe: Timur Shabaev (NL) – architecte
Associés: Timur Karimullin (NL) – architecte et urbaniste; Sofia Koutsenko (US) - architecte
Collaboratrices: Maria Krasnova (NL) - artiste; Kristina Knauf (DE) - urbaniste
DROM, Delftseplein 36, 1.04 Rotterdam 3013 AA (NL)
+31 639 62 15 66 – office@d-r-o-m.com – d-r-o-m.com
Voir la liste complète des portraits ici
Voir la page du site en anglais ici


T. Shabaev, S. Koutsenko & T. Karimullin
INTERVIEW en anglais
Cliquer sur les images pour les agrandir
1. How did you form the team for the competition?
Our team is composed of the partners of DROM: We, Sofia Koutsenko, Timur Karimullin, and Timur Shabaev are three founding partners of DROM, an office we formed two years ago in Rotterdam. For the competition we expanded our team to include two collaborators who could complement our expertise: artist Maria Krasnova, and urban planner Kristina Knauf.


2. How do you define the main issue of your project, and how did you answer on this session main topic: the place of productive activities within the city?
In our project, we aim to address the complexity of integrating new development into an existing neighbourhood laden with a complicated past. The proposed project operates on multiple scales, from the infrastructural urban to the local. It considers multiple levels of maintaining, expanding, and involving the community in an effort to maximise diversity. Diversity in this case serves as a productive measure of resilience and opportunity for a new, nimble and savvy economy to emerge. A productive resilient economy built on the circular principles of long-lasting design, maintenance, repair, reuse, remanufacturing, refurbishing and recycling.
3. How did this issue and the questions raised by the site mutation meet?
The site is occupied by parking structures, which according to the brief should be replaced by new development. Elevated roads devoted to car traffic, create a problematic border condition in the neighborhood. Тhey cut off access to pedestrians, for the mere exception of a few points of entry. The central space between the parking structures is at an intersection between pedestrian and bike traffic and is one of the only well defined public spaces. It is an existing playground and meeting point in the community.For us, the problematic is how to integrate new development, maintain a sense of community, and foster diversity in an existing site, which is physically cut off. We proposed to replace the two parking structures with a porous urban fabric composed on different scales and typologies of development. The new urban structure will reconnect the separated elements in the site, provide open spaces and pockets that will encourage new places for exchange. We propose to transform the elevated road into a city street. The existing playground, located in the center of the site becomes more valuable as a central square, activated by a new cultural centre and additional programs from the new adjacent buildings.


4. Have you treated this issue previously? What were the reference projects that inspired yours?
We have often worked on projects in which we had to consider how to inject something new into a complicated site but have never worked with the issue of productive urban environments. We were fascinated by the topic of productive city during the process of working on the competition. The topic has since become one of our focuses of interest and we are actively trying to develop it further in our ongoing projects. In contrast to the monotony of historic structures in Bijlmermeer, we propose diversity of programs, building types, open spaces that help to envision the site as a series of to-be-continued situations. For our proposal we were drawing inspiration from various urban structures: fantasy agglomerations of buildings and spaces in the plans by Piranesi; allotment gardens – already existing examples, where living, work and leisure mutually coexist; metabolic building fabric of Japanese cities, which is constantly transforming itself to the new needs.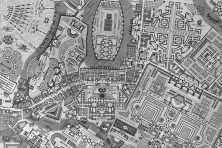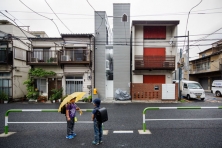 5. Urban-architectural projects like the ones in Europan can only be implemented together with the actors through a negotiated process and in time. How did you consider this issue in your project?
We used a porous irregular grid to parcel out the site for different scales of development. This strategy will help to diversify the kinds of stakeholders involved in the development of the project site: large scale developers, cooperatives, private individuals, municipality and local communities, to provide different kinds of spatial experiences, and exploit the various typologies' proximity to each other. Each developer will be obliged to facilitate rentable work space facilities as part of their development. The large internal open courtyards will be built by the developers and rented out as allotment workspaces, either as extensions of workshops in adjacent building or spaces for exhibiting work. Similarly, the allotment workspaces may be rented by people in the surrounding neighborhoods. The existing inhabitants will also be able to participate in the activities taking place in the community centre, plaza and along the animated internal promenade.


6. Is it the first time you have been awarded a prize at Europan? How could this help you in your professional career?
For Timur Shabaev it is already a third Europan prize. Together with Marco Galasso he became a winner of Europan 10, with a project for Emmen (NL), which was implemented after six years of work despite economic difficulties. The second prize was Europan 11 in Almere (NL). We hope that besides visibility, which winning Europan certainly gives, we would be able to expand our professional network and continue to collaborate with municipality of Amsterdam on further elaboration of our proposal.