DONNÉES DE L'ÉQUIPE
Représentant d'équipe : Marco Pusterla (SE) – architecte
Collaborateurs : Edvin Bylander (SE) – architecte ; René Andersson (SE), Emilie Dafgård (SE), Madeleine Heckler (SE) – étudiants en architecture
Mätaregränden 1, 22647 Lund – Sverige
+46 70 364 28 46 – marco.pusterla@gmail.com
Voir la liste complète des portraits ici
Voir la page du site ici


E. Dafgård , M. Pusterla, E. Bylander, M. Heckler et R. Andersson
INTERVIEW (en anglais)
1. How did you form the team for the competition?
I (Marco Pusterla) have been collaborating with Edvin Bylander on several projects. Some of these earlier experiences have been helpful in finding the guidelines for the project in Kalmar where the natural context is wonderful but the situation is complex. René Andersson, Madeleine Heckler and Emilie Dafgård are brilliant architecture students and their skills were fundamental to be able to work out a deep analysis of the existing situation and together with them shape the project proposal.
2. How do you define the main issue of your project, insisting on how you answered on this session main topic: adaptability and urban rhythms?
Change over time was really the starting point for our design strategy but also the leading strategy for the representation of the proposal. We tried to show how the proposal could adapt to change over 50 or 100 years but also how it handled the first stages of development, seasonal changes and changes over day and night. It is extremely intriguing to observe how a city can be resilient and keep a kind of continuity, becoming better and better as its environment changes over time.


3. How did this issue and the questions raised by the site mutation meet?
The fact that the proposal had to handle rising water levels was of course an important issue. We also realized that it was just as important to integrate the existing housing area to our proposal. This is a kind of different adaptability, which is about how the "already-there" can adapt to new buildings and create integrated urban rhythms as a new totality.


4. Have you already treated this issue previously and could you present some reference projects that inspired yours?
We have been working with adaptability and urban rhythms on similar situations earlier, mainly through competitions, in countries like Sweden, Norway or Spain. In this particular case our main references are generally built urban patterns like old existing towns or cities rather than contemporary projects. Places with a strong identity, loved by its inhabitants.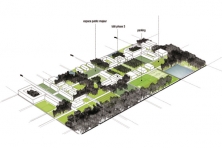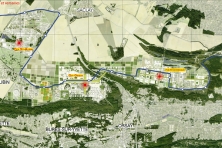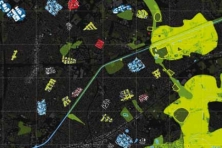 5. Today –within the era of an economic crisis and sustainability– the urban-architectural project should reconsider its production method in time; how did you integrate this issue in your project?
Now more than ever we are aware of how the conditions of getting things built can change rapidly. We addressed this in our proposal by attending to think like property-lines and variation of types, which can allow the area to adapt to different economic conditions over time. It gives the opportunity to develop the city in an iterative way, which we believe is a robust way to handle sustainability issues.
6. Is it the first time you have been awarded a prize at Europan? How could this help you in your professional career?
Marco Pusterla was awarded as a Runner-up in Europan 5 (Almeria) and a Winner for Europan 10 (Lerum). Both projects were taken into serious consideration in several situations. The most important effect is the implementation process for the project in Lerum.