Post-Shopping
Graz (AT) - Mentionné

DONNÉES DE L'ÉQUIPE
Représentant d'équipe : Pedro Pitarch Alonso (ES) – architecte
Pedro Pitarch architectures & urbanisms
Palma 59, Bajo B
28015 Madrid, Spain
mail@pedropitarch.com / www.pedropitarch.com
PORTRAIT D'ÉQUIPE
VIDEO (par l'équipe)
INTERVIEW
Cliquer sur les images pour agrandir
1. How did you form the team for the competition?
From the very early stages of my profesional practice, I've tried to organize the office as a platform for researching and developing innovative architectures for the city. The approach to the project here arises as a direct response to that ethos in relation to the Europan 16 competition. Europan offers a unique context to rethink the role of architects in the contemporary city by defining a critical framework from which to reinvent conventional architectural typologies and to transform them into social condensers of cultural and economical innovation.

2. How do you define the main issue of your project, and how did you answer on this session main topic, Living cities?
The project departures from two vary basic questions: Firstly, what if we analyze, almost scientifically, the urban ethos of Graz? And Secondly, what if we use that urban breeding ground of the city itself as a prototype for the site? As a recipe that orders the urban ingredients of a Prosumer-Oriented Shopping Mall ? The project is intended to be developed in time, constructing a series of infrastructural corridors that enable to inject Prosumer-Oriented activities into CityPark. These Architectural Spines, these infrastructures, do not just allow the connection between both sides of the CityPark, but also introduce and articulate a series of complementary activities, hosted within architectural pieces, that hybridize de Consumer Oriented ethos of the Shopping mall with many other type of non-commercial programs. This strategy allows the CityPark to become a public active space for citizens, where production and consumption overlap.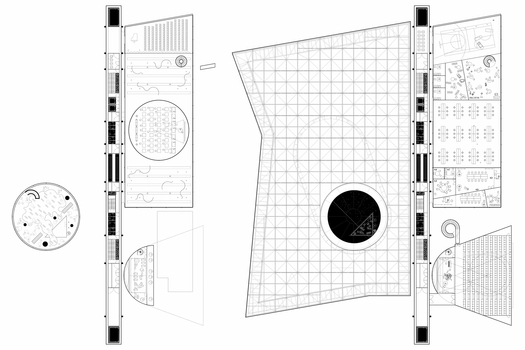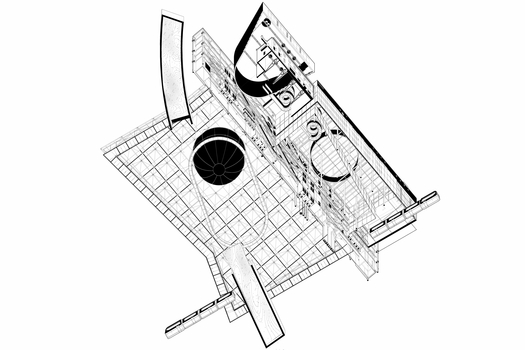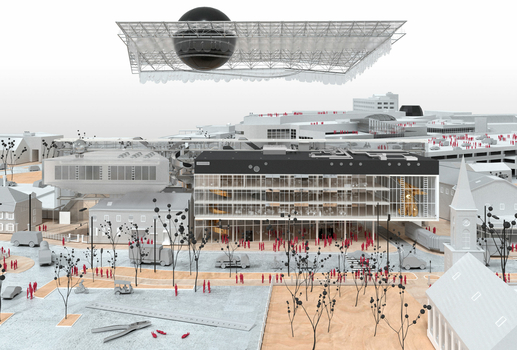 3. How did the issues on metabolic and inclusive vitalities and the questions raised by the site mutation meet?
Nowadays, in a historical period characterized by social transformations, continuous technological improvements and political uncertainties, our contemporary cities are much more complex than back when the CityPark was designed. Our societies are evolving in a way where the traditional concepts of private and public are becoming obsolete ad are being transformed into updated and augmented conceptions. It is precisely around those blurring limits, between what seems urban and what seems domestic, where the new contemporary public realm is constructed. Our proposal will be based on the exploration of those uncertain boundaries. Trying to achieve a gradient of spaces where urban and domestic are not so clearly delimited but colonize each other. The new CityPark will become a Social Condenser for the local communities, creating not just the architectures that shelter certain commercial uses but also many other public uses, providing the tools and mechanisms to develop such an expansion of the urban space. The project is nor a plaza nor a building but something in between. A place amid urbanism and architecture. A common framework for social gathering, cultural exchange and dialogue. The project stands as the transformation of the site into a Urban Living-Room that mediates the migration from 'consumer-oriented' practices into 'prosumer-oriented' ones.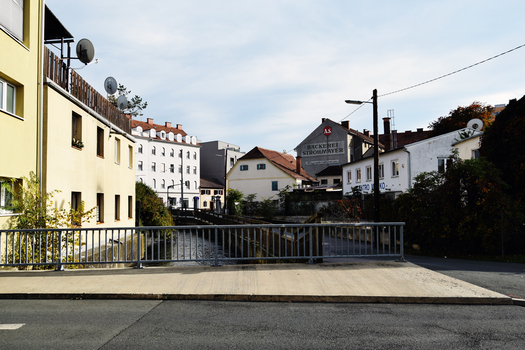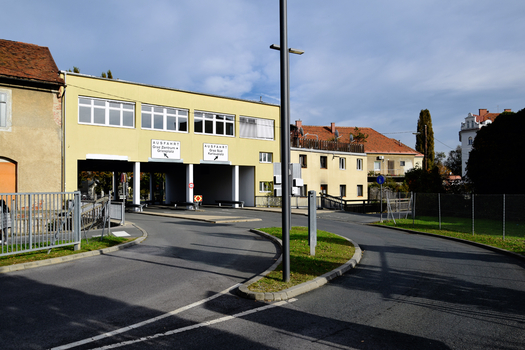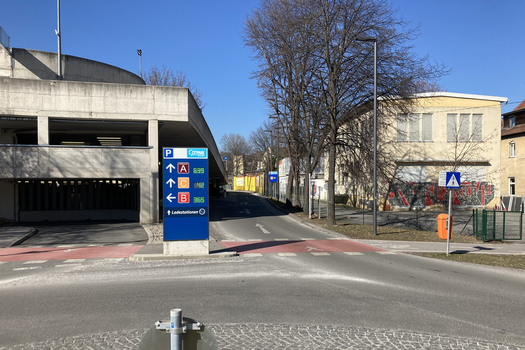 4. Have you treated this issue previously? What were the reference projects that inspired yours?
Yes. In three different scales that somehow merge at this project: With the project for Berlin Brandenburg B2070 (Germany, 2019-2020) we treated this issue from an urban scale, exploring the implementation of urban typologies within the city. At the New Cyprus Museum (Nicosia, 2017) the issue was explored from an architectural scale, incorporating urban features within the building, expanding the typology of the museum and transforming it into a social tool. And finally we are currently working on the Construction Development of a Social and Cultural hub at the former Central Cinema of Cartagena (Spain, 2020-2022), which arises as an architectural re-programmation of the whole site, creating a common spatial framework for the citizens' cultural activities: concerts, theatre plays, exhibitions, café, library, working spaces and even an open-air summer-cinema at the rooftop.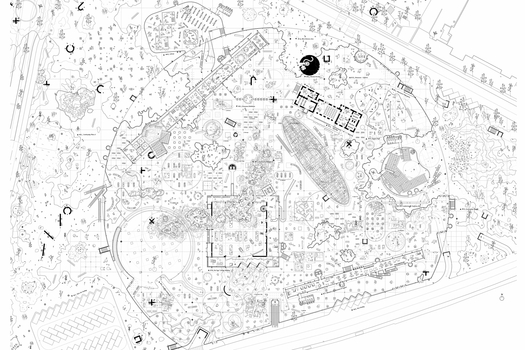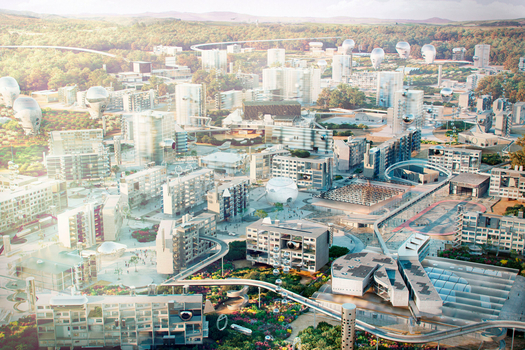 5. Urban-architectural projects like the ones in Europan can only be implemented together with the actors through a negotiated process and in time. How did you consider this issue in your project?
By proposing a migration from a Consumer-Oriented Shopping Mall to a Prosumer-oriented Post-Shopping space, urbanism multiplicities are injected into the former CityPark in a way to encompass all uses and facilities that Prosuming practices require, enhancing and optimizing the cross-relationships among them. The proposed design displays a context in which to develop those border negotiations between production and consumption, between centre and periphery, between the excluded and the admitted. Austria has been a pioneer worldwide of this type of alternative to conventional consumption patterns of activities well rooted in the culture of its citizens. Moreover, at the scale of the Project Site, the new building (the so-called CityPark LivingRoom) proposes a new space between a urban plaza and a building, not being restricted to the competition area but is stretched out to Karlauplatz, creating a big public space for events and for daily uses of the neighborhood's communities, that is integrated in the masterplan for the whole area. The project functions more as a Machine than as a conventional Building. As it will become a Urban Tool that will create infinite types of spaces for cultural production and consumption, activating the city and the City Park area.
6. Is it the first time you have been awarded a prize at Europan? How could this help you in your professional career?
Yes, it is. I am extremely pleased to have been awarded this prize at Graz. And also very glad for being acknowledged with a
Winner prize at Aalst (Belgium)
and a Runner-Up prize at Wernigerode (Germany). Europan 16 is definitely a unique chance to explore and further develop projects that aim to generate innovative. For me this is a huge opportunity to formalize more consistently my office and settle down a team to continue implement ing the projects.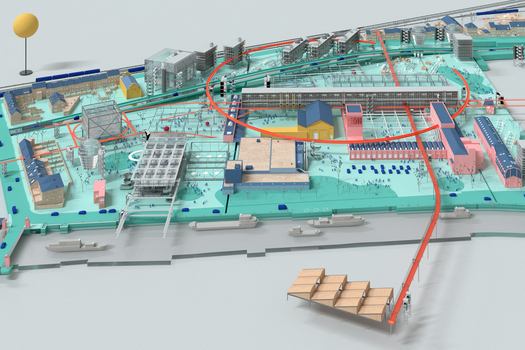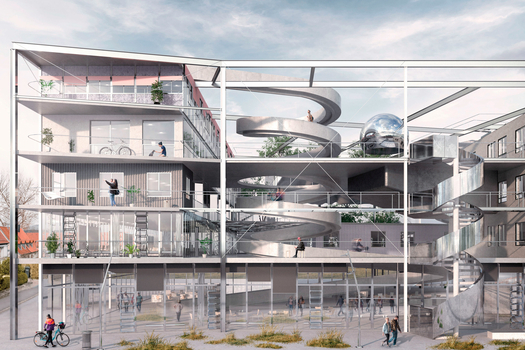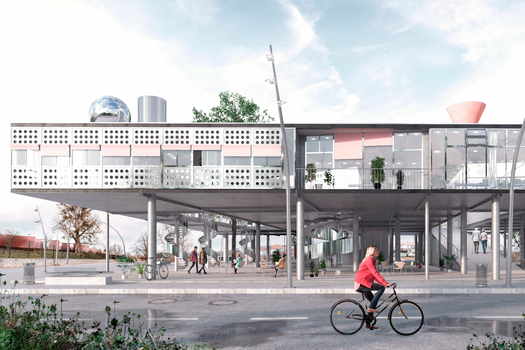 IDENTITÉ DE L'ÉQUIPE
Agence : Pedro Pitarch - architectures & urbanisms
Fonction : architecture
Âge moyen des associés : 32 ans

Has your team, together or separately, already conceived or implemented some projects and/or won any competition? if yes, which ones?
Since 2015, when the office was founded under the name 'Pedro Pitarch Architectures & Urbanisms', my practice has focused on public projects half way between architecture and urbanism, continuously participating in open competitions in order to afterwards be able to develop the projects. The work of the office has been acknowledged and awarded in several architectural competitions such as First Prize for the Restoration of the Central Cinema of Cartagena (Spain, 2020), a project which is currently under development, Fifth Prize in 'Berlin Brandenburg 2070 - 100 Years of GrossBerlin' developing a Masterplan for the future growth of Berlin (Germany, 2020), Second Prize in 'Dom Competition' an Open International Competition for Alternative Layout Designs in Standard Housing (Russia, 2018), Second Prize at 'New Cyprus Museum' for the design of the National Archaeological Museum (Cyprus, 2017), Honor Mention for the 'Cultural EPIC Centre & Masterplan' at Gorizia Station border Zone (Italy and Slovenia, 2020) and First Prize with 'The Cultural Factory' for the Restoration of C.L.E.S.A. Factory Industrial Building (Madrid, 2015).

Does your team share a common workplace? if yes, give us a short description:
My office is currently based in a former commercial productive space at the very centre of Madrid, in the heart of Malasaña district. A space that we transformed ourselves into an architectural atelier. The fact of working on a re-programmed architecture is also a professional statement that aims to claim that architecture goes far beyond from the mere definition of spaces or the design of architectural shapes, to the holistic construction of contexts for certain uses, activities or events. Consequently, the role of the architect stands as a mediator among many things that are not necessarily architectural per se.