Rhizoma
Beizama (ES) - Mentionné

DONNÉES DE L'ÉQUIPE
Associés : Victoria Collar Ocampo (ES), Jon Garbizu Etxaide (ES), Gonzalo Peña Sancho (ES) – architectes
Garbizu Collar Architecture, Basel (CH)
www.garbizucollar.com
KRI studio, Madrid (ES)
www.kri.archi
PORTRAIT D'ÉQUIPE
VIDEO (par l'équipe)
INTERVIEW
Cliquer sur les images pour agrandir
1. How did you form the team for the competition?
We all met and became friends in Basel where there is a large community of architects. Since then, we have been sharing interests. A couple of years ago, we formed our own practices working in competitions aside. We thought Europan 16 could be a great opportunity to work together, share different ideas and workflows.
2. How do you define the main issue of your project, and how did you answer on this session main topic, Living cities?
When we visited Beizama, we found a village of about 200 inhabitants, embedded in the basque countryside. We were surprised by the fact that Beizama had been using references of generic and de-contextualised public spaces. This action had created limits and architectural barriers that detracted its current urban space. From a historical approach, Beizama is a land of "baserriak", a basque word to define isolated rural communities. For us, the original "baserri" is a productive housing typology with a community strongly linked to nature. Rhizoma wants to update this typology from a productive, architectural, domestic and sustainable point of view.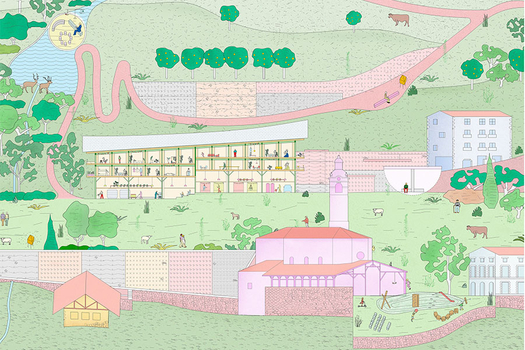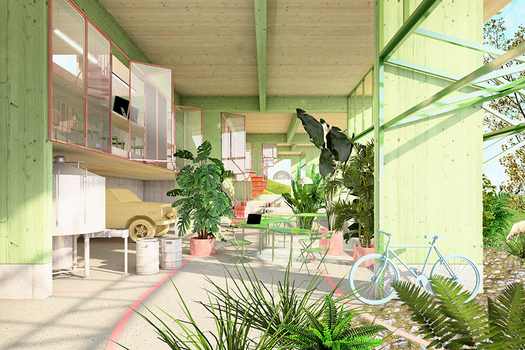 3. How did the issues on metabolic and inclusive vitalities and the questions raised by the site mutation meet?
Euskadi is a country of entrepreneurs. Beizama is surrounded by small productive nodes such as txakoli and cider wineries, timber productions, cheese farms and crops, that are interrelated in order to generate a circular economy using their natural environment. We understood, that instead of forcing a program for the productive spaces, we should create a flexible system capable of mutating and adapting according to the current social and economic needs of the village and its residents. The upper floors share the same principle; the dwelling typology forms a matrix of 12 m2 units, which can be combined horizontally and vertically creating new living and production clusters. In terms of inclusive vitalities, we would like to enhance the central kitchen inside the dwelling typologies. As in the historical "baserri", the kitchen was the central space for relations. In the basque villages collective covered spaces are very important; for that reason, we propose an open "parking space" on the ground floor that can be understood more as a collective productive space open to the town of Beizama. Appealing to a community life, where the different members relate to each other and collaborate together.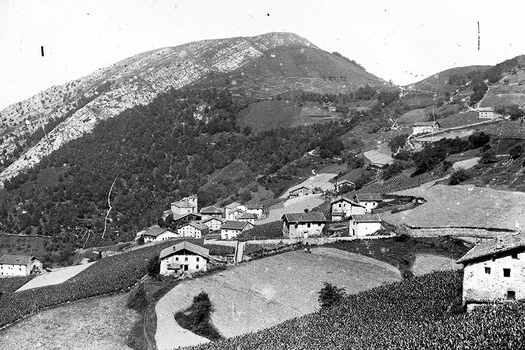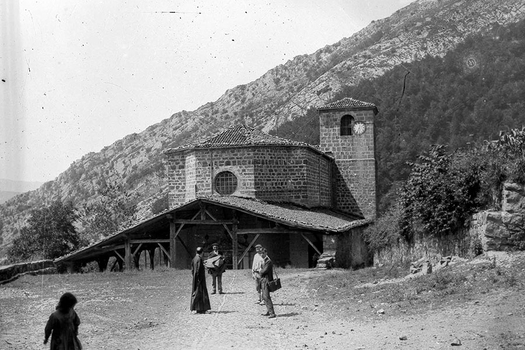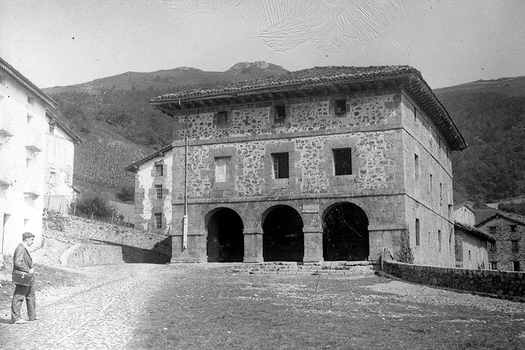 4. Have you treated this issue previously? What were the reference projects that inspired yours?
Yes, we are architects and researchers. We are living in an era where the Anthropocene as we know it, is ending. We have to rethink a new agreement between the ecosystem and the comfort of our society. Therefore, from the beginning we approach projects with perspective, thinking about the future and considering social, economic and natural tides. With the speed and uncertainty that our society advances, terms such as readapting, flexibility, de-hierarchizing, reusing and mutating have acquired a great relevance, becoming anchor points of our projects. Julio Caro Baroja shows us in his studies the historical relation between the nature, communities, housing and production in Euskal Herria. Giambattista Noli, with his map La nuova topografia di Roma Comasco, helped us to understand how interior and exterior public spaces can be merged. Finally, the photography of Bernd and Hilla Becher in Fabrikhalle was key to approach the productive aesthetics to housing typology.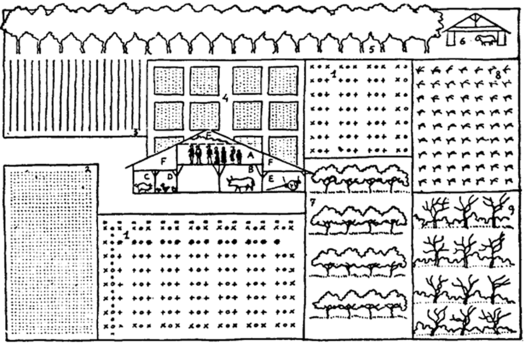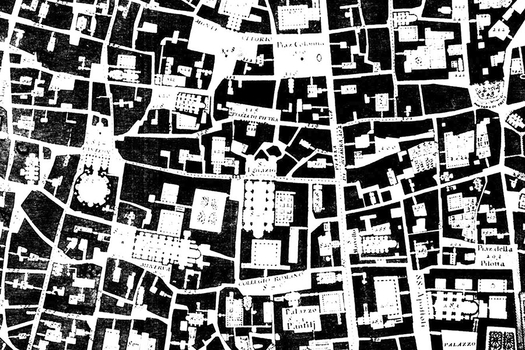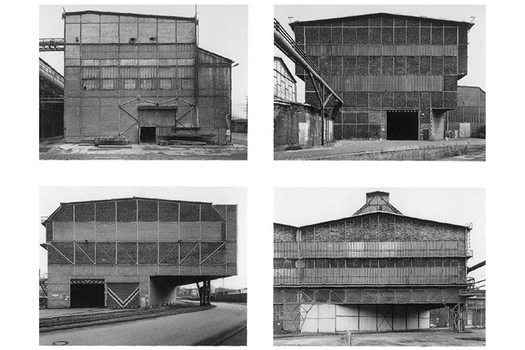 5. Urban-architectural projects like the ones in Europan can only be implemented together with the actors through a negotiated process and in time. How did you consider this issue in your project?
We wanted to follow the pipeline of the Basque government's housing department, sticking to the programme and the specific regulations for this site. The project is based on a simple modular system. This will allow us to adapt it to the different phases of the project and further demands of the negotiation agents. We wanted to use the project as a tool to research about new topics that can in the close future result on the implementation of new regulations. We think, this project could be used as a research tool for future regulations.
6. Is it the first time you have been awarded a prize at Europan? How could this help you in your professional career?
Yes, Europan has served us as a platform to carry out our research through an architectural project. It has also gave us the opportunity to contact public institutions in order to work in a proactive way for new urban and architectural solutions.

IDENTITÉ DE L'ÉQUIPE
Agence : Garbizu Collar Architecture + KRI studio
Fonction : architecture
Âge moyen des associés : 32 ans
Has your team, together or separately, already conceived or implemented some projects and/or won any competition? if yes, which ones
Built work: Paris 64 store, Zaragoza, Spain / Transformation of an apartment, Madrid, Spain / Restaurant and cocktail bar, Zaragoza, Spain (under construction) / Restoration of a housing building, Zaragoza, Spain (under construction) / Ophtalmologic clinic, Lenzburg, Switzerland (under construction) / Private house, Madrid, Spain (under construction).
Competitions: 2nd prize: Asylzentrum, Zurich, Switzerland / 3rd prize: Militar Museum, Ceuta, Spain / 4th prize: DSS16 Pavilion, Donostia, Spain / 6th prize: Kindergarten, St Galen, Switzerland