Step by step
Barcelona (ES) - Mentionné
DONNÉES DE L'ÉQUIPE
Représentant d'équipe: Pablo Roel Herranz (ES) – architecte
Associée: Eva Sánchez Moya (ES) – architecte
C/ Castelltercol 36, 08023 Barcelona
+34 932 193 721 - roelherranz@gmail.com - roel-sanchez.com
Voir la liste complète des portraits ici
Voir la page du site en anglais ici


P. Roel Herranz et E. Sánchez Moya
INTERVIEW en anglais
Cliquer sur les images pour les agrandir
1. How did you form the team for the competition?
Roel Sánchez Arquitectura is a studio formed by two architects who like to collaborate with other people. This time, as we decided to participate at Europan at the last minute, we did it alone.


2. How do you define the main issue of your project, and how did you answer on this session main topic: the place of productive activities within the city?
The main target of the project is to smoothly recover the continuity between Collserola park and the city. The project proposes this connection through productive platforms where urban gardens are grown and playing fields are built. The houses, sitting at the edge of the natural terraces, provide permeability between the city and the park, and create new interacting spaces.


3. How did this issue and the questions raised by the site mutation meet?
The site is located in a strategic point of Barcelona, in Canyelles quarter. The project is an opportunity to bring the urban park of Collserola closer to Barcelonans, and also an opportunity to consolidate the final stretch of Canyelles quarter and link it with its immediate natural environment. This is why "step by step" install a series of green platforms at different levels to accommodate flexible proposals linked to agriculture and sports. The usage of these platforms could adapt to the needs of the neighbourhood committees.
4. Have you treated this issue previously? What were the reference projects that inspired yours?
Yes, we have participated in several urban competitions as it allows us to re-think the city with all its complexity. After decades of excesses of speculation, it is necessary to slow down the urbanization process and promote new ways of inhabiting, more related to the nature and the new production processes.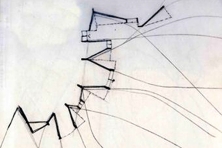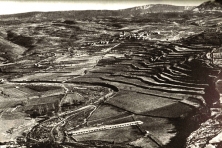 5. Urban-architectural projects like the ones in Europan can only be implemented together with the actors through a negotiated process and in time. How did you consider this issue in your project?
Step by step must be understood as a strategy that concerns space and time. In the developing stages, the park should start in the lowest levels and go up progressively. Structuring the territory through terraces, allows us to go up level by level according to social needs and economical resources. In this progress in time, housing could go along with the park development or could be done once the park has been finished.


6. Is it the first time you have been awarded a prize at Europan? How could this help you in your professional career?
Yes, it is the first time. Being rewarded in Europan gives us more visibility and encourages us to go on. The possibility of developing any ideas of the project would be an excellent opportunity for us.