The Forum
Oulu (FI) - Mention Spéciale
DONNÉES DE L'ÉQUIPE
Représentante d'équipe: Elisa Avellini (IT) – architecte; Associés: Anastasia Barasheva (RU), Marcella Claps (IT), Andrea De Sanctis (IT), Daniele Frediani (IT), Francesco Martone (IT), Isabella Zaccagnini (IT) – architectes
Via Ugo Ojetti 1 14, 00137 Roma (IT)
+3 932 027 691 04 – elisa.avellini@gmail.com – elisa-avellini
Voir la liste complète des portraits ici
Voir la page du site en anglais ici


A. De Sanctis, I. Zaccagnini, D. Frediani, E. Avellini, A. Barasheva, M. Claps et F. Martone
INTERVIEW en anglais
Cliquer sur les images pour les agrandir
1. How did you form the team for the competition?
We formed the team thanks to our common experience in the Faculty of Architecture at Sapienza University of Rome, where we all graduated and worked as teaching assistants in an Architectural Design Studio. Sharing a common background, we decided to enter this competition together.


2. How do you define the main issue of your project, and how did you answer on this session main topic: the place of productive activities within the city?
We defined productivity as something that determines social and economic interactions through adaptative processes. In our proposal we worked with the idea of an open system, which can guarantee a constant interaction between a diverse and uncommon mix of activities. Physical space is the catalyst for community revival in a productive and proactive sense. The open-ended processes originating from space are the means to activate social, cultural and economic production.


3. How did this issue and the questions raised by the site mutation meet?
We focused on the development of an open system framework, which in our view is activated thanks to an attention on public space and social interaction: a bottom-up process. The in-between space and infrastructure of the Forum is the innovative solution that spatially and productively connects Linnanmaa and Kaijonharju: the proactive engine through which diverse relationships and a new urban structure are activated.
4. Have you treated this issue previously? What were the reference projects that inspired yours?
We have all treated this issue from different angles before, thanks to both our common academic background and our individual experience in practice and research. Each of us was fundamental in sharing his expertise and previous experiences with this topic. While working on our proposal, we were particularly inspired by the reflection on the Grand Paris by the team formed by Jean Nouvel, Jean-Marie Duthilleul, Michel Cantal Dupart; studio Bernardo Secchi and Paola Vigano; the public realm improvement scheme for High Street Harrow by David Kohn Architects.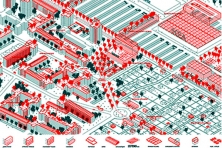 5. Urban-architectural projects like the ones in Europan can only be implemented together with the actors through a negotiated process and in time. How did you consider this issue in your project?
Since the very first steps of our work for this proposal, we have tried to understand our project as a process involving different actors, needs and expectations. It was very important for us to deliver a proposal that could be understood in phases not only from a constructional point of view, but also from the dwellers involvement point of view, so to have proactive and productive processes within the site and its surrounding.


6. Is it the first time you have been awarded a prize at Europan? How could this help you in your professional career?
For some members of the team it is the second time (we were awarded a prize at Europan13 with the project Insert Coina, Barreiro PT), for others it is the first time. This award is an opportunity to give visibility to themes that are central to our practice and research, such as public space, urban density and the perception of urban space. It is also a further motivation to carry on our work in architecture and continue our research.