Tornelandia
TornioHaparenda (FI) - Mention Spéciale
DONNÉES DE L'ÉQUIPE
Représentant d'équipe: Matthew Ashton (SE) – architecte
Associée: Sofie Tolf (SE) – architecte
Kristianstadsgatan 8, 21423, Malmö (SE)
+46 703 794 735 – matthew@sp-arc.se – sp-arc.se
Voir la liste complète des portraits ici
Voir la page du site en anglais ici


M. Ashton et S. Tolf
INTERVIEW en anglais
Cliquer sur les images pour les agrandir
1. How did you form the team for the competition?
The decision to work together was a natural one, since we are both work partners and life partners. We met at the Royal Institute of Technology in Stockholm (SE) in 2007 and have been collaborating on projects together ever since, eventually founding a collective practice in 2014. The biggest question for us applying for Europan 14 was not if we should work together, but rather if we would have time to work at all, as our second daughter was born a few weeks before the final deadline.


2. How do you define the main issue of your project, and how did you answer on this session main topic: the place of productive activities within the city?
The competition site of Tornio Haparanda presented a unique opportunity to explore a region which is divided by an international border, and to investigate the urban consequences such a boundary entails. We viewed the border itself as the major productive element in the urban environment – An invisible line running through the territory which has very real effects. The border is not a fixed natural element but rather a dynamic entity; an interface between the varying social, political and economic aspirations of each nation state. In this project we wanted to explore the border itself as an object of design. To what extent is it suggestible to manipulation, adaption and mutation?


3. How did this issue and the questions raised by the site mutation meet?
Rather than developing a traditional urban plan with streets, built volumes and public spaces, as called for by the project brief, we took a more experimental approach, and produced a series of speculative typologies and strategies which aimed at questioning our current perception of the border. While our proposed interventions may appear quite eccentric, most of them are actually based upon existing and historic border situations found around the world, with many based on the specificities and peculiarities of the Swedish-Finnish border. We wanted to use Tornio-Haparanda as a testing ground to speculate on how certain interventions could operate in the local context and begin to stimulate new forms of transnational urbanism.
4. Have you treated this issue previously? What were the reference projects that inspired yours?
Yes, we have worked on the concept of borders and boundaries previously on several projects, however this is the first time we have developed our ideas into an architectural intervention. In 2015, we submitted a project to the Oslo Architectural Triennale, proposing an explorative walk along the Norwegian – Russian border, and in 2016 we moderated a discussion at the Venice Architecture Biennale on borders and migration in the Scandinavian context. As a practice we are extremely interested in the territorial and urban implications of geo-political factors, such as borders, and this is something that drew us to this specific Europan site. We found a lot of inspiration from the fascinating variety of existing border situations we discovered around the world, such as the condominium of Pheasant Island between France and Spain, the bizarre fragmented sovereignties of the Dutch-Belgium town of Baarle-Hertog, and the local phenomenon of 'sovereignty islands' in the Tornio River. We were also inspired by several architectural / artistic practices who work with these themes, such as Decolonising Architecture Art Residency (DAAR) in Palestine and Stalker / Osservatorio Nomade in Rome.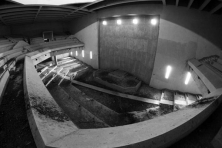 5. Urban-architectural projects like the ones in Europan can only be implemented together with the actors through a negotiated process and in time. How did you consider this issue in your project?
As we understand it, the main objective of Europan is to offer opportunities to younger architects, supposedly in the form of a commission upon winning a site, but as the scale and complexity of Europan project sites have increased over the years, the role of the winning team in the project's implementation phase has become more ambiguous. Although we firmly believe that Europan has nothing but honourable intentions, there is a risk that the architects work can be easily exploited by both public and private interests, used for example as a city branding exercise, marketing material for developers or as a tool to unlock public land for private development. With this in mind, we approached the project carefully, and after thoroughly reading of the site's brief, we decided to ignore most of its guidelines. Although Tornio-Haparanda has grand ambitions, we realised that in reality it is still just a small northern town with a modest growth rate, and a visionary urban scheme, which would take decades to implement, might not be the best way to serve the city. Instead, we chose to present a playful and somewhat provocative proposal which we hope can ignite a dialogue about the potentials and opportunities facing the region, and lead to an open, productive and inclusive way forward.


6. Is it the first time you have been awarded a prize at Europan? How could this help you in your professional career?
Yes, this is the first time we have been awarded a prize at Europan, and the second time we have submitted an entry. It was an honour to receive a special mention for our project, and we hope that we can continue a dialogue with the twin cities of Tornio and Haparanda. It is always nice to receive some recognition for all the hard work put into these kinds of projects, and hopefully it will lead to some further interesting work for our practice in the future.