Twofold Nature
Tubize (BE) - Mention Spéciale
DONNÉES DE L'ÉQUIPE
Représentante d'équipe: Alessandra Marcon (IT) – architecet urbaniste
Associés: Fabio Vanin (IT) – architecte urbaniste; Andrea Bortolotti (IT), Marta de Marchi (IT) – architectes; Andrea Aragone (IT) – urbaniste
Latitude Platform for urban research and design
Rue Van Eyck Straat 11b, 1050 Bruxelles (BE)
Voir la liste complète des portraits ici
Voir la page du site ici


M. de Marchi, A. Aragone, A. Bortolotti, A. Marcon & F. Vanin
INTERVIEW en anglais
Cliquer sur les images pour les agrandir
1. How did you form the team for the competition?
The team was formed with Latitude's team. Since 2009, Latitude has gathered scholars and professionals working in context-based research and design in order to tackle contemporary urgent urban and territorial issues. The platform's research and practice-based approach produce visually oriented outputs, such as publications, exhibitions, artworks and other initiatives involving the general public like workshops and seminars.


2. How do you define the main issue of your project, and how did you answer on this session main topic: the place of productive activities within the city?
The project reflects on how to trigger new economic cycles in the site of the former Forge de Clabecq leveraging on the thick deposit of territorial (infra)structures inherited along the Senne Valley and within the Brussels metropolitan area (the North-South urban-industrial axis and the East-West ecological-recreational corridor). What if the Forges de Clabecq would re-gain access and strengthen the connection to its infrastructures in order to become attractive for a variety of activities that might struggle to remain in Brussels and can neither compete outside its market? What if the empty triangular precinct on the crossroad between Tubize, Clabecq and the new masterplan would become a social infrastructure?


3. How did this issue and the questions raised by the site mutation meet?
Our vision for the Forge de Clabecq is to devote this strategic space to intense social and economic exchanges: a place of both mechanical and labor-intensive activities; an incubator that could leverage on the social (professional training centers) and technical (rail yards and docks) rich infrastructures of Tubize to deliver an added value in terms of job creation, civic activities, and shared spaces. A place where the built-up space and the open one, over time, would find a balance between the need for new housing and economic activities, workshops and spaces for storing, sorting, recovering, and reselling construction materials. A place where the civic covered square, beyond its leisure functions, could provide accessible space for expositions and markets.
4. Have you treated this issue previously? What were the reference projects that inspired yours?
Latitude is coordinating the project Cities of Making, (ERA-NET ENSUF funded project) which explores opportunities for strengthening urban based manufacturing learning from experiences in London, Rotterdam and Brussels – each with a distinct industrial heritage, the goal of the project is to develop a reflection on space, practices and policies with a focus on public authorities (and many other relevant stakeholders). Using a combination of strategic and action research, our ambition is to identify what works in supporting a resilient and innovative industrial base, and to test those solutions in a real-world setting, on specific case studies.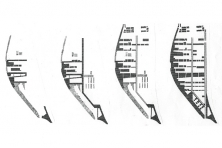 5. Urban-architectural projects like the ones in Europan can only be implemented together with the actors through a negotiated process and in time. How did you consider this issue in your project?
Latitude believes that current urban questions are challenging existing knowledge practice and demands different modes of collaboration and action towards a common ground. Thus, it aims at exchanging with practices/experts with different disciplinary backgrounds dealing with socio-ecological challenges in order to critically question our methodology, enrich it and construct a shared one.


6. Is it the first time you have been awarded a prize at Europan? How could this help you in your professional career?
It is the first time Latitude has been awarded a prize at Europan. Such result is a recognition which can strengthen our reflection on the topic. Moreover, it might allow Latitude to circulate some of the proposals for the site and hopefully stimulate the discussion on the topic and the specific context of Tubize and Brussels.