Résultats E12
déc. 2013
Couvet (CH) – Mentionné
DONNÉES DE L'ÉQUIPE
Représentant d'équipe : Tomás García Píriz (ES) – architecte ; Associés : Juan Alcalá Lara (ES), Paloma Baquero (ES), Javier Castellano Pulido (ES), Luis Miguel Ruíz Avilés (ES), Juan Antonio Serrano (ES) – architectes
Collaborateurs : María de Lara Ruiz (ES), Álvaro Rodríguez Sainz de Rozas (ES), Álvaro Tejada Tenorio (ES) – architectes ; Claire de Nutte (BE) – paysagiste ; Yu Bruno Masuda Rodríguez (ES) – ingénieur-architecte ; María Martín Rodríguez (ES) – étudiante en architecture ; Serena Vianello (IT) – étudiante en ingénierie
Buensuceso 40 - local 4, 18002 Granada – España
+34 65 1163614 – cuac.arquitectura@gmail.com – www.cuacarquitectura.com
Voir la liste complète des portraits ici
Voir la page du site ici


J. Castellano Pulido, T. García Píriz, J. Alcalá Lara, P. Baquero, J. A. Serrano et L. M. Ruíz Avilés
INTERVIEW (en anglais)
1. How did you form the team for the competition?
We are used to working together and share a lot of interests.
2. How do you define the main issue of your project, insisting on how you answered on this session main topic: adaptability and urban rhythms?
We propose the possibility of generating a contemporary construction system that represents the region itself. This is a system involving cooperation between craft workshops and architects, artists and businessmen; some of them take part into the new entrepreneurial companies area.
The constructive logics of stacking are provided as an intuitive intellectual resource linking tradition and contemporary architecture, a way of building the future of the region upon the construction innovation.
We think the fragments of architecture and infrastructure that built the factory as a city itself can be considered as a changing heritage that requires a guideline for its evolution. This heritage means more that making the traditional distinction between buildings to keep erected and buildings to be demolished. It is a heritage where fragments are as relevant as the production relations. In this context of exchange, we consider that an argument joining the pieces of a dramatically interrupted past to an emergency future is needed. This is the tissue with which the 'Contemporary Dubied' should be built.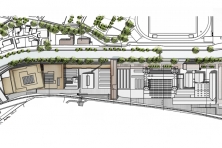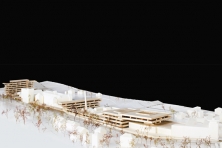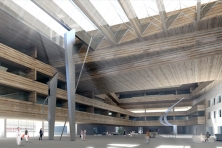 3. How did this issue and the questions raised by the site mutation meet?
To this end, we decided to link natural production processes with other cultural building processes. When we arrived on site, we decided to take pictures of whatever could show any evidence of those processes and, finally, a possible project arose after every picture. We decided this equipment would be our building material, not just wood, stone and asphalt but the stacking methods and the ties that bind places with territory.
Therefore, the 'labyrinth of industrial buildings' is offered as a landscape to be transformed according to re-using logics and selective demolition. These logics involve the recycling of materials but above all, of the wooden and local stone stacking methods, as well as the asphalt dumping. With all this, we were showing the way of acting in every zone.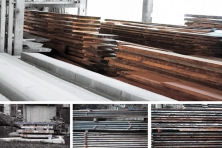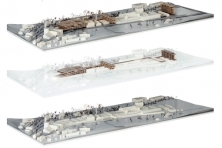 4. Have you already treated this issue previously and could you present some reference projects that inspired yours?
Yes, our office worked on this concept in many projects. For us two issues are particularly important: the balance between past, present and future and the way adaptability starts from the deep recognition of the identity of a place. In that sense we can mention here a proposal for an International competition for cultural building (Fundación de Arquitectura Contemporanea) in Cordoba and also our two Europan wining entries in EUROPAN 11, Leeuwarden and San Bartolomé.


5. Today –within the era of an economic crisis and sustainability– the urban-architectural project should reconsider its production method in time; how did you integrate this issue in your project?
Of course, time plays a main role in architecture in the way the agents that are involved have their specific rhythm and opportunity. In the case of the Couvet project it seems as if the future had colonised the Eastern area of the site so we wonder what the future of the old Dubied plot will be. We took into account that a wide range of cultural and business activities (such as activities related to Lechere, high end artisans, subcontractors, artist studios or companies) could help the required renovation of the area. Over time, industrial buildings, workshops, warehouses, technical and administrative premises have been enlarged, converted or demolished. This whole situation involves the labyrinth where the present project is.
6. Is it the first time you have been awarded a prize at Europan? How could this help you in your professional career?
No, as we mentioned before we were awarded at Europan 11 with 1st Prize in San Bartolomé (ES) and 1st Prize in Leeuwarden (NL). We hope that having three prizes will allow us to get more chances of building one of them.