Le tramway, la couture, le quartier
Localisation Ville de Romainville, Ormes et quartier du Chemin Vert;
Échelles de projet L - urban + architecture
Famille de site CREATING PROXIMITIES - Interfaces and short cycles
Phase post concours Urban development guide, orientation scheme, architectural intervention
Voir ici la page du site
Voir ici la carte des différents sites
How can the site contribute to a productive city?
In the southern part of the city, near the A3 highway and the remnants of an obsolete road infrastructure, the site, an abandoned urban area awaiting the arrival of the tramway (T1), creates a tremendous opportunity for the development of a new «piece of the city» connected to the city centre and combining new forms of urban activity (business premises, urban logistics, etc.) associated with a housing programme promoting the emergence of new uses and public facilities. Favoured by the arrival of new tramway (T1), this territory, which is currently isolated, must be able to develop synergies that link it to other centres in the eastern metropolitan area (Montreuil, Noisy-le-Sec, Fontenay-sous- Bois.) and create greater territorial equity.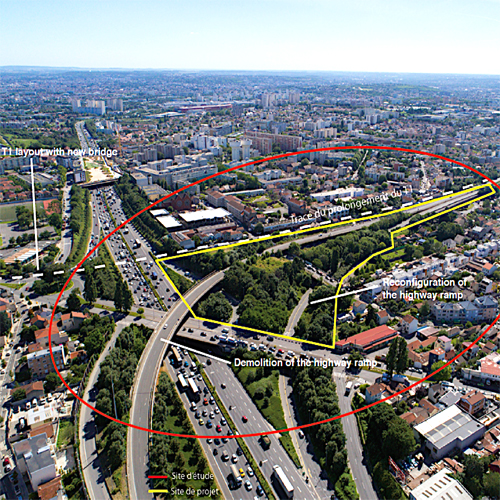 Site definition
Bordering on the city of Montreuil and therefore at the entry to Romainville, the project site is an area of urban neglect and abandoned heavy road infrastructures that will disappear with the construction of the T1 tramline (start of the work in 2019) linking Bobigny to Val de Fontenay. The abandoned A186 motorway and surrounding plots of land generate about 10 ha of land in Montreuil and Romainville, 2.7 hectares are in Romainville. If the A3 motorway, a small stretch of which is covered over further north, creates a strong rupture in the landscape and is a source of nuisance (pollution, noise) it also presents a major advantage for the site and elicits urban logistic potentials. It is a neighbourhood of small business buildings and collective housing that needs to prepare for the arrival of the tramway and an end to its isolation. The current fabric has a functional and social diversity that is important to maintain and exploit. The neighbourhood of local artisan workshops, single-family houses and apartment blocks needs to be strengthened, energized, woven together and diversified.