Cultivating the City, or the Lessons from the Worm
Amiens (FR) - Winner
TEAM DATA
Team Representative: Adèle Ribuot (FR) – landscaper
Associates: Agnés Jacquin (FR), Antoine Gabillon (FR), Charlotte Rozier (FR), Cléo Borzykowski (FR) – landscapers; Laura Castagné (FR) - architect

349, rue des Pyrenées, 75020 Paris (FR)
+33 689 608 241 – adele.ribuot@carlos-collective.org
See the complete listing of portraits here
See the site page here


A. Ribuot, C. Rozier, A. Jacquin, A. Gabillon, C. Borzykowski & L. Castagné
INTERVIEW
Click on the images to enlarge
1. How did you form the team for the competition?
Part of the team members worked together in the past; some of us met in the Landscape National School in Versailles (Ecole Nationale Supérieure de Paysage), some of us met at the TU Berlin, and some joined the team later. Our desire was to combine different approaches and skills from different backgrounds.


2. How do you define the main issue of your project, and how did you answer on this session main topic: the place of productive activities within the city?
We answered the question through the creation of bounds between landscape and productive activities. To us, the Montières area is the result of an economic model that failed, mostly due to the fact that the physical and cultural contexts were not taken into account.
We chose to work on the soil as it is a resource that is under-estimated: today cities use it as a surface on which they lie on, but soil is actually involved in many urban metabolic processes as different as food or space production.
We decided to see the territory as a garden, a space in which everything is connected especially to (or through) the soil. It can give an answer to the social, economic and ecological challenges and give a new role to productive activities.
3. How did this issue and the questions raised by the site mutation meet?
Amiens has a strong links with the soil in history as well as today: agriculture is an important activity and the Hortillonnages area demonstrates the knowledge of the city concerning soil and food production. On the other hand, there are recent areas of production like Montières which are going through a deep crisis.
Crossing those two histories and scales has allowed us to rethink production models. Instead of going for massive national or global production that were proved to be frail, we tried to focus on local resources that were able to provide lasting production of energy, leisure and space.


4. Have you treated this issue previously? What were the reference projects that inspired yours?
Each of us has treated the subject before in our different projects and fields, but Europan was the occasion for us to combine our approaches. Our challenge was that the soil had to be treated as the central subject and not be an aspect among others. We didn't really have a particular landscape project in mind. We often referred to the recent "Le sol des villes : ressource et projet" directed by Panos Mantziaras and Paola Vigano, and we also had in mind the work of Gilles Clément or Claude and Lydia Bourguignon. But our best reference was really to apprehend soil through a worm's body: this has been our main intellectual resource all along the project conception.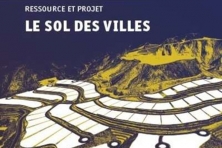 5. Urban-architectural projects like the ones in Europan can only be implemented together with the actors through a negotiated process and in time. How did you consider this issue in your project?
We wanted the project to be first settled through small operative interventions. These interventions aim to be a frame on which we can build our relationship with the different stakeholders: the city, the workers and farmers, the scientific community, the schools, and also all types of bacterium, animals and human interested in being involved. Collaboration has an important role to play in our project. That is why we did not draw a conception plan that is fixed: everything is soft and ready to move.


6. Is it the first time you have been awarded a prize at Europan? How could this help you in your professional career?
It is the first time we got a prize in Europan! We are really motivated by the fact that the competition can lead to concrete implementations and collaboration with the city. We are also looking forward to having a space for experimentation.