Deconfining the colony
Esparreguera (ES) - Winner

From l. to r. : Iago Pineda, Andrea Las Hayas, Raquel Mirón, Tomás Cáceres
TEAM DATA
Associates: Iago Pineda (ES), Andrea Las Hayas (ES) – architects
Contributors: Raquel Mirón (ES), Tomás Cáceres (AR) – architects
Länk Arquitectes
Les Corts, Barcelona, Spain
+34 659327538
lank@lankarquitectes.com / www.lankarquitectes.com
See the complete listing of portraits here
See the site here
TEAM PORTRAIT
VIDEO (by the team)
INTERVIEW
Click on the images to enlarge
1. How did you form the team for the competition?
We became friends during our exchange year at the architecture school in Stockholm, and started working together in 2017 with our first commissioned project. In 2019 we co-founded our own practice, Länk Arquitectes, based in Barcelona and where we develop projects of different nature and scale. Tomás Cáceres has been collaborating with the firm since 2020 and Raquel Mirón since 2021, both are young and enthusiastic graduate architects.

2. How do you define the main issue of your project, and how did you answer on this session main topic, Living cities?
Colonia Sedó is a former 'industrial colony' (or company town) that is currently inhabited and still maintains some industrial activity, but is in really poor condition after years of decay. The proposal aims to regenerate and reactivate the complex, which is currently disconnected from its urban and natural surroundings while creating a discontinuity between the mountain and the river. We believe that the colony will become a place to live and work in the time to come as soon as nature takes a main role in it. We understand biodiversity as a kind of heritage that should also be restored and preserved, not only in an aesthetic sense, but also as a valuable resource.
The removal of various barriers and the renaturation of public spaces are the first steps in order to reconnect the industrial settlement with its context and achieve greater ecological continuity. But we also believe that the proposed new living and working model, based on new principles such as: reutilization, renovation, self-sufficiency, recycling or clean energy production; can bring the new local productive activities that, together with the new (and renovated) living spaces would eventually guarantee a living neighbourhood with a positive impact in its environment.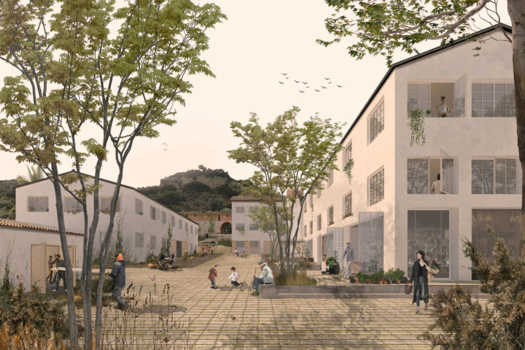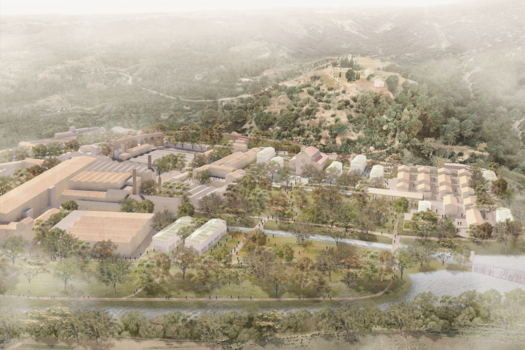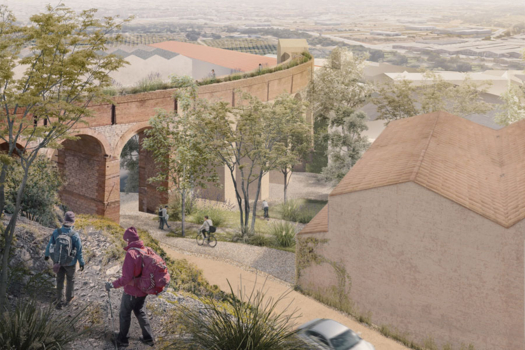 3. How did the issues on metabolic and inclusive vitalities and the questions raised by the site mutation meet?
We believe that the original segregated model in the colony where productive facilities (working) were completely apart from the residential area (living) contributed to lead the colony into decline, especially after the main industrial activity ceased in 1978 and the main and only owner left the site.
A new model in which work is no longer seen as a way of earning money for living, but instead as a way in which work itself contributes to the regeneration of the colony and its environment, while being part of a healthier and more self-sufficient model for its inhabitants, could be a more attractive and sustainable living model in this unique context.
Instead of removing or replacing existing industrial and housing buildings, we propose to carry out precise and selective transformations of existing buildings (in poor condition or unused) to bring new housing typologies that could coexist with the industrial zone. This strategy could minimize the footprint of the urban growth needed in the neighbourhood while promoting a more hybrid model. The new housing and industrial buildings would accommodate new typologies for new users and needs that would complement the current offer. We always try to add to complement rather than take away to replace.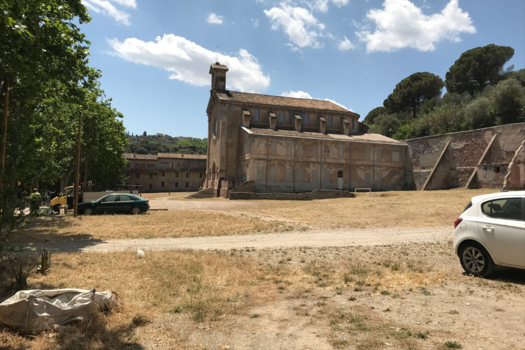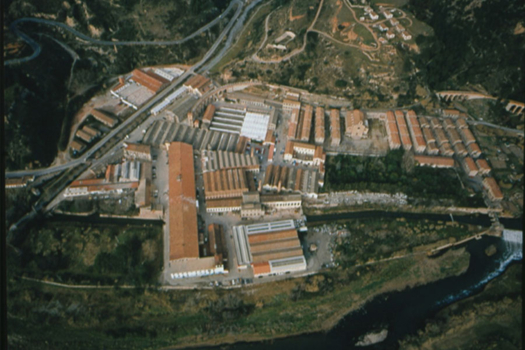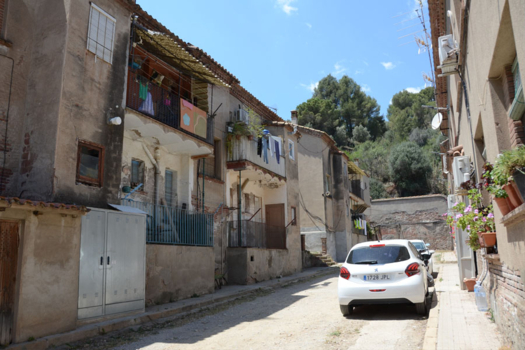 4. Have you treated this issue previously? What were the reference projects that inspired yours?
It is our first attempt together as a team to approach a project of this scale, but most of the themes and interests have been very present in other competitions or projects that we have developed before. In addition, topics such as post-industrial landscapes, urban regeneration or heritage, were really important and were present in our projects at the university. We wouldn't point to a reference project that has inspired us, but rather we see it as a sum of previous experiences and knowledge that we have accumulated by studying or working in various projects during our university studies or professional careers. We looked closely to landscape regeneration projects that not only repair the landscape and the ecosystem, but also bring new uses, situations or connections responding to new needs. We did the same with some industrial refurbishment projects that reuse and transform former buildings for new uses, with respect to history and heritage, but not afraid of giving them new lives with courageous proposals.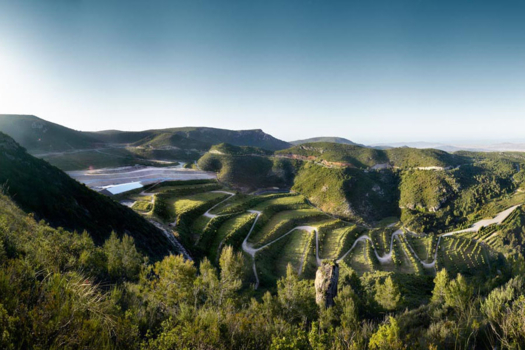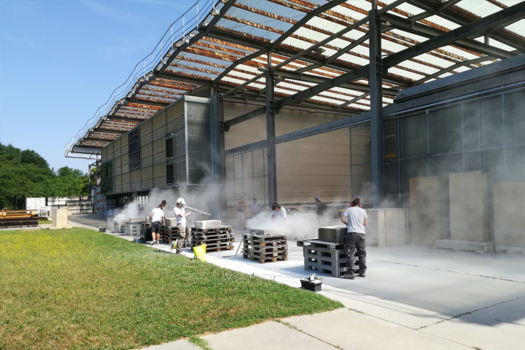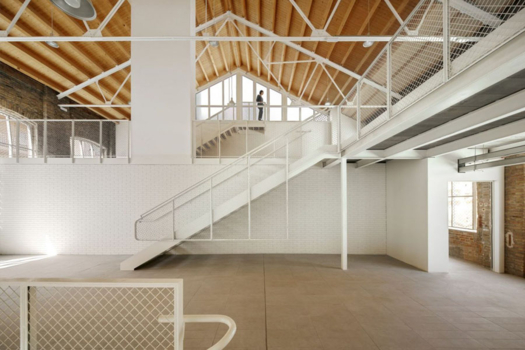 5. Urban-architectural projects like the ones in Europan can only be implemented together with the actors through a negotiated process and in time. How did you consider this issue in your project?
The proposal tries to give a new vision on the site with several actions or approaches that could activate the regeneration of the site. It is not conceived as a 'final-picture' project but as a method of dealing with a situation of this nature. This specific site, but also many formal industrial colonies in Catalonia have been the subject of several studies and discussions in the past years. We believe that our approach could bring new ideas in order to feed the discussion and hopefully evolve into a more complete study of the site and its future, together with the actors involved. Moreover, the commission of the refurbishment of one building in the site (already considered in the terms for the after-competition) would be a really interesting 'starting point project' in the colony in order to encourage further actions and implementations that would for sure activate a process in the whole site.

6. Is it the first time you have been awarded a prize at Europan? How could this help you in your professional career?
Yes, this is the first time that we have been awarded an Europan prize. It's a great opportunity to be part, as young architects, of large-scale projects with public administrations. Unlike other architecture competitions, Europan gives us the opportunity to start proposing from an openminded perspective, which encourages us to come up with more daring and free proposals. We believe that this is a really interesting starting point for a project (that will of course need to evolve in the implementation process) and we hope that Europan will maintain this value over time. We also expect to develop the refurbishment project of one of the buildings in the colony, which would be a great experience for our firm as we have been dealing with several refurbishment projects, but not yet in a context as unique as this one.

TEAM IDENTITY
Office: Länk Arquitectes
Function: architecture
Average age of the associates: 33 years old

Has your team, together or separately, already conceived or implemented some projects and/or won any competition? if yes, which ones?
2021: First prize in the competition for the transformation and refurbishment of the municipal multipurpose hall in « Palau dels comtes » in Castelló d'Empúries, Girona. We are currently implementing the project.
2021: Second prize in the competition for renovating the public square 'Poeta Sitjà' in Castell d'Aro, Girona.
2021: Finalist in the competition for the new primary healthcare centre CAP Raval Nord reusing the « Capella de la Misericordia », in Raval district, Barcelona.
2019: Refurbishment of a housing building from 1886 in the gothic quarter, Barcelona. Completed.
2020-21: Refurbishment of several apartments in Barcelona. Completed.
2019-21: New single family-houses in Gelida, Barcelona. In process.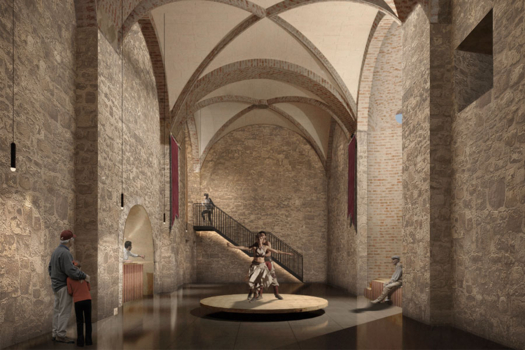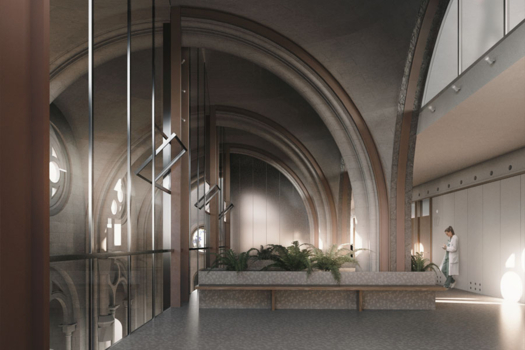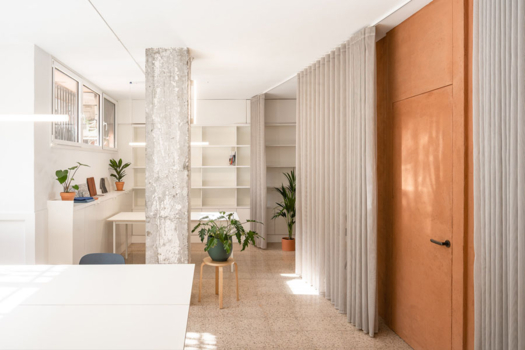 Does your team share a common workplace? if yes, give us a short description:
Yes, we work together in our own studio based in Les Corts district recently renovated by us. The space, prior to the renovation, had good spatial and lighting conditions, but the functional organization and its materiality did not guarantee the comfort or warmth that we expected in a work space. The intervention is based on the economy of resources and is committed to both the recovery of hidden materials and textures and the recycling of existing elements. We share our studio with two other teams whose practice is also related to architecture and design and with who we share interests and opinions.