Dynamo
Oulu (FI) - Special Mention
TEAM DATA
Team Representative: Anniina Valjus (FI) – architect Associates: Emma Koivuranta (FI), Sanni Leinonen (FI), Tuija Patana (FI) – architect
Contributor: Juha Nissinen (FI) – architecture student
See the complete listing of portraits here
See the site page here


A. Valjus. E. Koivuranta, S. Leinonen, T. Patana & J. Nissinen
INTERVIEW
Click on the images to enlarge
1. How did you form the team for the competition?
We all used to study together in Oulu. All of us have been studying, working or living in Kaijonharju. At the moment Kaijonharju is not really at its best, the functions are disconnected and it is not easy to orientate - at some places it even feels unsafe. But thanks to its nature and young and international atmosphere it has a lot of potential! Participating in Europan was a way to define of our vision of Kaijonharju and what it would look like.


2. How do you define the main issue of your project, and how did you answer on this session main topic: the place of productive activities within the city?
As we see it, Kaijonharju has already quite a lot of productivity: University campus, Technology village, sports activities, recreation areas, well-working public transportation, Kaijonharju local center with restaurants, grocery stores, library, a creative student community. The places of productivity are just scattered and disconnected from each other. This was the main issue that we wanted to solve in the first place. That is why we focused on creating clear connections and meeting points in the area.


3. How did this issue and the questions raised by the site mutation meet?
The spine of our plan is Dynamo Boulevard. It creates an upgraded public space and connects the new Kaijonharju center with the University campus so that it is easy to navigate. The boulevard and its squares and hubs are places of activities and meeting. The innovative blocks next to the University campus offer an indoor place for the locals and academics to meet and share ideas and to try out new things. The digital platform supports the physical environment and eases the communication between the residents, University and local entrepreneurs. We believe that the physical environment and the digital platform together would support the existing productivity and lead to new innovations and ideas!
4. Have you treated this issue previously? What were the reference projects that inspired yours?
This is the first time we worked together with this team. Nevertheless all of us are familiar with the issues. We did not have any particular reference projects but inspiration from the following projects could be seen in our design. For the public outdoor spaces we got inspired by Superkilen square in Copenhagen. In public spaces, there should always be possibilities for activities and interesting structures to experience. Our inspiration for the hybrid blocks was Tietgen student hall in Copenhagen and Telliskivi area in Tallinn. Tietgen is an inspiring example of co-housing. In our design proposal for innovative blocks we combine co-housing with a new aspect of living in the future, living as a service, and put functions that offer a testlab for the University and residents could try out their new ideas in the ground floor. The inspiration of Telliskivi can be seen especially in the existing buildings They could offer affordable spaces for artists and creatives which would create new productivity in the area.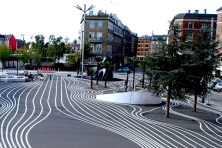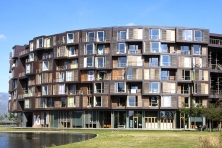 5. Urban-architectural projects like the ones in Europan can only be implemented together with the actors through a negotiated process and in time. How did you consider this issue in your project?
In this scale urban-architectural projects it is clear that everything could not be built at one time and that many different designers will work on the same area for several years. That's why it's very important to have a good, well-thought master plan which different actors can follow. This way the area will develop coherently and it will not be a disaster if the whole plan will not be executed. In Dynamo, the phasing has been done in a way that the important issues can be solved first with small changes to existing structure. The connections between existing functions and University are top priority. That is the reason why Dynamo Boulevard would be built first. The surrounding area could be developed later. The potential of temporal events and structures could offer possibilities of development even before starting to build new.


6. Is it the first time you have been awarded a prize at Europan? How could this help you in your professional career?
Yes, this is our first time to be awarded or even to participate in Europan competition. Resolving this site has given confidence for all team members to tackle wide challenges in the future. The attention given by the competition may also help us to get more exciting urban projects.