TEAM DATA
Team Representative: Ada Jaśkowiec (PL) – architect urbanist; Associate: Michał Strupinski (PL) – architect urbanist
De Genestetstraat 13, 2612 RL Delft (NL)
+48 664 703 911 – ada.jaskowiec@gmail.com
See the complete listing of portraits here
See the site page here


A. Jaśkowiec & M. Strupinski

VIDEO (by the team)


INTERVIEW
1. How did you form the team for the competition?
We studied together in Warszawa (PL) and Delft (NL) and did several competitions over the last few years. We got interested by the Europan 15 Warszawa site because of our familiarity with the area and the big scale of the project that required non-canonical elaboration, which we felt we were able to provide.


2. How do you define the main issue of your project, and how did you answer on this session main topic: the place of productive activities within the city?
In our project we look for a synergy between the city / public space, and the existing or new industry, and create an environment where they can not only exist together without harm, but also enhance each other and form a new, unique system.
Moreover, we attempt to inject productivity in multiple forms and scales: from individual (productive housing) to collective (the steel mill plant itself); and from research phase (universities and schools) to execution (small-scale production). The spatial proximity enhances exchange of knowledge and increases the chance of collaboration, which is crucial for innovation. To provide the exposure needed to create a competitive area that is attractive to investors, we implement public events and improve public spaces adjacent to industrial terrain.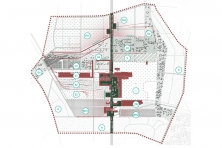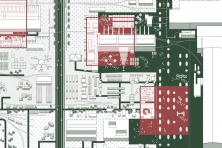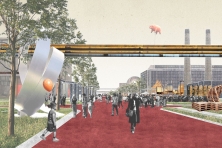 3. How did this issue and the questions raised by the site mutation meet?
The project comprises areas intended for a permanent development and a temporary development, maintained for the plant's potential future extension. This requires an innovative urban design approach based on temporality and unpredictability of the plot's future growth. Our urban experiment provides a framework that smartly accommodates the production within the city, and creates a resilient, welcoming and open urban space.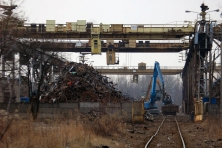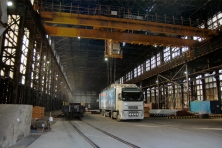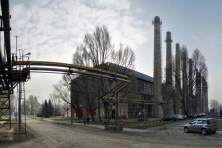 4. Have you treated this issue previously? What were the reference projects that inspired yours?
We have previously touched upon the issue of flexible design through our prize-winning Builder 4Young Architects competition entry in 2016, based on the idea of emergence in urban design. We also inquired the topic of openness on a theoretical level, with the thesis "Open-ended public space", applying Deleuze and Guattari's assemblage as a framework for the analysis of public space. Ada's graduation project "Framing Urban Protest" proposed to remodel a street in Strasbourg (FR) to make the space work on regular days and to be an inspiring protest ground during special events. Flexibility of use and possibility of re-adaptation are for us the basic qualities of a resilient project.
A strong inspiration for our concept of redevelopment of the Steel Plant site in the spirit of slow-urbanism was ZOHO in Rotterdam, which was a process-driven development that gave space for bottom-up temporary developments, before settling for permanent decisions.
We also drew knowledge from our office project (PosadMaxwan) for redevelopment of post-industrial area of Binckhorst in The Hague (NL), which, instead of a fixed masterplan, proposed a framework of public spaces, important connections and special places.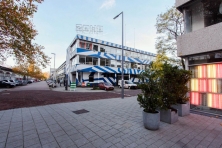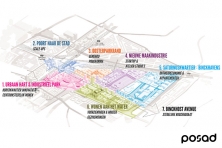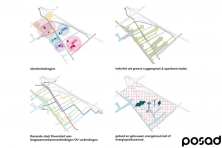 5. Urban-architectural projects like the ones in Europan can only be implemented together with the actors through a negotiated process and in time. How did you consider this issue in your project?
There are three parties involved in the process: the city, ArcelorMittal and future tenants. Our main idea is that it is a framework that doesn't assume certain solutions and is open to multiple outcomes depending on changing circumstances and needs of the parties involved.
The city realises its strategic developments, such as main connections, green corridors; it is responsible for the required public space renovation and provides the media required for the development of new functions.
ArcelorMittal renovates the existing buildings in order to host new residents, with the maximum flexibility as a prerequisite; it provides ground for rent on low prices, upgrades the existing premises by giving them a "public face". The money that ArcelorMittal invests in the renovation are paid by incoming rents.
Future tenants need a business plan to join. Maximum rent period is set. It allows to keep up the innovation bar high and forces companies not to settle down. They form a community, which forms around the area, willing to contribute to the development of the area, bringing improvement of the area.
6. Is it the first time you have been awarded a prize at Europan? How could this help you in your professional career?
Yes, it is the first time. We believe that with our proposal we can contribute to reviewing the planning processes in Warszawa. However, it is still unclear how this could be executed.
TEAM IDENTITY
Office: /
Functions:Architects & Urbanists
Average age of the associates: 29 years old
Has your team, together or separately, already conceived or implemented some projects and/or won any competition? If yes, which ones?
We took part in several urban and architectural competitions together, and in 2016 we won the competition Builder 4Young Architects with an urban design of an experimental mixed-function housing estate.