TEAM DATA
Team Representative: Andrew Mcmullan (GB) – architect urbanist
Associate: Henry Lefroy-Brooks (GB) – architect
Mcmullan Studio
40 Mortimer St, WIW 7RQ London (GB)
+44 20 3973 8880 – info@mcmullanstudio.com – mcmullanstudio.com
See the complete listing of portraits here
See the site here


Henry Lefroy-Brooks, Andrew Mcmullan

VIDEO (by the team)

INTERVIEW
1. How did you form the team for the competition?
Mcmullan Studio's core design team took part in the competition. Since 2018, when the studio was founded, we've been putting into practice our belief that exceptional design can make every place, urban or rural, healthier, happier and more productive for everyone. For us, this means creating inventive human-scale solutions to real-world challenges. Competition members are emerging talents whose ambitious design vision and energy made them a natural choice for the Innsbruck project.


2. How do you define the main issue of your project, and how did you answer on this session main topic: the place of productive activities within the city?
By 2035, there will be 2 billion more city dwellers but their quality of life will often be poor. For example, people who live in cities are 40% more likely to suffer depression than people who live in the countryside. We believe we need to rethink every aspect of our cities to make them healthier, happier and more productive. Design can play a major role in creating urban spaces that actively improve the physical, emotional, environmental and economic wellbeing of their citizens. Transforming our cities is a universal issue with potential benefits for people across the world. Innsbruck is already a remarkably healthy city. People who live there eat healthier, do more exercise, smoke less and go for more medical check-ups than the average Austrian. Our goal was to weave this wellbeing culture into the built environment of the city itself to create a unique vision for Innsbruck's future focused on wellbeing. From a knowledge district dedicated to wellness research and innovation to a waterfront that makes healthy activities part of everyday life, we imagined a city where being healthy, happy and productive was designed into daily life.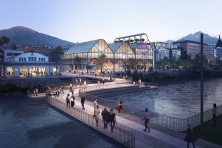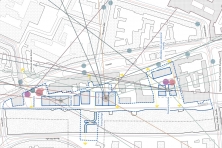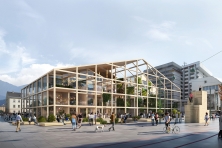 3. How did this issue and the questions raised by the site mutation meet?
Innsbruck sits in an outstanding location. A modern city with all the challenges of population growth, a housing squeeze and increasing urban traffic surrounded by beautiful mountains and amazing agriculture with a river running through it. Our challenge was to create a human-scale experience that embraced every single local asset. So we zoomed in and zoomed out to find solutions at every scale. Everything was considered - mountains, public squares and even side streets - to create a holistic masterplan specific to Innsbruck. After all, delivering the large-scale strategic goal of increased productivity depends on creating an urban experience that works on a human level.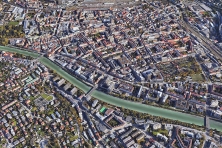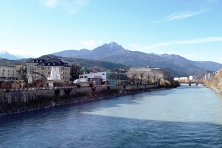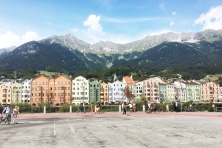 4. Have you treated this issue previously? What were the reference projects that inspired yours?
Creating public projects that add real value to people, places and their communities is central to everything we do. Empathy is at the heart of our approach. We immerse ourselves in other people's worlds to understand what would improve their quality of life and make them happier. So wellbeing is a major theme running through our work. That said, we approach every new project with fresh eyes. It's the only way to create original solutions for that specific place and that specific group of people. Our role is to get under the skin of a community to deliver a solution that's unique to its way of life. We don't expect the community to adapt to a preconceived design ethos. That's not real design. That's dogma.So we came to Innsbruck without fixed ideas. Our only inspiration was the project itself and our belief that there is always a perfect solution - you just need the discipline, dedication and imagination to find it. We believe in the power of exceptional design to change our world for the better. Innsbruck's incredible natural surroundings and dynamic citizens inspired us all to be ambitious with our ideas.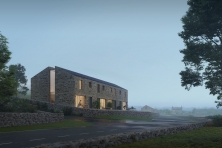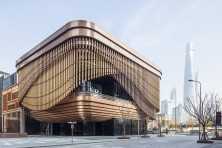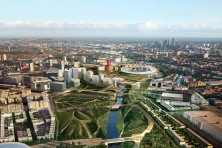 5. Urban-architectural projects like the ones in Europan can only be implemented together with the actors through a negotiated process and in time. How did you consider this issue in your project?
Evolution not revolution was our mantra. The more you engage with people over time, understanding their lives, problems and aspirations, the richer your original idea becomes. Obviously, it's vital to have a simple and single-minded 'big vision'. That allows you to embrace complexity and richness as the project evolves without losing sight of the overall concept. Close collaboration is really important - especially with the local community who will one day bring life to your designs. So we are keen to encourage contributions from as many quarters as possible to get the best possible insights into the lives of Innsbruckers. Our aspiration is for a new, more productive urban model, growing out of the existing city and not be imposed upon it. For us, it's the only way to ensure the long-term economic evolution of the site. It's also central to ensuring the site's sustainability in the deepest sense. In other words, a responsive built environment that can grow and adapt to the changing needs of the community with minimum waste and optimum use of resources. Achieving these twin goals depends on dialogue at every stage of the project. Great design emerges through debate and discovery from within. It's not imposed from outside.


6. Is it the first time you have been awarded a prize at Europan? How could this help you in your professional career?
This is the first time we entered Europan so we're excited and humbled at the same time. As an emerging studio, the prize is a really important vote of confidence for our inventive, human approach to large-scale projects. Innsbruck is unique. And yet, it shares many of the challenges faced by almost every modern city around the world. So we hope our Europan prize creates opportunities for us to develop a long-term strategic vision for Innsbruck that will benefit everyone who lives, works or simply visits the city. We're excited to get started - working with the city to explore how we can transform various elements within the site to achieve the goal of greater productivity. We're not keen on paper projects. We're only interested in projects that can and will be built. Hopefully, our approach to Innsbruck will attract new opportunities to work with other visionary people and communities who want design that makes a major human impact.
TEAM IDENTITY
Office: Mcmullan Studio - London (GB)
Function: Architect, urbanist
Average age of the associates: 32 years old
Has your team, together or separately, already conceived or implemented some projects and/or won any competition? If yes, which ones?
We have senior-level experience delivering large-scale projects around the world. These include the new London headquarters of Rothschild Bank which was nominated for the RIBA Stirling Prize, the world-class Bund Finance Centre in Shanghai, and the London Olympic Masterplan 2012. Since the studio was founded in 2018, we've been very busy working on exciting projects that have challenged us to be as ingenious as we can. We've won a RIBA international competition to create a new model of flexible and affordable housing for young people in rural areas. We're also working on a dynamic rural workspace project that's designed to revitalise the economy outside major cities. And we ended 2019 with a pitch for a major project in London which combines hospitality with improving life for urban communities. All our projects reflect our passion for making a deep and positive impact on the evolving cities and communities around the world.
Does your team share a common workplace? If yes, give us a short description?
Yes. We all work in our open-plan studio in London's Marylebone district - a beautiful and vibrant neighbourhood a stone's throw from the bustle of Oxford Street. We chose Marylebone because we're surrounded by a trusted network of world-class design experts. Before our studio was founded, we worked with many of them on extraordinary projects at different practices. They're more like friends than collaborators. We all share the same desire to make our cities better places to live.