Industrial Re-evolution
Barcelona (ES) - Winner

TEAM DATA
Team representative: José Lacruz Vela (ES) – architect

pepelacruzarch
c/Paris 56, Onda (12200), Castellon, Spain
www.pepelacruzarch.com

See the complete listing of portraits here
See the site here
TEAM PORTRAIT
VIDEO (by the team)
INTERVIEW
Click on the images to enlarge
1. How did you form the team for the competition?
Due to my multiple experiences at internationally renowned offices and my professional license as an architect, I decided to tackle the competition by myself.
2. How do you define the main issue of your project, and how did you answer on this session main topic, Living cities?
The main challenges and objectives of this project are: connect and integrate the industrial area with the adjacent city through a series of public space and infrastructure interventions; renature the industrial estate, closer to its original condition as an environmental torrent; and ensure that Torrent de l'Estadella maintains its productive character, proposing a new hybrid-industrial building typology and generating points of reference for the city through icons.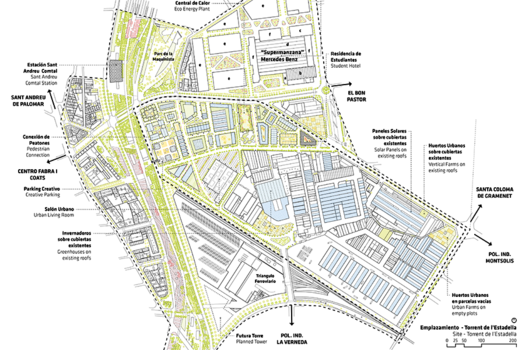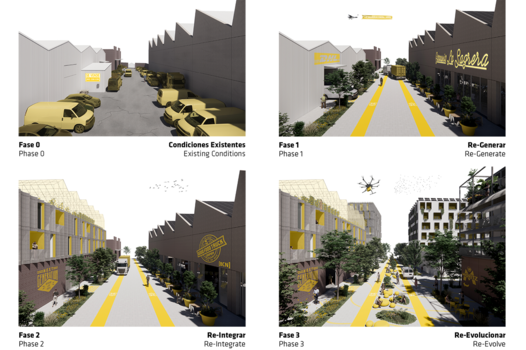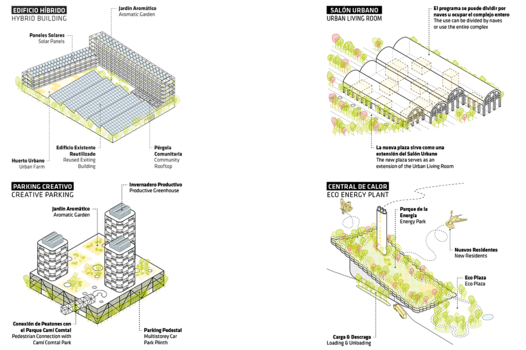 3. How did the issues on metabolic and inclusive vitalities and the questions raised by the site mutation meet?
The site currently acts as a barrier within the city, dividing the neighbourhoods of Sant Andreu de Palomar and El Bon Pastor. The industrial estate lacks sidewalks and public spaces, making it very difficult for pedestrians to cross. The site is dominated by excess parked vehicles both in the streets and alleyways. The area also contains multiple abandoned industrial buildings that could be repurposed temporarily while the rest of the area is redeveloped.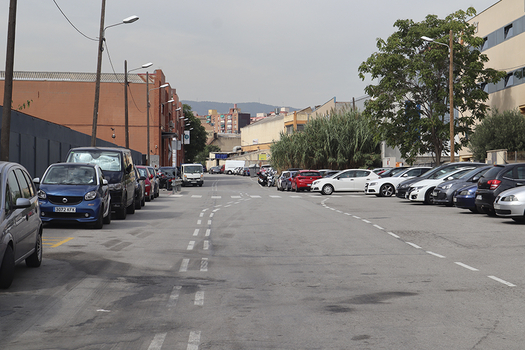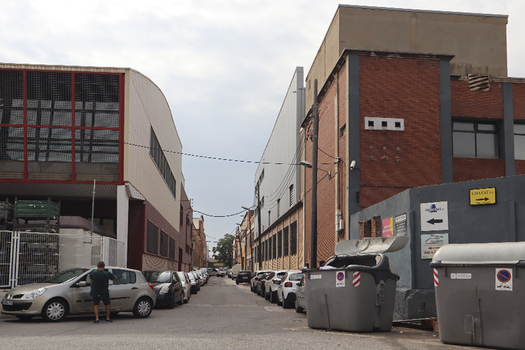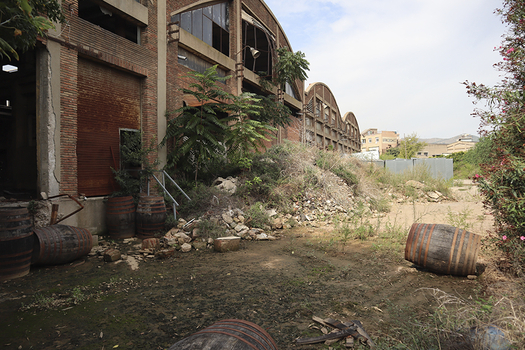 4. Have you treated this issue previously? What were the reference projects that inspired yours?
No, this is the first time I develop an industrial estate. Generally, I focus on rural/territorial developments which also have a metabolistic approach, although for this competition I decided to join an urban project in order to step away from my comfort zone. As a reference for this project, I didn't use urban projects, but rather a collection of infrastructural buildings being developed at the moment across Spain.

5. Urban-architectural projects like the ones in Europan can only be implemented together with the actors through a negotiated process and in time. How did you consider this issue in your project?
Our project outlines a general approach and strategy for the entire municipality by factoring in the complex territory dynamics and the possibility of sustainable growth, as well as reconnecting it to the landscape. Bitonto is developing a series of plans and projects to make the city more liveable and to support and maintain the slow mobility between the city and the countryside. Learning from the Lama aims to enhance these ongoing projects, by intertwining the different facets and aspects with the Lama Balice system. With this as a starting point, the project remains open to the different ways to implement and contribute to this plan, which may vary from scientific studies related to the biological aspects that we have introduced - from the choice of vegetation to water management and microclimate - to negotiation and partecipative processes with the dwellers and the institutions that will inhabit and live in such spaces.

6. Is it the first time you have been awarded a prize at Europan? How could this help you in your professional career?
This is the first time I participate in Europan, and hence the first time I am awarded a prize. I hope this prize allows me to gain some visibility within the architectural world, as well as helps me at a local level to be commissioned smaller projects.

TEAM IDENTITY
Office: pepelacruzarch
Function: architecture
Average age of the associates: 25 years old

Has your team, together or separately, already conceived or implemented some projects and/or won any competition? if yes, which ones?
pepelacruzarch has been awarded the following prizes :
- Gaudí Architecture Prize International Award. Category: Industrial Building Award
- Prominent Mention Felix Candela Prize 2020
- Winner Arquia Scholarship Competition 2018 (Awarded by Eduardo Souto de Moura)