E15 Results
Dec 2019
Casar de Cáceres (ES) – Special Mention
TEAM DATA
Team Representative: Jorge Izquierdo Cubero (ES) – architect urbanist; Associates: Victoria Polanco Mora (ES), Marteen Kempenaar (NL) – architects
Valencia 183 - 2° 2a, 08011 Barcelona (ES)
+34690702264 - eloi.ruanagirones@gmail.com
See the complete listing of portraits here
See the site page here


J. Izquierdo Cubero, V. Polanco Mora & M. Kempenaar

INTERVIEW
1. How did you form the team for the competition?
All team members met while working at an architecture office in The Netherlands. Within this office we worked together on several projects, including successful competition proposals. For the Europan theme of productive cities we decided to join forces again. Creating a team with diverse capacities on social-cultural, urban planning and architectural levels as well as a good dynamic of collaboration.

2. How do you define the main issue of your project, and how did you answer on this session main topic: the place of productive activities within the city?
The main issue is to (re)introduce heterogeneity within a currently very monofunctional and disconnected productive area. In a more general manner, the project (and we) argue that productive activities within the city will be more sustainable when integrated with other elements of the city; being social, cultural and natural layers, amongst others. The proximity of these diverse layers is an important condition for the development of more resilient and heterogeneous ´productive´ landscapes.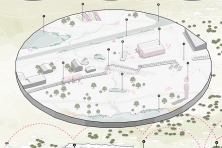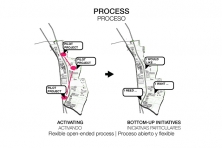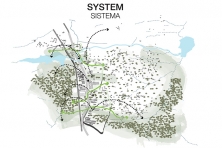 3. How did this issue and the questions raised by the site mutation meet?
We defined the site, the industrial estate of Charca del Hambre, as an area that is disconnected from its proximate and heterogeneous surroundings. The neighbouring productive area of 'traditional dehesa' as well as the social area of habitation of Monte de Casar are treated as 'backsides'. What remains are three mono-functional systems living apart together. The projects answers by starting an ecological transition of the productive model. The creation of symbiotic relations between the three programmatic areas generates a big ecosystem with true proximities between multiple users, different layers and scales of infrastructure and diversity of program.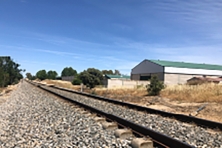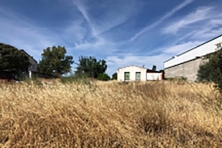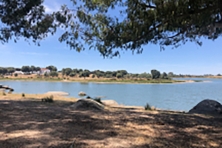 4. Have you treated this issue previously? What were the reference projects that inspired yours?
Many different, conscious and unconscious, inspirations led to the proposal we formulated. Rather than highlighting some specific reference projects we would like to share a quote by Brazilian architect Paulo Mendes da Rocha, that inspires us in all our projects. "Architecture doesn´t aim at an aesthetic unconnected to social reality. On the contrary, it can only exist while connected to that reality and, alongside it, triumph in a tremendous adventure, which is living."
5. Urban-architectural projects like the ones in Europan can only be implemented together with the actors through a negotiated process and in time. How did you consider this issue in your project?
Our proposal is named Ithaka for various reasons, but one of the most important ones is that we believe that a successful transition of the productive area can only be realized by including all relevant actors within the process of implementation. It is the process itself that gets the emphasis rather than the foreseen ´end result´. Therefore, we propose a series of pilot projects for the area, developed in public-private partnership by the different land owners and productive actors. The pilot projects follow a growing model, offering short- and long-term results, while taking into account flexibility in time, execution and financial resources.

6. Is it the first time you have been awarded a prize at Europan? How could this help you in your professional career?
Yes, it is the first time. Wherever our careers may go, we hope to be able to (continue to) work on projects, proposals and thoughts that formulate possible answers to the big, and sometimes also very small, questions and challenges of our time; Relating our built environment to relevant social, cultural and environmental issues.
TEAM IDENTITY
Office: …
Functions: Architects
Average age of the associates: 32 years old
Has your team, together or separately, already conceived or implemented some projects and/or won any competition? If yes, which ones?
Yes, we have. As team members of an architecture office in The Netherlands. We won a competition in Rotterdam for 200 dwellings, as well, we have conceived and implemented other projects as a team for the office.