TEAM DATA
Team Representative: Izabela Slodka (PL) – architect; Associate: Erica Chladova (CZ) – architect & landscape architect
Rotterdam (NL)
contact@izaslodka.com– izaslodka.com
info@liminaloffice.com – liminaloffice.com
See the complete listing of portraits here
See the site page here


I. Slodka & E. Chladova

VIDEO (by the team)

INTERVIEW
1. How did you form the team for the competition?
The team is a collaboration between Studio Iza Slodka and LMNL office for architecture and landscape, two young Rotterdam based practices. Iza and Erica met while working at ZUS [Zones Urbaines Sensibles]. The collaboration between both offices emerged out of a common interest for this year's theme and the sites of Vierhavensblok and Visserijplein in our adopted hometown of Rotterdam.


2. How do you define the main issue of your project, and how did you answer on this session main topic: the place of productive activities within the city?
The project investigates how to densify the area and incorporate new types of program, while retaining the experimental and forward-thinking character already present on-site. We believe that a continuation of the existing processes of community building and expansion of its experimental character is the best strategy for the city to secure productive, sustainable and innovative activities within the city. Our strategy opts for diversity on the site creating microcosms where buildings, public and semi-public spaces, inhabitants and visitors interact. A productive economy is created based on circular principles and supported by the method in which architectural interventions are inserted into the existing fabric, creating a rich and layered urban space.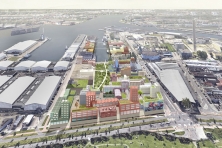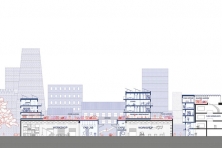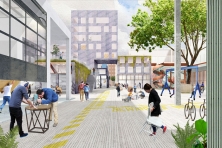 3. How did this issue and the questions raised by the site mutation meet?
The objectives are clear: first, the existing buildings and users remain in place, either indefinitely or until new purpose-built spaces are available to accommodate them on-site. The makers, Voedseltuin, workshops and companies don't need to look for another location. Second, the existing architecture and urban qualities are explored and aggregated, creating a base for new developments. Architecture is set up in clusters – inspired by what was found on the site and creating a flexible and diverse system rather than a rigid design. These clusters define the outdoor spaces from the outset of the project creating an interconnected network: the "Makers' Maze". Passages, alleys, inner streets, squares and courtyards are spread through the site changing scale from industrial to urban. We allow for more connections and new entrances, promoting a walkable space at human scale that is designed around public and semi-public areas, not buildings. Courtyards, streets and rooftops are hidden from the outside as they organize the new public interior – a space that encourages creativity, productivity and focus.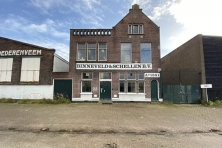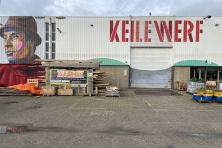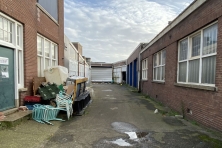 4. Have you treated this issue previously? What were the reference projects that inspired yours?
Makers' Maze is a continuation of the ongoing research developed by Izabela during her graduation project "Collage and Continuity". There, she had a chance to design a craft school on a post-industrial location in Kraków (PL). During this time, she developed a sensitivity and fascination for industrial sites, especially for their materiality and their unique architectural qualities. Coming from the perspective of appreciating the existing and trying to build on the found qualities, she sees these areas as full of potential and exceptional identity, much needed in the productive and creative cities that both Kraków and Rotterdam are aspiring to become.
Looking closely at the project's location became the method in the development of the Makers' Maze project as well – the main inspiration came from visiting and analysing the site. Creating series of photographs, considering materiality, volumes and the logic of the buildings and public spaces were essential steps to define the main objectives and ideas of the project.
Naturally, there were several projects and locations that influenced this process: Kowloon Walled City in Hong Kong, Fes and Marrakesh medinas (MC), 798 Art District in Beijing (CN), Tianzifang and M50 Art District in Shanghai (CN), but also drawings by Ben Tolman and artworks by Mette-Marie Ørsted.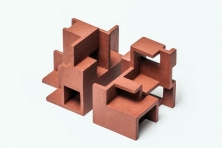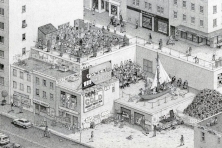 5. Urban-architectural projects like the ones in Europan can only be implemented together with the actors through a negotiated process and in time. How did you consider this issue in your project?
The main challenge is to integrate new developments while maintaining a sense of community between the existing and the new residents. By organizing the site into interlocking clusters, we believe that the community spirit can survive, because the scale is shifted along with the users. Old relationships and participants remain and the new ones are added creating diverse and lively environment. The requested programmatic mix of 30-40% businesses, 10-20% offices, 30-50% housing, and 10% services is easy to achieve and adjust, because the clusters are developed not in tandem, but one by one, allowing for program adjustments based on market pressures. The proposal addresses the urban and architectural scales to reimagine the neighbourhood as a resilient machine that accommodates working, living, playing and resting. The friction of typically noisy working space and peace-loving residential programming is carefully considered: functions are organized gradually and according to their intensity. Especially noisy or disruptive machines are placed into additionally sound isolated boxes inside warehouses. Buffer programming like offices, showrooms or shared rooftops form a physical break, a layer between the workshops and housing. Outdoor spaces create a network of public, semi-public and private squares and gardens, serving varied functions for their users, for example: storing materials, assembling or displaying artworks and craft objects, growing food used in the local restaurants, etc.


6. Is it the first time you have been awarded a prize at Europan? How could this help you in your professional career?
Yes, it is our first rewarded project and we are thrilled that the jury found the proposal as interesting as we did. We hope that besides the (international) visibility that wining Europan gives we can also expand our professional network and take our practices to another level as many previous winners have. We would be happy to further our proposal in collaboration with the Gemeente Rotterdam, developers, and existing stakeholders. We are, of course, aware of the many proposals and studies already being made for the site and we are happy to contribute to the development with our ideas.
TEAM IDENTITY
Office: We are as two separate entities who collaborate
Functions: Architecture and Landscape Architecture
Average age of the associates: 32 years old
Has your team, together or separately, already conceived or implemented some projects and/or won any competition? If yes, which ones?
Izabela Slodka's graduation project "Collage and Continuity" was nominated for the Young Talent Architecture Award YTAA 2016 organized by European Union Prize for Contemporary Architecture – Mies van der Rohe Award of the Fundació Mies van der Rohe.
LMNL has recently finished the complete renovation of an old house from 1890 in Rotterdam: the Hidden House. Construction will start in 2020 on a new-build family house, designed as a take on the traditional Dutch barn typology, and will be built from CLT (cross laminated timber) and other sustainable materials. The gardens of both houses were designed at the same time.