Middle-Earth
Hjertelia (NO) - Special mention

TEAM PORTRAIT
INTERVIEW
Click on the images to enlarge
1. How did you form the team for the competition?
We are three friends that met during our architecture studies, we share ideas on how we conceive architectural and urban projects, but also how we understand the design process. We have worked successfully together in different projects, so we decided to form a team for Europan 16.

2. How do you define the main issue of your project, and how did you answer on this session main topic, Living cities?
Hjertelia was for us the perfect place to face the topic Living Cities as it allows us to work on the several issues Honefoss has right now. First, we understood the specialities and limitations of the current city (sprawl is destroying natural ecosystem and agriculture land), and after that we propose a sustainable solution that helps to regenerate the ecosystem and creates new synergies between environment, productive-agricultural land and urban life.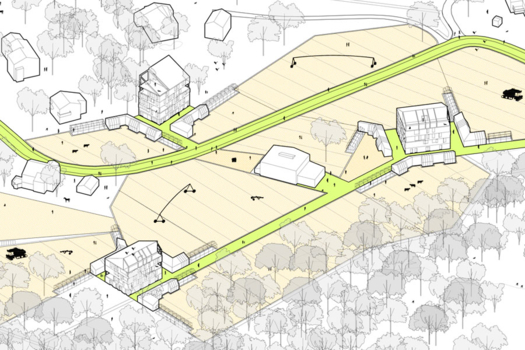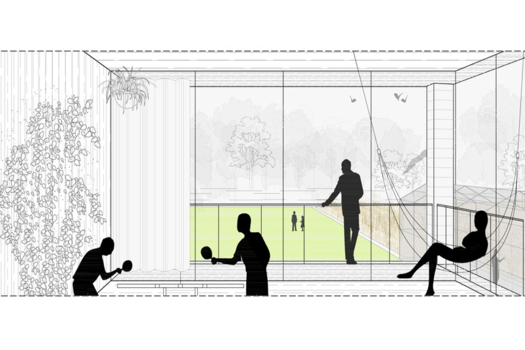 3. How did the issues on metabolic and inclusive vitalities and the questions raised by the site mutation meet?
First, understanding the idea of metabolic vitalities as the need to go over the opposition between city and nature, the site was perfect to be the space where natural and urban ecosystem meet and grow creating new synergies between each other. On the other hand, as the site will be a brand-new urban environment, it allows us to conceive it as a new community, inclusive and accessible to everyone.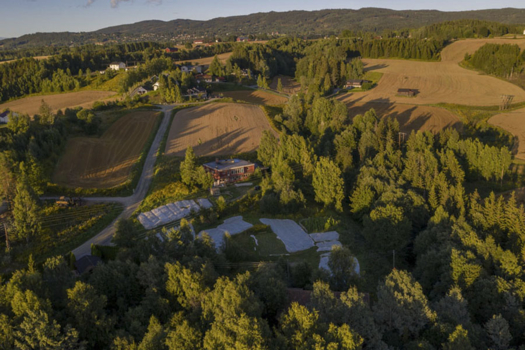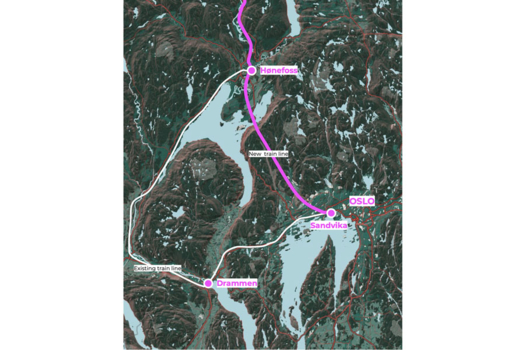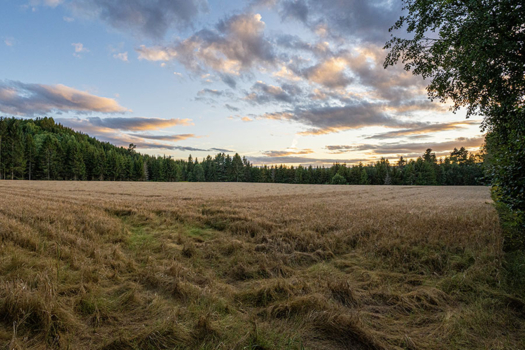 4. Have you treated this issue previously? What were the reference projects that inspired yours?
This is our first time facing a real case with the complexity, dynamics, and agents that Hjertelia has, but we believe that the questions that climate change and inequalities propose us are essential to be faced in the beginning of any project reflexion.

5. Urban-architectural projects like the ones in Europan can only be implemented together with the actors through a negotiated process and in time. How did you consider this issue in your project?
We have created a modular project at different scales, with the intention that it could be replicable and be able to adapt to the growth required by the actors through the process. The proposal is therefore capable of evolving over time from the pilot project to the neighborhood.

6. Is it the first time you have been awarded a prize at Europan? How could this help you in your professional career?
Yes, it is the first time we have been awarded and the first time we have participated together. This competition has been useful already because it was an opportunity to research and to put in practice several concepts that we wanted to explore in a deeper way. It was an incredible exercise that cannot always be done in our daily work. This experience opens a door in our professional career, giving us the chance to bring our ideas forward, and shows what we are capable of working together.

TEAM IDENTITY
Office: -
Function: architecture
Average age of the associates: 26 years old