Nodo
San Donà-Venezia (IT) - Runner-up

TEAM PORTRAIT
VIDEO (by the team)
INTERVIEW
Click on the images to enlarge
1. How did you form the team for the competition?
We had the opportunity to meet during our architecture studies in Bucharest, and joined forces within different team configurations over the past years. Even though we live in different cities at the moment, the collaboration emerged out of a common interest for this year's theme as we share the same vision and values supplemented by strong complementary skills.
2. How do you define the main issue of your project, and how did you answer on this session main topic, Living cities?
The main issue of the project was the negotiation with the ensemble of envisioned transformations on site in order to answer the new paradigm of living cities. We answered by uplifting the areas in need (urban acupuncture), mixing blend-in type of architecture, pedestrian-friendly urban design & functional landscape architecture in order to obtain a regenerative dynamic of the city overall.
The ATVO area, with great potential especially because of its position within the urban fabric, was reorganized in order to function as a highly attractive urban node. The proposed commercial pole will generate a synergy of social, economic, cultural & political dimensions, with integrated elements such as flora, fauna & mineral.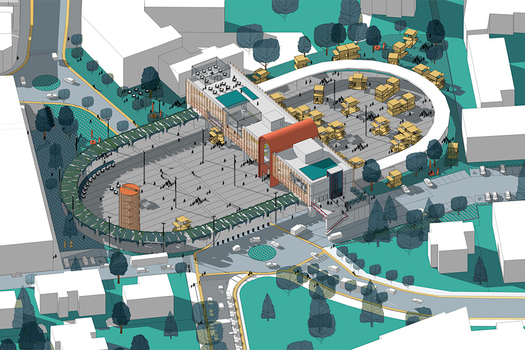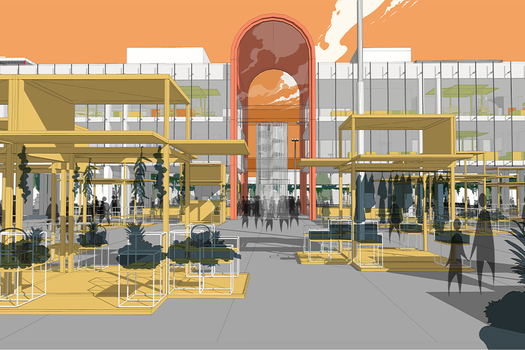 3. How did the issues on metabolic and inclusive vitalities and the questions raised by the site mutation meet?
For us, the two ideas are complementary: one cannot have a truly metabolic city without the existence of inclusive vitalities. They are inextricably linked. In our opinion, a 'living city' is one that seamlessly integrates its elements for the use and benefit of all of its constituent parts. Our design enables users from diverse backgrounds and differing abilities to enjoy and access all spaces within the scheme. The main function proposed is the basic key in resolving the metabolic and inclusive vitalities issue, especially for settlements that do not have a strong commercial pole. In our opinion cities are built around ideas which knit, using different civic functions, an urban fabric strongly pinned by three main poles: the civic, religious and commercial pole. These poles have a strong presence that generates metabolic-like relationships.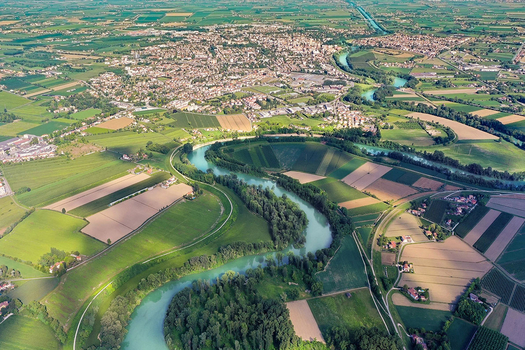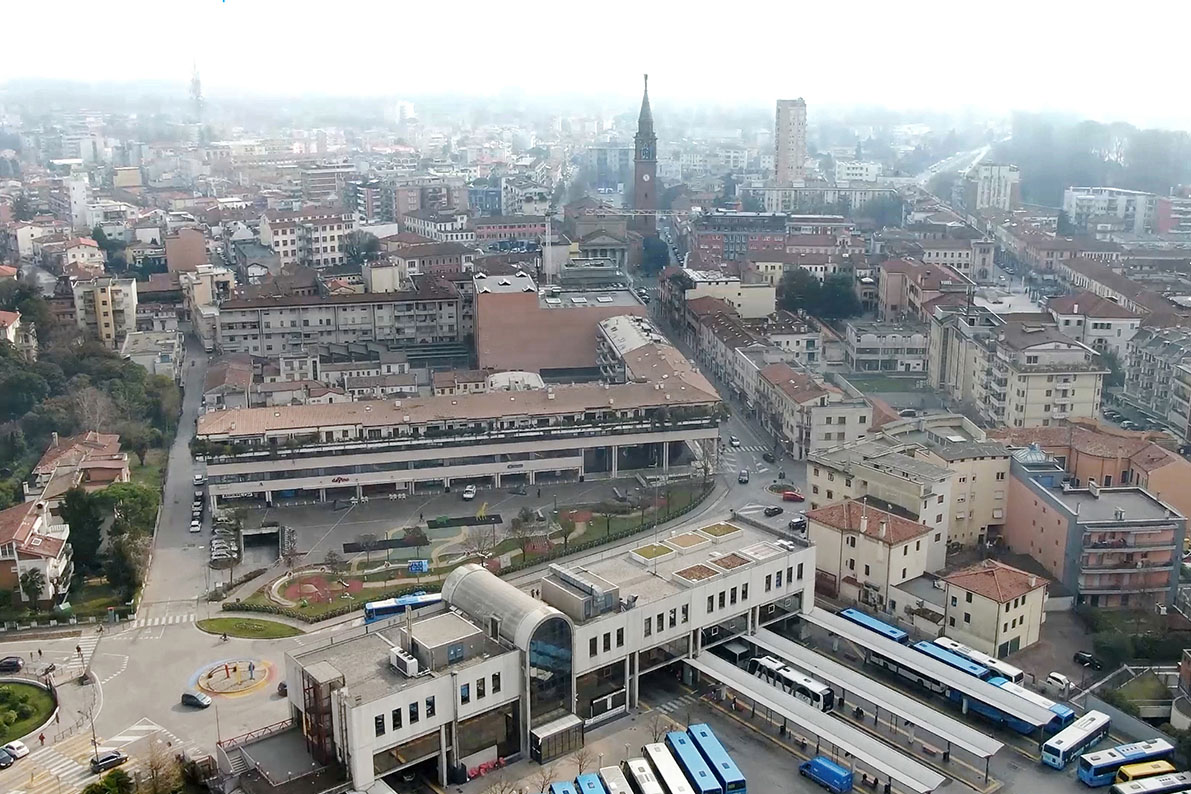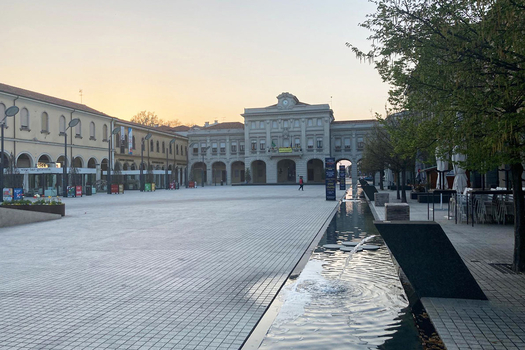 4. Have you treated this issue previously? What were the reference projects that inspired yours?
We have previously treated this issue individually in some of our practices but not as a collective. There are precedents that inspired us by means of strategic urban policies we found applicable.
This kind of approach we believe is molded mostly by the specificities of the local environment. As inspiring projects we found: Piazza Carlo Alberto Market (urban acupuncture study), Manifesto Market by Chybik + Kristof, Redevelopment of the Old Port Marseille France, Foster + Partners and collabs. Moreover, we have also studied the typology of urban tissues in Italian cities to understand specificites.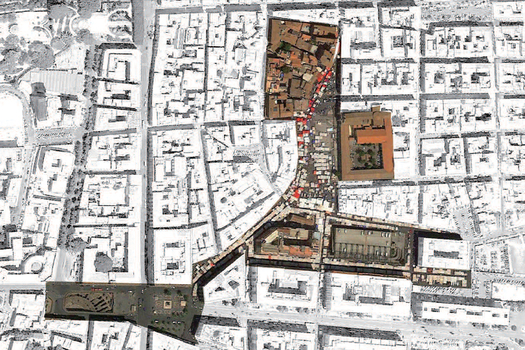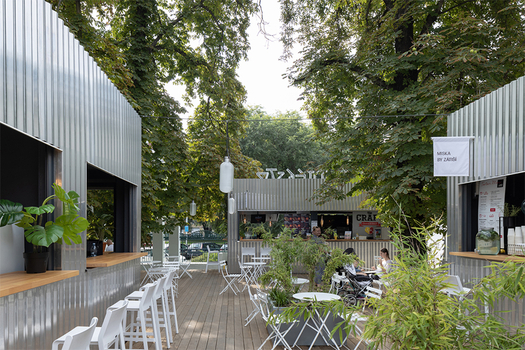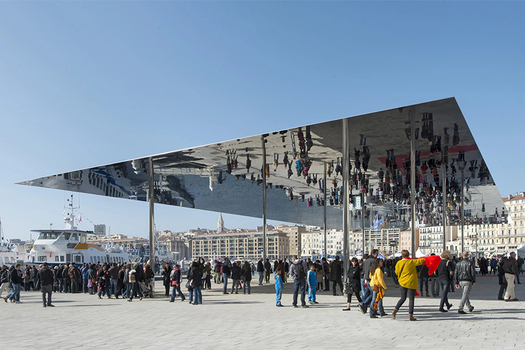 5. Urban-architectural projects like the ones in Europan can only be implemented together with the actors through a negotiated process and in time. How did you consider this issue in your project?
In our proposal strategy we included a phased timeline regarding the implementation of the urban and architectural ideas. Each phase of the timeline has its own model of collaborative system- where interdependent actors are included- of the present time and possible future scenarios, with room for negotiation. Some examples include:
the location of the proposed hybrid- parking and secondary functions can be negotiated.
in the scenario of an event taking place, the traffic diversion at NODO can be discussed.
the routes to be pedestrianised in the city centre will be implemented after careful negotiation with the urban actors
6. Is it the first time you have been awarded a prize at Europan? How could this help you in your professional career?
It is the first time we receive an award from Europan. The award helps our professional careers in terms of visibility. Our professional ideas have the opportunity to be part of a cluster of innovative proposals from all around Europe. Also, we get to test the feasibility of our ideas by taking part in the dialogue with stakeholders as a first step in the implementation process.

TEAM IDENTITY
Office: -
Function: Architects
Average age of the associates: 31,5 years old
Has your team, together or separately, already conceived or implemented some projects and/or won any competition? If yes, which ones?
Not yet, but we came very close, in 2018, when we came second in a statement house competition in Romania. Each of us takes part in different competitions on a wide variety of scales.
Does your team share a common workplace? if yes, give us a short description:
As we all work or study in different countries, our common workplace was always on digital platforms.